Home
>
News
>
Press Releases
>
2016
>
CHRISTIE ADMINISTRATION CELEBRATES INCREASED SCHOOL BREAKFAST PARTICIPATION DURING SCHOOL BREAKFAST WEEK
CHRISTIE ADMINISTRATION CELEBRATES INCREASED SCHOOL BREAKFAST PARTICIPATION DURING SCHOOL BREAKFAST WEEK
Secretary of Agriculture Visits School With 22 Percent Increase In Students Eating Breakfast
For Immediate Release: March 7, 2016
Contact: Lynne Richmond
(609) 633-2954
lynne.richmond@ag.state.nj.us
(ATLANTIC CITY) – New Jersey Secretary of Agriculture Douglas H. Fisher and Patricia Dombroski, U.S. Department of Agriculture Food and Nutrition Service Mid Atlantic Regional Administrator, today celebrated National School Breakfast Week by visiting two Atlantic City High School classrooms to see the breakfast program in action.
Atlantic City High School adopted Breakfast After the Bell in September 2014 and since then, the number of students eating breakfast every day has increased by 22 percent.
"Serving breakfast in the classroom means more students eating this important meal each morning," said Secretary Fisher. "We applaud Atlantic City's success in making breakfast accessible to more students and urge other districts to contact districts providing breakfast after the bell to use as resources to start their own programs."
Fisher and Dombroski visited the ROTC and Radio classes, consisting of various grade level students. Breakfast consisted of 100 percent fruit juice, 1% milk, fresh fruit, whole grain muffins, pop tarts, granola bars and bagels.
"Starting each day off with a balanced breakfast gives kids the energy and nutrition they need to learn and grow throughout the school day," said Regional Administrator Dombroski. "Their ability to achieve in the classroom depends on their access to healthy meals each morning. By ensuring that this basic need is met each and every school day, USDA is tackling hunger head on, and, ultimately, strengthening the future of America."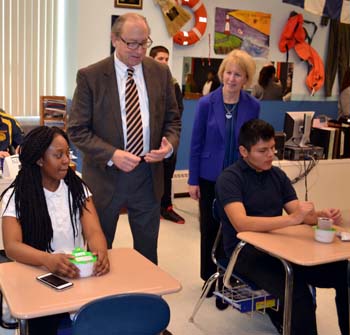 Eighty-five percent of Atlantic City High School's 2,000 students eat breakfast in the classroom at the beginning of their first period classes, up from just 20 percent when breakfast was served in the cafeteria before the start of the school day.
"High school students consuming a healthy breakfast in the classroom are encouraged to enrich mind, body and soul," said Teresa Smith, Sodexo General Manager for the Atlantic City School District.
New Jersey has seen one of the largest increases in the nation in breakfast participation. The 2014-2015 Food Research and Action Center's School Breakfast Scorecard advanced the state to 23rd in the nation for increasing the percent of low-income students who receive a healthy morning meal at the start of the school day. New Jersey ranked 28th last year and 46th in 2011. In addition, Jersey City ranked 2nd and Newark 5th for their high participation rates.
In the current school year, there are 2,054 New Jersey schools providing breakfast, with average daily participation of 302,120, and increase of more than 23,000 students over the previous year.
School Breakfast Week, an initiative of the School Nutrition Association, is being commemorated March 7-11. The week was launched in 1989 to raise awareness about the availability of the U.S. Department of Agriculture's School Breakfast Program and increase participation, both by schools and students. School breakfast is a federally-funded program administered locally by the New Jersey Department of Agriculture.