NJ DEPARTMENT OF AGRICULTURE KICKS OFF SPRING PLANTING SEASON
Encouraging Residents & Businesses to Patronize NJ Nurseries, Garden Centers, Landscapers
For Immediate Release: April 13, 2016
Contact: Lynne Richmond
(609) 610-3526
(EVESHAM) – New Jersey Secretary of Agriculture Douglas H. Fisher today joined the New Jersey Nursery and Landscape Association to remind residents it is time to start planning this season's gardens and landscaping.
Secretary Fisher and NJNLA representatives visited Laurel Oak Garden Center in Evesham Township to see how they are gearing up for the spring planting season.
"Now is a great time to think about this year's garden and to visit a nursery or garden center to discuss spring plantings that will brighten your landscape all season long," said Secretary Fisher. "Remember to ask for Jersey Grown to ensure your plants are accustomed to New Jersey's growing season and are pest- and disease-free."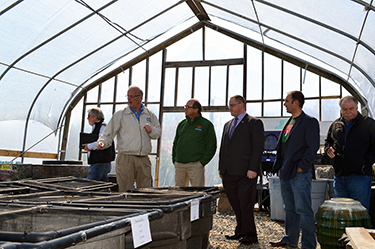 Jersey Grown growers are listed on the Jersey Grown website at www.jerseygrown.nj.gov. There also is a search for nurseries and garden centers near you. The website is now optimized for easy access on tablets and mobile phones.
"New Jersey is home to a robust wholesale and retail horticultural industry," said Dominick Mondi, Executive Director of the New Jersey Nursery and Landscape Association. "Independent garden centers, like Laurel Oak, exemplify the quality of products and service we expect out of the small businesses that comprise our membership. Home owners around the state should avail themselves of the knowledgeable individuals at local nurseries and garden centers to improve their properties, and their lives, though plants."
Laurel Oak Garden Center has been operated for 30 years by brothers Dave and Guy Scott and brother-in-law Alan Weiner. They started the business after getting degrees in horticulture, landscape architecture and agricultural business management from Cook College, Rutgers University.
They grow perennials, evergreens and grasses on their 12-acre property. They sell a wide range of products for the landscape and home garden, including trees, shrubs, annuals, perennials, seasonal flowers and tropical, components for organic gardening, mulches, stone, fertilizer, garden architecture, water gardening supplies and fish, interlocking pavers, seeds, sod, firewood, and Christmas trees.
"We are known for being actively involved in our community, providing unique and sometimes hard-to-find products and always having fresh stock and material," said co-owner Dave Scott. "We have an extremely knowledgeable staff that is a great resource for the gardener, from novice to pro. We also are a great resource for organic products and Jersey Grown materials."
Nurseries and garden centers are part of the $358 million dollar New Jersey horticultural industry. To promote the industry, the Jersey Grown branding program was created and over the years expanded so it now includes trees, shrubs, flowers, annuals, perennials, Christmas trees, firewood, wood and black oil sunflower seed for birdseed.