CHRISTIE ADMINISTRATION, NEW YORK JETS HONOR HUDSON COUNTY SCHOOL FOR HEALTHY PROGRAMS
For Immediate Release: May 16, 2016
Contact: Lynn Richmond
(609) 633-2954
lynne.richmond@ag.state.nj.us
(TRENTON) – The New Jersey Department of Agriculture along with New York Jets wide receiver Jeremy Ross today visited Jotham W. Wakeman Public School 6 in Jersey City to honor the school as one of the "Division Champions" for the New Jersey Department of Agriculture's Jets PLAY 60 "Eat Right, Move More" program.
The Jets PLAY 60 "Eat Right, Move More" program, a partnership between the Jets, the Department of Agriculture, and the American Dairy Association North East, encourages New Jersey school children to take advantage of healthy foods in their school cafeterias and become more active.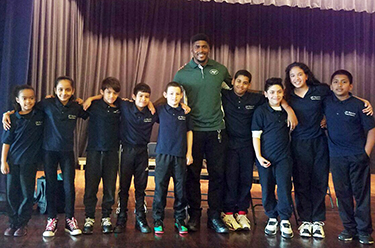 "The Jets Play 60 "Eat Right, Move More" program reinforces schools' efforts to teach children to make healthy choices, whether it is eating more fruits and vegetables or getting more exercise," said Rose Tricario, NJDA Division of Food and Nutrition Director. "We congratulate Wakeman School 6 for providing an environment that provides children with access to nutritious foods and opportunities to be more active."
Ross visited the school for a fun and educational program and presented the school with a $5,000 grant to improve school food service and physical education programs, made possible by the Jets and the American Dairy Association North East.
"It was great interacting with students who are enthusiastic about being healthy," said Ross. "The commitment by Public School 6 to provide healthy and active choices for their students is commendable."
Schools were judged on their outstanding efforts to provide children with fresh produce, healthy foods, nutrition education and opportunities to increase physical activity. They also were required to have at least 100 students participate in the Jets PLAY 60 Program during which students must log one hour a day of activity for a week.
Wakeman School 6 offers fruits and vegetable options to students daily, including packaged salad. The school also offers various opportunities for students to increase physical activity, including the 6 Fit Club that meets each morning to participate in an exercise program, Yoga 4 Classrooms Program, Yoga Club, and swimming classes in the school's pool. About 100 students participated in the Jets PLAY 60 Program this year, as required.
"When students learn about their individual nutritional and physical activity needs, they can make better choices about nutrition and exercise for themselves and are more likely to achieve personal, academic and athletic goals," said Tina Barone, School Counselor. "Winning this grant will open opportunities for the school to provide students the opportunity to make healthier choices."
Barone said the school plans to use its prize money to purchase steam tables or hot buffet tables and new fitness equipment, such as pull up bars, jump ropes, and gymnastic rings.
The 2015-2016 "Grand Champion" is Carlstadt Public School in Carstadt, who will receive a $15,000 grant and Jets Program. Two other "Division Champions" are Clara B. Worth School in Berkeley Township, which received its $5,000 prize and Jets visit on April 22, and Belleville High School, which received its prize and visit on April 29.
The New Jersey Department of Agriculture administers the National School Lunch and Breakfast programs, special milk and after-school snack, Summer Food Service Program and Child and Adult Care Food Program. Almost 700,000 children eat lunch at school every day in the Garden State.
About the New York Jets
As a professional football team that plays in New Jersey, the Jets take great pride in a long-standing, year-round commitment to our community. Programs funded by the New York Jets Foundation look to positively influence the lives of young men and women in the tri-state area by promoting fitness, supporting youth football and preventing bullying, particularly in disadvantaged communities.