Home
>
News
>
Press Releases
>
2016
>
CARLSTADT PUBLIC SCHOOL HONORED AS GRAND CHAMPION IN NJDA, NY JETS PLAY 60 "EAT RIGHT, MOVE MORE" PROGRAM
CARLSTADT PUBLIC SCHOOL HONORED AS GRAND CHAMPION IN NJDA, NY JETS PLAY 60 "EAT RIGHT, MOVE MORE" PROGRAM
(CARLSTADT) – New Jersey Secretary of Agriculture Douglas H. Fisher along with New York Jets kicker Nick Folk visited Carlstadt Public School in Carlstadt to honor the school as the 2015-16 "Grand Champion" in the New Jersey Department of Agriculture's Jets PLAY 60 "Eat Right, Move More" program.
The Jets PLAY 60 "Eat Right, Move More" program, is a partnership between the Jets, the Department of Agriculture, and the American Dairy Association North East that encourages New Jersey school children to take advantage of healthy foods in their school cafeterias and become more active.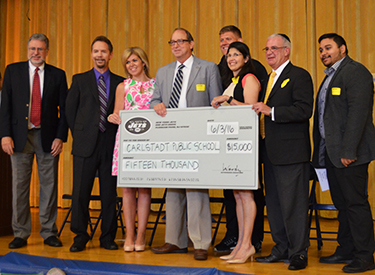 The Carlstadt Public School receives a $15,000 Grand Prize as the winners of the Eat Right Move More Program, a partnership between the New Jersey Department of Agriculture, the New York Jets, and the American Dairy Association Northeast. Left to right: Ken Foy, Principal / Carlstadt Public School, Stephen Kollinok, Superintendent, Allison Evans, Sup. of Curriculum & Instruction, Douglas Fisher, Secretary of Agriculture, Nick Folk, New York Jets, Arleen Ramos-Szatmary, NJDA, Assemblyman Gary Schaer, Manny Paulino, Assemblywoman Caride's office.
"This partnership with the Jets has helped schools do more to provide healthy food choices for students and encourage them to get more exercise," said Secretary Fisher. "We applaud Carlstadt Public School for going that extra mile to ensure the children have access to fresh fruits and vegetables and other nutritious foods as well as opportunities to move more."
Fisher and Folk visited the school for a fun and educational program and presented the school with a $15,000 grant to improve school food service and physical education programs, made possible by the Jets and the American Dairy Association North East.
Schools were judged on their outstanding efforts to provide children with fresh produce, healthy foods, nutrition education and opportunities to increase physical activity. They also were required to have at least 100 students participate in the Jets PLAY 60 Program during which students must log one hour a day of activity for a week.
Carlstadt Public School is not only the overall Grand Champion, but was selected as the "Regular Season" winner. Nick Folk visited the school on December 1, 2015, for a PLAY 60 program with sixth through eighth graders. In addition, six students and two staff members were honored on the field during the New York Jets vs. Tennessee Titans game on December 13.
"I am so proud of the students, teachers and administration at Carlstadt Public School," said Nick Folk. "They really followed through on the Jets PLAY 60 "Eat Right, Move Program" and I am honored to return to the school to present them with their $15,000 grand prize."
Carlstadt was chosen Grand Champion for its creative efforts to encourage students to eat healthier. They offer a fully stocked salad bar, showcase a vegetable each day, poll students about their favorite vegetables then include them on the weekly school menus and educate students both in the cafeteria and classroom about nutrition. They give out free samples of new menu items to see how students like them and survey the children about their favorite meals. They also offer monthly incentives where students can win a healthy snack or other prizes for participating in the school lunch program.
Carlstadt Public School has a school garden where fruits, vegetables and spices are grown. They also provide local produce when available. This year, the school named March as Wellness Month that included healthy activities to promote lifelong wellness.
"We will use the prize money to purchase a class set of heart activity monitors, including a digital management system to help students and teachers improve the health and fitness through tracking their steps, calories and time spent in activity zones," said Allison Evans, Carlstadt Public School Supervisor of Curriculum and Instruction. "The food service department will purchase an industrial smoothie machine and equipment to expand our salad bar to give students a variety of unique options."
In addition to the "Grand Champion," there were three "Division Champions": Clara B. Worth School in Berkeley Township, Belleville High School in Belleville and Jotham W. Wakeman School Number 6 in Jersey City, each of which received $5,000 grants and Jets player visits.
The New Jersey Department of Agriculture administers the National School Lunch and Breakfast programs, special milk and after-school snack, Summer Food Service Program and Child and Adult Care Food Program. Almost 700,000 children eat lunch at school every day in the Garden State.
About the New York Jets
As a professional football team that plays in New Jersey, the Jets take great pride in a long-standing, year-round commitment to our community. Programs funded by the New York Jets Foundation look to positively influence the lives of young men and women in the tri-state area by promoting fitness, supporting youth football and preventing bullying, particularly in disadvantaged communities.