FARMERS MARKET WEEK CELEBRATES PEAK OF JERSEY FRESH SEASON
State, Federal Officials Encourage New Jersey Consumers to Visit Local Markets
(HADDON TOWNSHIP) – New Jersey Secretary of Agriculture Douglas H. Fisher, Health Commissioner Cathleen D. Bennett and U.S. Department of Agriculture Food and Nutrition Service Mid-Atlantic Region office representatives today marked Farmers Market Week with a visit to the Westmont Farmers Market in Haddon Township.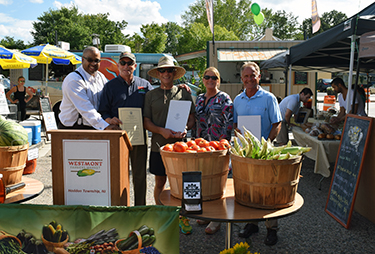 Eric Ratchford, USDA Mid-Atlantic Region SNAP Director; Douglas Fisher, NJ Secretary of Agriculture; Douglas Kelly, Market Manager; Cathleen Bennett, NJ Department of Health Commissioner; Mayor Randall Teague
Governor Chris Christie proclaimed August 7 through 13, 2016 as Farmers Market Week in New Jersey and U.S. Secretary of Agriculture Tom Vilsack, likewise, proclaimed the week National Farmers Market Week to remind consumers to visit these markets this summer and fall.
"We are at the peak of the season right now so farmers markets have a wide variety of just-picked Jersey Fresh fruits and vegetables available," said Secretary Fisher. "Farmers markets, like the Westmont market, are great places to meet the farmers who grow our food and visit with neighbors. They also provide important programs to help those in need purchase nutritious, wholesome local produce."
There are 146 community farmers markets in the state. Farmers who attend these markets sell produce they've picked at the peak of ripeness within 24 hours of sale to ensure the best taste and highest quality. Many of the farmers accept WIC and Senior Farmers Market Nutrition Program vouchers and SNAP food stamp electronic benefit cards. These US Department of Agriculture-sponsored programs provide purchasing assistance to those in need.
"The New Jersey Department of Health appreciates New Jersey farmers' commitment to providing fresh fruits and vegetables to our most vulnerable populations—seniors and low-income women and children," said Commissioner Bennett. "Through the WIC and Seniors Farmers Market Nutrition programs, more than 90,000 residents had access to nutritious, locally-grown produce that help them lead a healthier life."
The Westmont Farmers Market is in its 8th season and is located at Haddon and Stratford Avenues from 4 to 7:30 p.m. every Wednesday through October 26. There are 25 vendors, including three farmers, five food trucks and a variety of other food-related booths. The Business Improvement District started the market to help promote Haddon Township's downtown. Market Manager Douglas Kelly said the market has attracted businesses and residents to the surrounding area.
"We have had hundreds of residents tells us the farmers market is the best part of living in our town," said Kelly. "Our farmers come back year after year. Beside the sales, the farmers have become friends with my neighbors and they seem to welcome the human relations they have built with the residents.
Eating Jersey Fresh fruits, vegetables and other agricultural products can go a long way to improving overall health. Eating locally also is a good choice for protecting our environment by reducing the miles a meal travels between farm and fork, lessening fuel consumption. In addition, choosing locally grown products helps keep New Jersey farmers on their land, preserving the Garden State's quality of life.