N.J. DEPARTMENT OF AGRICULTURE ANNOUNCES 2016 "JERSEY FRESH LOVE" PHOTO CONTEST WINNER
Contact: Jeff Wolfe
609-633-2954
E-mail: jeff.wolfe@ag.state.nj.us
(TRENTON) – Secretary of Agriculture Douglas H. Fisher today announced that the Grand Prize Winner of the 2016 Jersey Fresh Love photo contest is Ryan Briggs, owner of Outlaw's Burger Barn & Creamery in Vineland, N.J.
Throughout the 2016 season, Secretary Fisher encouraged Jersey Fresh fans to submit photographs from all over New Jersey that highlighted their favorite fruits, vegetables or dishes; a local farmer, farmers market or roadside stand; a favorite restaurant that serves Jersey Fresh dishes; or a visit to a New Jersey winery, pick-your-own farm or agri-tourism activity.
Participants were able to enter on Facebook, Twitter and Instagram, using the hashtag #JerseyFreshLove or upload images on the #JerseyFreshLove Contest tab on the Jersey Fresh Facebook page. Also, people were encouraged to vote for their favorite photos. Each week, one fan was chosen at random to receive a Jersey Fresh apron, reusable shopping bag and car magnet. At the end of the contest, the photo with the most votes won the grand prize – a choice of a Jersey Fresh Experience worth up to $500. The contest ran from May 18 through September 14, with voting through September 21.
"We appreciate all who participated in our first social media contest," Secretary Fisher said. "We enjoyed seeing your favorite Jersey Fresh fruits and vegetables, visits to Jersey Fresh markets and restaurants, and agri-tourism adventures. Thank you for the ongoing support of local New Jersey farmers, markets, restaurants, wineries, breweries, and products."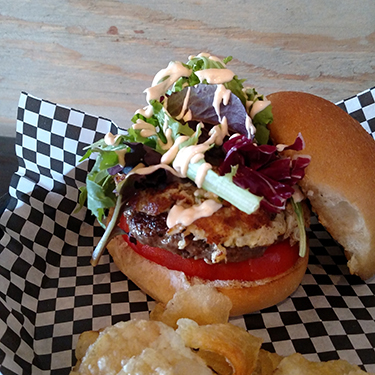 Throughout the Jersey Fresh Love contest, the Department received over 2,100 photo submissions. The photo with the most votes was submitted by Ryan Briggs on July 29 and was of an Outlaw's Burger Barn & Creamery's Jersey Fresh hamburger. It received 367 votes and was captioned, "Burgers, Jersey Fresh style! Crab cake Burger. Fresh ground burger, blue crab cake, organic field greens, Jersey tomato, sriracha lime aioli. #burgers #surfnturf #jerseyfresh #jerseyfreshlove #farm2fork #burgerroutecontest."
Briggs also submitted several other images over the course of the campaign including photos of a burger topped with Jersey cubanelle and cucumber slaw, their "1st customer created Jersey Fresh burger! 8-ounce fresh ground burger, Buffalo mozzarella, charred Jersey white peaches, fresh Jersey basil, balsamic reduction," Jersey Fresh nectarine blueberry and chocolate mint compote served over premium Hershey vanilla soft serve, and a Jersey Peach milkshake.
Outlaw's Burger Barn & Creamery sources produce from Dottavio Produce, located on Main Road in Vineland. The season determines what they get from the farm, and during the spring and summer months, they receive 100 percent of their produce delivered twice a week from their New Jersey farms, including tomatoes, cucumbers, cubanelles, lettuce, mushrooms, habaneros, jalapenos, eggplant, strawberries, blueberries, nectarines and mint. They also source unique ingredients for their specials utilizing anything that's different, fresh and local.
"Outlaw's Burger Barn & Creamery's efforts to source local, Jersey produce 100 percent of the time during the New Jersey growing season are exceptional," said Secretary Fisher. "We know the value and quality that our farmers bring to the table, and appreciate chefs and restaurant owners that understand the importance of supporting these farmers and the state's economy, as well as priding themselves on serving the best quality food to their customers. We urge all restaurants and chefs interested in sourcing our locally grown fruits and vegetables to establish relationships with local farmers and highlight Jersey Fresh regularly on their menus." We can help facilitate introductions.
Briggs and his staff will enjoy their Farm-to-Table Dining Experience grand prize at Annata Wine Bar in Hammonton, with a meal made using Jersey Fresh ingredients. Annata Wine Bar sources its grape, plum, heirloom and San Mariano tomatoes; green and red leaf romaine; poblano, habanero, cherry and red bell peppers; basil and flat leaf, Italian parsley from Marolda Farms in Vineland. Ingredients such as arugula, spinach, shallots, chipollini onions and spring mix come from Graiff Farms in Newfield.
Continue to monitor the Department's social media channels at Facebook, Twitter, Pinterest, Instagram and Tumblr.
About Outlaw's Burger Barn & Creamery
Outlaw's Burger Barn & Creamery has been open since May 16, 2016 and is providing the community with a creative and unique dining experience including mostly local ingredients. Their ice cream sundaes are made using local fruits.
About Annata Wine Bar
Annata Wine Bar has been open for eight years and is family owned and operated by siblings who grew up working on their grandparents' farm in Auburn, N.J. If it's stopping by local farm stands for fresh cut flowers or making bi-weekly treks to local farms, Annata is 100 percent committed to freshness in its eclectic menu of Italian and American cuisine. Like Annata Wine Bar on Facebook and follow Annata Wine Bar on Instagram and Twitter for specials and events.