Homeowners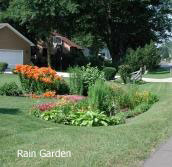 Homeowners can incorporate green infrastructure in several ways. Rain barrels can be placed under a roof drain to collect rooftop runoff. The rain water is then used to water the plants or wash the car. Rain Gardens are excavated garden areas that collect and infiltrate water. Rooftop runoff can also be directed to them so they are watered naturally every time it rains. Disconnection of impervious surfaces, such as rooftops, is another way to reduce runoff. It allows downspouts to drain into the lawn or another vegetated area instead of directly to the storm drains. Crossing vegetated area allows the runoff the opportunity for infiltration before entering the storm sewer system.
Resources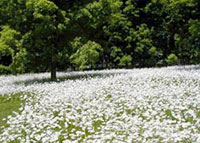 CamdenSmart
The objective of the Camden SMART (Stormwater Management and Resource Training) Initiative is to develop a comprehensive network of green infrastructure programs and projects for the City of Camden. The Initiative includes neighborhood green infrastructure projects, stormwater management policy development, and green infrastructure training programs.
Garden State Greenways
Statewide vision, suggested goals, detailed maps and powerful Geographic Information System (GIS) data and planning tools to help coordinate efforts of private groups and government agencies.
NJ Tree Foundation
The NJ Tree Foundation is a state-wide nonprofit dedicated to planting trees in NJ's most underserved neighborhoods. The Tree Foundation is greening the Garden State through rain garden construction, vacant lot stabilization and fire wise gardens. To date, they have planted 179,606 trees across the state.
Sustainable Jersey
Sustainable Jersey is a non-profit organization providing resources and a certification program for municipalities in NJ that want to go green, save money, and take steps to sustain their quality of life over the long term.
NJ Storm Water BMP Manual
The New Jersey Stormwater Best Management Practices (BMP) Manual provides guidance to address the standards in the proposed Stormwater Management Rules, N.J.A.C. 7:8. The BMP manual contains examples of ways to meet the standards contained in the rule. The methods referenced in the BMP manual are one way of achieving the standards. An applicant is welcome to demonstrate that other proposed management practices will also achieve the standards established in the rules.
Rutgers Cooperative Extension
The Cooperative Extension leads several efforts throughout the State of New Jersey by providing green infrastructure educational programs and implementing demonstration projects. The RCE Water Resources Program has been providing technical assistance to communities for several years, solving water resources problems.
Rutgers Introduction to Green Infrastructure Practices
Provides a clear and concise overview of the basics of stormwater runoff, CSOs, and the benefits of green infrastructure, as well as types and explanations of a number of green infrastructure practices.
Other Useful Links
EPA Green Funding Opportunities
One of the major problems preventing NJ residents and business owners from implementing Green Infrastructure is lack of funding. However, the amount of economic savings and benefits received from Green Infrastructure will be worth what was put into it initially.
American Society of Landscape Architects
ASLA's mission is to lead and educate the public on sustainability and preserving our natural and cultural environment. Their website includes a wealth of information on Green Infrastructure including case studies and ways to save money! Also check out their most recent report Banking on Green, on how to save communities and municipalities money!
For general information, please contact Lisa Schaefer.
For technical information, please contact Adriana Caldarelli.
401-02B
Division of Water Quality
Bureau of Nonpoint Pollution Control
P.O. Box 420
Trenton, NJ 08625-0420
Tel. (609) 633-7021
Fax (609)-984-2147