DEP ORDERS CLOSURE OF OYSTER BEDS IN DELAWARE BAY
(06/30) TRENTON -- New Jersey Department of Environmental Protection Commissioner Lisa P. Jackson this afternoon ordered the immediate closure of 110 square miles of Delaware Bay oyster beds, as state and federal authorities worked to clean up oil contamination that stretched from the Cohansey River to Egg Island.
Commissioner Jackson closed the 70,400-acre area to safeguard the public from consuming potentially tainted shellfish.
The prohibition on all shellfish harvesting applies specifically to all of New Jersey's waters in the Delaware Bay that are northwest of a line from the Egg Island Point bearing approximately 227 degrees T through Miah Maull Shoal Light.
Commissioner Jackson's order will remain in effect until further notice.
Earlier, the U.S. Coast Guard responded to a 6:45 a.m. report that oil was spotted in the upper Delaware Bay. Late this afternoon, DEP crews and Delaware state environmental officials were on the water, working with the Coast Guard to clean up the six-mile narrow band of oil near the center of the bay in the mail shipping channel, east of Port Mahon in Kent County, Del.
Oil-skimming vessels were deployed to conduct recovery and cleanup operations.
Following is a map of the affected area: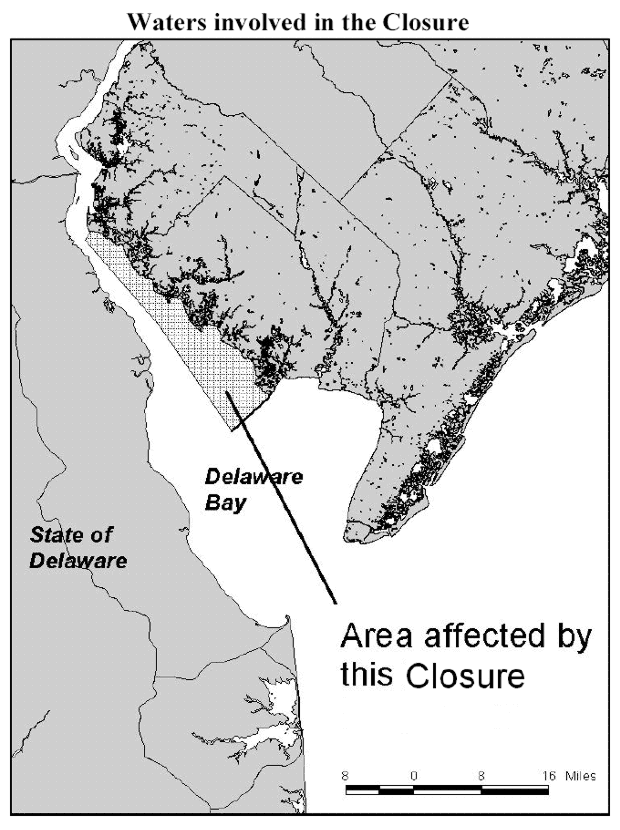 PDF Version of the Map [pdf 179 Kb; information about Adobe Acrobat PDFs]