CHRISTIE ADMINISTRATION LAUNCHES PROGRAM TO IMPROVE SURFACE
WATER QUALITY IN URBANIZED AREAS
NEW PERMIT SYSTEM REQUIRES LONG-TERM COMBINED SEWER DISCHARGE
REDUCTION PLANS AND ENHANCED PUBLIC OUTREACH
(15/P3) TRENTON – The Christie Administration is taking steps to improve water quality in urban areas by requiring sewerage system operators to reduce a type of pollution to waterways known as combined sewer discharges, Department of Environmental Protection (DEP) Commissioner Bob Martin announced today.

As part of this effort, the DEP is issuing 25 permits to address 217 combined sewer overflow (CSO) discharge points, or outfalls, in the state.
The new permits require operators, including municipalities and regional sewer authorities, to develop long-term control strategies, including gray infrastructure projects, such as holding tanks or lagoons, to store stormwater for later release, and green infrastructure projects, such as rain gardens and green roofs, to capture stormwater. Financing is available to help design strategies.
Municipalities and system operators also must implement enhanced public notification strategies, including providing real-time information on potential discharges into rivers and other waterways.
These permit holders already are required to maintain control technologies at outfalls to collect solids and trash, to prevent that material from entering waterways.

Most CSO discharge points are in the New York-New Jersey Harbor region. Combined sewer systems are shared underground piping networks that direct both sewage and stormwater to a central treatment system before discharge into a water body. During heavy rainfall or significant snowmelt, the systems overflow, causing discharges of mixed sewage and stormwater. "This new permit framework encourages regional collaboration on planning and development of projects that will provide urban redevelopment opportunities, improve water quality, beautify neighborhoods, and improve the overall quality of life in our urban communities," said Commissioner Martin. "This new framework allows our urban communities to work with the state to establish realistic solutions to address the longstanding and difficult problem of combined sewer discharges."

To improve public awareness, permit holders are required to post identification signs at discharge points stating there may be sewage overflows during and following wet weather, with the possibility that contact with the water may cause illness. The permit holders must also provide leaflets, fliers and signs at areas dependent on waterways, such as marinas, docks, and fishing piers, as well as set up telephones hotline or websites to provide real-time discharge information.

These discharges often contain high levels of total suspended solids, pathogens, nutrients, oxygen-demanding organic compounds, oil, grease, and other pollutants that impair water quality and the recreational use and enjoyment of urban waterways.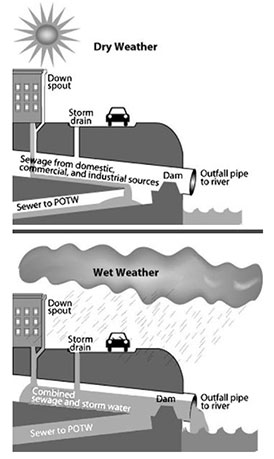 The DEP, in partnership with U.S. Environmental Protection Agency (EPA) Region 2 and New Jersey Future, will sponsor a workshop for permit holders, municipal officials and community organization on Thursday, January 8. For information and directions, visit: http://www.nj.gov/dep/dwq/cso20150108.htm

The workshop will provide details on the long-term control plan permits and offer examples of collaborative integrated planning that have already taken place in New Jersey and across the country.

"Combined sewer overflows are a very serious public health and environmental problem in a number of New Jersey's communities," said Joan Leary Matthews, Director of EPA Region 2's Clean Water Division. "These new permits will help lead the way to improved water quality. EPA looks forward to continuing to work with the state of New Jersey and local communities to ensure that controls are in place to improve public health and our area waterways."

"The new combined sewer overflow permits present a generational challenge to New Jersey cities, and one that can spur community growth and vitality," said New Jersey Future Executive Director Peter Kasabach. "Cities can design infrastructure upgrades that beautify neighborhoods, reconnect residents to waterfronts, and manage flooding. New Jersey Future is committed to helping cities and wastewater utilities use best practices that lower costs, maximize benefits and create healthy, growing communities."

The Christie Administration has made water quality protection a priority. Over the decades the state has provided billions of dollars in funding for the upgrade of urban water and wastewater infrastructure. However, combined sewer systems are very old and are buried under streets, roads, buildings, and densely populated neighborhoods, making them logistically difficult and very expensive to replace with separate systems.

The permits address combined sewer outfalls in the following areas: Bayonne (30 CSO outfalls); Camden City (28); Camden County Municipal Utilities Authority (1); East Newark (1); Elizabeth City (28); Fort Lee (2); Gloucester City (7); Hackensack City (2); Harrison Town (7); Jersey City (21); Kearny Town (5); North Bergen MUA -- North Bergen/Guttenberg (10); Newark City (17); North Hudson Sewerage Authority – Hoboken/ Weehawken/Union (8); North Hudson Sewerage Authority -- West New York (2); Paterson (24); Perth Amboy (16); Ridgefield Park (6); Town of Guttenberg (1); and Trenton (1).

The DEP is encouraging multi-agency collaboration in efforts to deal with CSOs and is providing $500,000 in principal forgiveness loans through the New Jersey Environmental Infrastructure Trust for the development of regional integrated plans. The permits allow up to five years for the plans to be completed.

This approach gives communities an opportunity to establish their priorities, spread costs over time and integrate planning with other community improvement goals, such as green space development, flood prevention, traffic mitigation, and property value enhancement.

For more information from DEP, please visit: http://www.nj.gov/dep/dwq/cso.htm

For information from EPA, visit:
http://water.epa.gov/polwaste/npdes/cso/