CHRISTIE ADMINISTRATION ISSUES PERMITS TO IMPROVE WATER QUALITY IN URBAN AREAS
EFFORT WILL REDUCE POLLUTION FROM COMBINED SEWER OVERFLOWS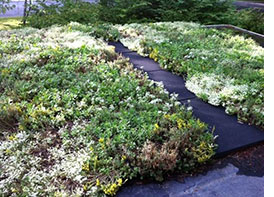 (15/P23) TRENTON – The Christie Administration today issued 25 final permits to improve surface water quality in urban parts of the state by requiring municipalities and wastewater authorities to develop strategies to reduce pollution from combined sewer overflows, Department of Environmental Protection (DEP) Commissioner Bob Martin announced today.

The DEP permits require the development of long-term control plans to address 217 combined sewer overflow (CSO) discharge points in the state. Most are located in the New York-New Jersey Harbor region.

The DEP has taken this innovative permit approach, working in partnership with local governments, wastewater authorities, the federal Environmental Protection Agency, and nonprofits, such as New Jersey Future, to encourage steps to reduce stormwater flow into these CSO systems, thereby reducing water impairments that they cause.
"The Christie Administration has made improving water quality a key environmental priority," Commissioner Martin said. "This new framework allows our urban communities to work with the state to establish realistic solutions to address the longstanding and difficult problem of combined sewer discharges, while creating jobs and economic growth. I commend all of the stakeholders who have been actively engaged in the process."

Combined sewer systems are shared underground piping networks that direct both sewage and stormwater to a central treatment system before it discharges into a water body. During heavy rainfall or significant snowmelt, the systems overflow, causing discharges of mixed sewage and stormwater that create potential health concerns and diminish enjoyment of the waterways.

The new permits require operators to develop long-term control strategies that include gray infrastructure projects, such as holding tanks to store stormwater for later release, and treatment plant expansions. The permits also encourage green infrastructure projects, such as rain gardens and green roofs, to divert stormwater before it enters the sewage piping networks.

"Exposure to polluted water containing sewage can cause a host of problems," said EPA Regional Administrator Judith A. Enck. "Sewage pollution can contaminate drinking water supplies, make people sick, cause beach and shellfish bed closures, and harm fish. EPA applauds this important step by NJDEP to control sewage pollution to protect public health and the environment."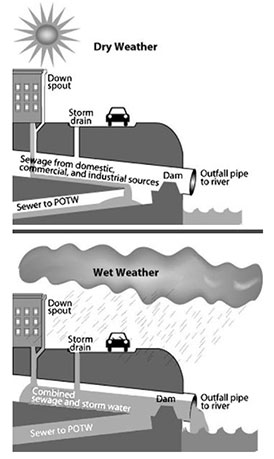 "We commend the DEP for taking a proactive, forward-looking approach to solving the combined sewer overflow problem in New Jersey's urban areas," said New Jersey Future Executive Director Peter Kasabach. "The permit offers an opportunity for cities, sewer utilities and community stakeholders to work together to upgrade critical water systems, and at the same time to employ innovative techniques that improve community health, vitality and economic prosperity."
"Combined sewer discharges are a major concern in urban municipalities," added Perth Amboy Mayor Wilda Diaz. "The high cost to fully separate these systems makes it prohibitive for municipalities to effectively address this challenging environmental issue. I am looking forward to working with the state to find cost effective solutions to improve our environment and aged infrastructure."

"In Camden, we are taking a multi-pronged approach," said Andrew Kricun, Camden County Municipal Utilities Authority Executive Director. "Specifically, we are installing rain gardens and other green infrastructure to reduce stormwater to the CSO system, and implementing a water conservation ordinance to reduce sewage to the CSO system. Through maintenance and cleaning, we also expect to save our ratepayers at least 25 percent in the cost of pipeline replacements."

Over decades, the state has provided billions of dollars in funding for the upgrade of urban water and wastewater infrastructure. However, combined sewer systems are very old and are buried under streets, roads, buildings, and densely populated neighborhoods, making them logistically difficult and very expensive to replace with separate systems.

These permit holders already are required to maintain control technologies at outfalls to collect solids and trash, to prevent that material from entering waterways. The new permit system will reduce the number and amount of CSO discharges, thereby reducing pathogens and other pollutants to waterways.

As part of the state's new approach, municipalities and system operators also must implement enhanced public notification strategies, including providing real-time information on potential discharges into rivers and other waterways.

Permit holders are required to post identification signs at discharge points stating there may be sewage overflows during and following wet weather, with the possibility that contact with the water may cause illness. The permit holders must also provide leaflets, fliers and signs at areas dependent on waterways, such as marinas, docks, and fishing piers, as well as set up telephone hotlines or websites to provide real-time discharge information.

Permits were issued to the Camden County Municipal Utilities Authority; the City of Camden; Gloucester City; the Trenton Sewer Authority; the Joint Meeting of Essex and Union Counties Sewerage Treatment Plant; Elizabeth; the Middlesex County Utilities Authority; Perth Amboy; the Bergen County Utilities Authority; Hackensack; Ridgefield Park; Fort Lee; North Bergen Woodcliff Sewage Treatment Plant; Guttenberg; the North Hudson Sewerage Authority's Adams Street and River Road wastewater treatment plants; the Passaic Valley Sewer Commission; the Bayonne City MUA; the Jersey City MUA; the City of Newark; the North Bergen MUA; East Newark Borough; Harrison Town; Kearny; and Paterson.

In order to encourage regional collaboration on planning and development of projects, permit holders who agree to work in partnership with other permit holders have up to five years to develop one consolidated plan. Those who choose to submit individual plans have up to three years.

This approach gives communities an opportunity to establish their priorities, spread costs over time and integrate planning with other community improvement goals, such as green space development, flood prevention, traffic mitigation, and property value enhancement.

The state will continue to provide low-cost loans and principal forgiveness funding through the New Jersey Environmental Infrastructure Trust to help address costs related to capital improvements for planning, design and construction.
For more information from DEP, please visit: http://www.nj.gov/dep/dwq/cso.htm
For information from EPA, visit:
http://water.epa.gov/polwaste/npdes/cso/