CHRISTIE ADMINISTRATION ANNOUNCES START OF $128 MILLION BEACH
AND DUNE CONTRACT ON LONG BEACH ISLAND
PROJECTS ARE KEY TO STATE'S POST-SANDY COASTAL PROTECTION SYSTEM
(15/P41) TRENTON – The Christie Administration today joined with the U.S. Army Corps of Engineers' Philadelphia District to announce the start of construction on a $128 million contract to complete beach and dune projects for Long Beach Island that will protect lives and property against future storms such as Superstorm Sandy.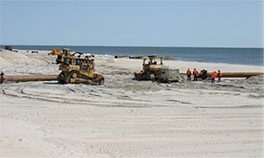 Department of Environmental Protection (DEP) Commissioner Bob Martin and Army Corps Lt. Colonel Andrew Yoder, of the Philadelphia District, were joined by U.S. Rep. Frank LoBiondo, Ocean County freeholders, mayors and other dignitaries at a news conference in Ship Bottom to mark the beginning of the series of projects.

"This is a tremendous day for residents of Long Beach Island and for everyone who loves to visit and vacation here," Commissioner Martin said. "This project is a great example of the type of teamwork needed at all levels of government as Governor Christie continues his commitment to a statewide coastal protection system to defend our economically vital shore communities."
The projects encompass a total of 12.7 miles of beaches in Long Beach Township, Ship Bottom, Beach Haven and part of Surf City. They will complete storm damage reduction projects that were being constructed in phases prior to Sandy striking New Jersey in October 2012. The contract to complete the initial construction on LBI is funded 100 percent by the federal government under the provisions of the Sandy Relief Act, signed into law in 2013.
The Army Corps' contractor, Great Lakes Dredge & Dock Co., will construct beach and dune systems ranging from 325 feet to 415 feet wide. The beach berm itself will be built up to approximately eight feet above sea level. The dune system behind the beach – critical to protection of property, infrastructure and lives – will have a top elevation of approximately 22 feet above sea level.

"Beach projects like this one on LBI are something that I have always promoted not only because of the boost it gives our State's $40 billion tourism economy but also for the community protection role it plays from storms," said Congressman LoBiondo (NJ-2). "This joint effort to safeguard these coastal communities is one I am proud to support and I thank all of the project partners for their actions."
"In the days immediately after Sandy, it was flyover photos of Long Beach Island that provided the clearest visual evidence that dunes and beach nourishment make a difference – because we saw sections where this project had already been built, right alongside others where it had not, and the contrast in terms of property damage was striking," said Lt. Colonel Michael Bliss, Commander of the Philadelphia District. "Well, no one wants to see that again. And the good news is, at the end of this contract, all of the communities along LBI will enjoy this same level of protection."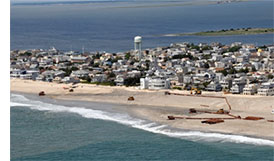 The Long Beach Island project, also known as the Barnegat Inlet to Little Egg Inlet project, is one of seven significant beach improvement projects statewide authorized by Congress but never completed before Sandy hit.
Ultimately, eight million cubic yards of sand will be pumped from an approved "borrow area" approximately three miles offshore.
Work will be done in small sections of no more than 1,000 feet of beach at a time in order to minimize any disruptions to residents and visitors. Beach fill work is expected to take place at the rate of about 100 to 250 feet per day.
All of the various phases of the project are expected to be completed by April 2016. The project schedule is as follows:
Ship Bottom – May to early June of this year.
106th Street to 13th Street in Long Beach – June to September of this year
57th Street to 106th Street in Long Beach – July to October of this year.
Beach Haven and Holgate section of Long Beach and 12th Street in Long Beach south to the border of the Holgate Wildlife Refuge – September of this year to March 2016
North Beach section of Long Beach and a portion of Surf City – December of this year to February 2016
Loveladies section of Long Beach – February to March 2016
"We are really thrilled," said Ship Bottom Mayor Bill Huelsenbeck. "This project is a long time coming. Ship Bottom did fairly well in Sandy because we had dunes that were in pretty good shape. We have $1.3 billion in ratables in a small area. Those sand dunes mean a lot to us."

"The people of Long Beach Island are extremely pleased that the dredges will start the process of pumping sand on the beach this week to finish what was started in Surf City in 2006," said Long Beach Mayor Joseph Mancini. "We all witnessed how the engineered beaches and dunes in Surf City, Harvey Cedars and part of Brant Beach, survived the wrath of Superstorm Sandy and protected the properties to the west of them. The remainder of LBI will have the same security and peace of mind. I would like to thank the DEP, the Army Corps, our legislators and the LBI municipalities, who have worked so hard collectively, to bring this project to fruition."

Prior to Sandy, the Army Corps completed the initial construction of the project at Surf City (3rd-22nd street) in 2007; Harvey Cedars in 2010; and Brant Beach (31st and 57th Streets) in Long Beach Township in 2012. The Army Corps repaired previously constructed beaches in Surf City in 2011, and fully restored all previously constructed beaches within the three communities after Superstorm Sandy.
Long Beach Island stretches 18 miles from Barnegat Light to Holgate. With the start of the LBI project, the Christie Administration continues to make significant headway in bolstering New Jersey's coastline, a key driver of New Jersey's tourism economy that pumps some $40 billion in tourism revenues into the Garden State each year.
Two of those projects – at Oakwood Beach along the Delaware River in Salem County and the Raritan Bay shoreline in the Port Monmouth section of Middletown – were completed last year.
Last month, the Christie Administration and U.S. Army Corps of Engineers launched the start of a $57.6-million project to construct beaches and dunes in southern Ocean City, the Strathmere section of Upper Township, and Sea Isle City in Cape May County. At the same time, the administration announced the start of $38.2 million project to construct beaches, make stormwater outfall improvements and implement modifications to other shore protection structures in the area of Loch Arbour, Allenhurst and Deal in Monmouth County.
Other beach construction work planned to begin this year include completion of Brigantine Inlet to Cape May Inlet, Absecon Island (at Margate and Longport) and initial construction of the Manasquan Inlet to Barnegat Inlet project along the Northern Ocean County peninsula, to include Point Pleasant Beach, Bay Head, Mantoloking, Brick, Toms River, Lavallette, Seaside Heights, Seaside Park and Berkeley.
Last month, the Christie Administration and the Army Corps of Engineers, also announced a $202 million resiliency project that will bolster storm protection for Union Beach along Raritan Bay, one of the communities hardest hit by Superstorm Sandy.
The majority of funding for this project will come from the federal government at $132 million. New Jersey will fund about $53 million and Union Beach will provide $17 million. This project, involving beaches, flood walls, levees and flood gates, is expected to be launched in late 2016.

For more information on the LBI project, visit: http://www.nap.usace.army.mil/Missions/CivilWorks/LongBeachIslandStormDamageReduction.aspx
For more information on post-Sandy coastal projects in New Jersey, visit: http://www.nj.gov/dep/shoreprotection/projects.htm