CHRISTIE ADMINISTRATION CELEBRATES ARBOR DAY
AS PARSIPPANY-TROY HILLS MARKS 40TH ANNIVERSARY AS TREE CITY
TREE PLANTINGS, AWARDS PRESENTATIONS HIGHLIGHT EVENT AT VETERANS MEMORIAL PARK
(16/31) TRENTON – The State Forestry Services within the Department of Environmental Protection today joined Parsippany-Troy Hills Township in Morris County and the New Jersey Community Forestry Council to celebrate Arbor Day 2016 with two ceremonial tree plantings and an annual special awards recognition ceremony at Veterans Memorial Park.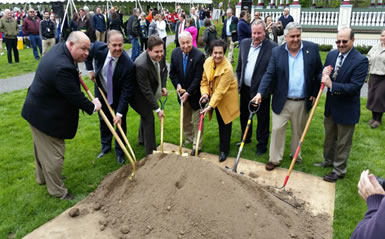 The Township of Parsippany-Troy Hills was selected to host New Jersey's Arbor Day event, in honor of their 40th year as a Tree City USA and to help celebrate the community's accomplishments in working to develop a sustainable urban forest canopy.

"On Arbor Day, let's take a moment to look around and marvel at the trees that clean our water and air, cool our cities, and make our state more beautiful," DEP Commissioner Bob Martin said.
"Working with great partners such as Parsippany-Troy Hills Township and other communities across the state helps to foster growth of healthy trees, which improves the quality of life for all New Jerseyans now and for generations to come."
Parsippany-Troy Hills Township and Paramus were inaugural participants in the Arbor Day Foundation's Tree City USA program at its inception in 1976. Today, New Jersey has 156 communities active in the Tree City USA program, which is a national effort to help communities manage and increase its number of trees, according to the Arbor Day Foundation. Paramus hosted the State's Arbor Day celebration in honor of their 30th anniversary as a Tree City USA in April 2006.
To commemorate Arbor Day, one eastern white pine, Pinus strobus, whose origins are from seeds flown on the Space Shuttle Columbia in 1997 and provided by the NJ State Forest Nursery in Jackson, and one American elm, Ulmus americana 'Princeton', were planted in the park to honor Parsippany-Troy Hills Township's accomplishment and New Jersey's rich forest heritage.
"Arbor Day provides every New Jerseyan with a fresh opportunity to reflect on the beauty of New Jersey's protected open spaces and the trees which provide shelter, shade and enjoyment for residents and visitors," said Richard Boornazian, Assistant Commissioner of Natural and Historic Resources. "As these new trees grow and thrive, we will continue to strive to protect and care for these precious resources so that they can be enjoyed and appreciated for many generations to come."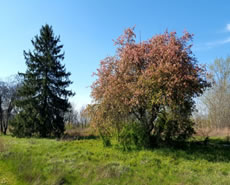 In 1949, the New Jersey State Legislature officially designated the last Friday in April as Arbor Day to honor trees and the people who take care of them. New Jersey has a great diversity of tree species which has helped grow the state's forestry inventory as well as add to the lush landscapes throughout the Garden State.
"Many people would be surprised to learn that New Jersey, the most densely populated state in the Union, is 42 percent forested," said State Forest Services Director John Sacco. "Trees have been and remain a remarkable resource in this state and our country, which residents and visitors enjoy every day."
During today's ceremony, the DEP presented the prestigious Joyce Kilmer Award for outstanding contributions to community forests to Joseph Jannarone, who was Parsippany-Troy Hills Township's forester and began the Township's participation in the Tree City USA program.
In addition, awards were presented to 16 municipalities and one County for their participation in the 2015 Tree City USA program.
First-time award recipient communities: Little Falls and Woodbury.
10-year award recipients: Hamilton Township (Mercer), Linden, Millstone Township, Red Bank, Woodcliff Lake and Monmouth County.
20-year award recipients: Belvidere, Bridgewater, Lawrence Township (Mercer), Princeton and Wenonah.
30-year award recipients: Piscataway and Toms River Township.
40-year award recipients: Paramus and Parsippany-Troy Hills Township.
In addition to Arbor Day activities to celebrate New Jersey's trees, an ongoing tree seedlings distribution campaign continues statewide through May 15.
The New Jersey Tree Recovery Campaign, a partnership between the DEP's State Forest Service and the non-profit Arbor Day Foundation, is distributing some 102,000 free tree seedlings to New Jersey residents at 148 locations across the state.
To find a seedling distribution location in your community, visit the State Forest Service Facebook page and website: www.facebook.com/newjerseyforests and www.forestry.nj.gov
To learn more about New Jersey State Forest Service, visit: www.forestry.nj.gov and like the agency's Facebook page at www.facebook.com/newjerseyforests
For more information on Arbor Day and the Tree City USA program, visit: www.arborday.org. For tree care tips, visit: www.treesaregood.com