CHRISTIE ADMINISTRATION RECOGNIZES 26th ANNUAL NEW JERSEY
HISTORIC PRESERVATION AWARD WINNERS
PROJECTS HONORED AS PART OF NATIONAL HISTORIC PRESERVATION MONTH
(16/39) TRENTON – As part of its celebration of May as National Historic Preservation Month, the Department of Environmental Protection's Historic Preservation Office and the New Jersey Historic Sites Council today announced recipients of the 26th Annual Historic Preservation Awards honoring projects, groups or people dedicated to preserving the state's history.

The 2016 honorees include restoration of a Revolutionary War-era mansion used as a headquarters by General George Washington; repurposing of two early 20th century Art Deco buildings in Jersey City into residential housing; expansion of the boundaries of the Waterloo Village Historic District in Warren County; and an educational archaeology program in Mercer County.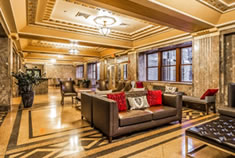 The awards are presented each year for significant contributions to the advancement of historic preservation, including restorations, rehabilitations, and adaptive use plans for historic buildings and cultural landscapes. The awards are to be presented today at Morristown National Historical Park.
"Our state is extremely fortunate to have so many organizations, historic preservation consulting firms, and people who are committed to saving our history," said DEP Commissioner Bob Martin. "Preservation of places that provide links to our past improve our quality of life and ensure that future generations will be able to understand how our state developed and what it was like to live and work during different periods of history."

"We are deeply indebted to the work that this year's award winners have made toward preserving the architectural, cultural and historic resources for all to enjoy," added Dan Saunders, Administrator and Deputy State Historic Preservation Officer.

2016 Historic Preservation Award Winners
John Milner Architects, Inc.
Dey Mansion, Wayne, Passaic County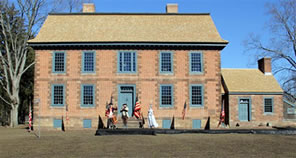 The Dey mansion, a superb example of Georgian architecture, served as General George Washington's headquarters in the Preakness Valley. Now owned by the Passaic County Park Commission, the mansion and museum underwent major preservation work, including structural repair, stabilization and replacement of mechanical systems.
Mills + Schnoering Architects, LLC
Interior Historic Structure Report – Clara Barton Museum, Washington, D.C.
The Civil War-era rooming house in Washington, D.C., where American Red Cross founder Clara Barton operated her "Missing Soldiers Office, " has undergone a thorough rehabilitation and restoration planning study to ensure faithful preservation. Barton's years teaching in Bordentown prior to the Civil War led to her social activism.

John Phillips House Site Public Archaeology Program, Titusville, Mercer County
Friends of Howell Living History Farm and Mercer County Park Commission
A three-week archaeological research program/camp in 2015 involved actual excavation field work conducted under professional archaeological supervision. Participants experienced field preparation, excavation, and documentation of exposed remains, as well as analysis of artifacts, and report preparation. The Howell Living History Farm preserves farming as it was done between 1890 and 1910.

Meet Your Revolutionary Neighbors
Crossroads of the American Revolution National Heritage Area
Meet your Revolutionary Neighbors is a new book that intimately explores the human experience of 14 New Jersey residents during the American Revolution. It is accompanied by a web site program which includes storyline information and videos to help readers learn in an interactive manner. The National Heritage Area encompasses sites in 212 municipalities that tell the story of New Jersey's key role as the "Crossroads of the American Revolution."
Connolly & Hickey Historical Architects, LLC
Waterloo Village Historic District Expansion
Illustrating the importance of updating National Register nominations, this expanded nomination for Waterloo Village Historic District now more accurately reflects the true boundaries of the historic district, and the period of historical development, incorporating potential for archaeological resources as well as above-ground resources. Waterloo Village, a State Historic Site, preserves an early 19th century port along the Morris Canal.
The Hague at the Beacon, Jersey City, Hudson County
MG New York Architects
The Margaret Hague Maternity Hospital, built in the Art Deco style representative of the early 20th century and Jersey City Medical Center, itself an architectural landmark, was recently converted to residential use after sitting vacant for decades. MG New York Architects took great care and sensitivity in the design of the conversion to maintain the grandiose feel of the period.
The Beacon Criterion, Jersey City, Hudson County
EDI International
Also part of the Jersey City Medical Center complex and built in 1936 as a tuberculosis hospital, the Beacon Criterion was also painstakingly restored to reflect the Art Deco style of the early 20th century and has been repurposed as a successful mixed-use development with multi-family rental units.
More information on the 2016 Historic Preservation Award winners may be found at:
http://www.nj.gov/dep/hpo/4sustain/awdsceremony.htm
Photos/ Beacon Criterion, Jersey City; Dey Mansion, Wayne