CHRISTIE ADMINISTRATION'S BLUE ACRES BUYOUT PROGRAM PURCHASES
FIRST PROPERTY IN RAHWAY, UNION COUNTY
SUPERSTORM SANDY INITIATIVE CONTINUES MAKING FLOOD-PRONE COMMUNITIES
MORE RESILIENT AS PROGRAM MARKS ITS THREE-YEAR ANNIVERSARY MONDAY
(16/40) TRENTON –The city of Rahway, in Union County, is the latest community to join the growing list of flood-prone towns to seek and accept buyouts from the Department of Environmental Protection's Superstorm Sandy Blue Acres Buyout Program.
The state recently closed on the purchase of Angel and Carmen Garcia's home at 1453 New Church Street, Rahway, and continues working to make flood-prone communities across the state more resilient from future flooding.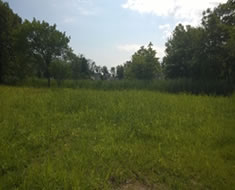 "More than three years after Superstorm Sandy, the Christie Administration remains committed to ensuring the safety of residents in flood-prone communities by using the Blue Acres Buyout Program to move them to safer ground and an improved quality of life," DEP Commissioner Bob Martin said. "We are very happy to complete this first purchase in the City of Rahway and look forward to others. Leaving the consequences of devastating flooding behind can help families move on with their lives and achieve the ultimate goal of making New Jersey more flood resilient."
In the three years since Governor Christie launched the Blue Acres Buyout Program on May 16, 2013 through the DEP, Blue Acres has secured funding to purchase 846 properties in 14 municipalities statewide, with buyouts under way in eight counties. Of 763 offers extended, 587 have been accepted. Closings have been completed on 470 properties, and 346 have been demolished.
Mr. Garcia, a construction laborer, said his family had lived at 1453 New Church Street for 15 years and experienced devastating floods three times, the worst of which was when Hurricane Irene deluged his basement with just under 10 feet of water in 2011 and destroyed it.
The Garcias have moved into their new home in Roselle, but miss their neighbors, with whom the family bonded over shared flooding woes, Mr. Garcia said. Still, Mr. Garcia said he is thankful that the Blue Acres Program made it possible for his family to be in a drier location.
"We were happy," Mr. Garcia said of the program experience. "It worked out for us."
Buyout funding is provided by the FEMA Hazard Mitigation Grant Program (HGMP); the U.S. Department of Housing and Urban Development (HUD) Community Development Block Grant – Disaster Recovery (CDBG-DR) program; the Blue Acres fund and the State Land Acquisition (Urban) fund. The DEP will continue to submit buyout applications to the federal government for additional properties on a rolling basis.
A number of Sandy-damaged communities were among the first to take advantage of the Blue Acres Buyout Program, including Sayreville Borough, South River Borough and Woodbridge Township in Middlesex County. Purchases also have been made in other flood-prone areas of the state including: Manville Borough in Somerset County; Linden in Union County; Lawrence Township and Downe Township in Cumberland County; East Brunswick Township and Old Bridge Township in Middlesex County; Pompton Lakes Borough in Passaic County; and Newark City in Essex County. The program has also moved into New Milford in Bergen County and Ocean Township in Monmouth County.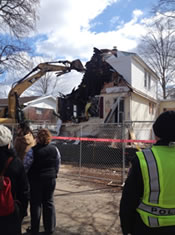 Governor Christie designated the Blue Acres Buyout Program in 2013 to run the state's post-Sandy initiative to purchase homes from willing sellers in flood-prone areas, at pre-Sandy values. A special team expedites the buyout process, and includes individual case managers that work closely with homeowners to personally guide them throughout the entire process. After a Blue Acres purchase is completed, the homes are demolished and the land is permanently preserved as open space for recreation or conservation purposes.
Recently the Blue Acres Buyout program was recognized by the Federal Emergency Management Agency (FEMA) as a Best Practice, citing the program's Benefit Cost Analysis (BCA) approach to significantly reduce the number of properties requiring extensive and time- consuming reviews. Additionally, the U.S. Department of Housing and Urban Development (HUD) recognized Blue Acres for negotiating mortgage forgiveness on properties where the amount owed exceeds the home's value.
Homeowners interested in selling their homes or who have questions about the buyout program may call the DEP's Blue Acres Buyout Program at (609) 984-0500.
For more information on Blue Acres, visit www.nj.gov/dep/greenacres/blue_flood_ac.html