"DISCOVER DEP" PODCASTS PROVIDE PUBLIC WITH FRIENDLY AND FAMILIAR FORMAT FOR LEARNING ABOUT DEP'S MISSION
(16/56) TRENTON – The Department of Environmental Protection has launched a series of audio podcasts designed to provide the public with insights on initiatives and activities the department takes to protect and enhance the state's environment.



"I am very proud of the work performed by the professionals here at DEP," Commissioner Bob Martin said. "New Jersey residents are extremely fortunate to have some of the brightest and most talented people in their fields serving them at the DEP. Each podcast provides an in-depth interview with these experts, offering valuable insights into how we protect our air, water, land and natural and historic resources. The jobs they do are an important part of enhancing our quality of life in the Garden State."

Nine episodes of the "Discover DEP" podcast are currently available. They include an Earth Day introduction by Commissioner Martin. Subsequent episodes cover important topics such as a new beach and waterway online public access map, air quality awareness, Arbor Day and the importance of trees, wildfire season, a special initiative to improve the environment and quality of life in Camden, the Barnegat Bay Blitz watershed cleanup initiative, National Trails Day and the State History Fair.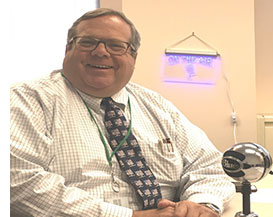 The podcasts are available through the DEP home page at www.nj.gov/dep/ or by visiting www.nj.gov/dep/podcast/ They are also available for mobile devices through iTunes and Google Play.

"These podcasts are an important tool in reaching a wider audience in a format that is both friendly and familiar – much like a radio broadcast," said Bob Bostock, host of the podcast interviews and DEP's Director of Strategic Communications. "With a roster of employees that is both deep and talented, there is no limit to the number of podcasts that we can produce or the topics that we can cover."

In his kick-off podcast interview, Commissioner Martin noted that upon being appointed DEP Commissioner by Governor Christie in 2010, "what I found was an incredible group of dedicated, well-educated professionals, extremely well-motivated and wanting to focus on the environment, getting things done and improving the overall environment. The mission of DEP, and the hat that I wear ever single morning, is protecting the air, the land, the water and the historic and natural resources of the state of New Jersey."

During his tenure at DEP, Commissioner Martin has led the agency through the process of becoming much more focused on problem solving and better serving the public while maintaining the state's strong standards for protecting the environment.

Under his guidance, the DEP has taken strong actions to combat out-of-state sources of air pollution, restore ecologically stressed Barnegat Bay, ensure timely and thorough cleanups of contaminated sites, promote the importance of recycling, combat illegal dumping on state lands, foster environmental stewardship by the regulated community, implement strategies to mitigate the impacts of flooding, assist urban areas to improve water quality, enhance services at state parks and historic sites, and implement policies to better manage and protect wildlife populations.

Moreover, the DEP, under Commissioner Martin, undertook a key leadership role in the cleanup and recovery from Superstorm Sandy and has implemented numerous strategies to make the state more storm-resilient. They include working to ensure coastal communities are protected by robust beach and dune systems, moving homeowners out of harm's way through the state's Blue Acres program, establishing protective elevation standards for post-storm reconstruction, and hardening wastewater and drinking water infrastructure against future catastrophic floods.

The Department of Environmental Protection, established on the first Earth Day, April 22, 1970, was the third state agency of its kind in the nation, consolidating resources to restore and protect resources under one umbrella agency.