CHRISTIE ADMINISTRATION DEDICATES SITE OF FORMER GOLF COURSE AS TALL PINES STATE PARK, FIRST IN GLOUCESTER COUNTY
(16/60) TRENTON – Department of Environmental Protection Commissioner Bob Martin today joined local officials and community preservationists to formally dedicate the Tall Pines State Park, a former golf course that has become the first State Park in Gloucester County.

The 110-acre park, straddling Deptford and Mantua townships along the border of the borough of Wenonah, is marked by rolling terrain that drops down to a narrow stretch of Mantua Creek,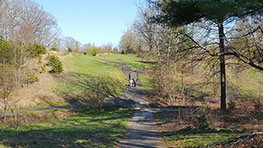 which bisects the property and is passable by foot bridges. Since golf operations ceased more than a decade ago, the area has been naturally transforming from fairways and greens into grasslands steadily transitioning into woodlands that include many stands of young and mature white pines, maples, oaks and dogwoods.

"This is a great day for Gloucester County and residents of the surrounding area, who are able to come here to enjoy solitude and witness first-hand the power of nature to reclaim land," Commissioner Martin said. "The preservation of this beautiful landscape would not be possible if not for the strong partnerships that we built among the municipalities, Gloucester County, the South Jersey Land and Water Trust and, perhaps most notably, the residents of surrounding communities who worked tirelessly toward this goal."

Tall Pines State Park derives its name from the Tall Pines Golf Course, which began operations at the location off Woodbury-Glassboro Road around the early 1960s. Beginning in the early 1980s, former Philadelphia Eagles quarterback Ron Jaworski operated the course as Ron Jaworski's Eagles Nest. Golfing operations ceased in 2006, operating at the time as Maple Ridge Golf Course.
"The Board of Freeholders felt it was important to invest in this natural treasure on behalf of our residents to save it from development and now we are a proud home to a State Preserve," said Gloucester County Freeholder Director Robert M. Damminger. "So many people came together to make Tall Pines State Park a reality, and this acquisition shows that with enough grit and determination governments and groups can work together and achieve great things."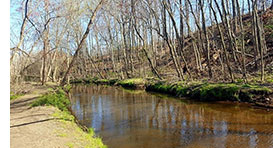 "The park has been set aside for the appreciation of nature, its former cart paths now providing access to walkers and nature lovers as well as fishing ponds and quiet views along and above Mantua Creek," said Division of Parks and Forestry Director Mark Texel. "Most of the paths are accessible to people with disabilities."

"Tall Pines State Park is now a reality, its meadows, woodlands, wetlands, ponds and streams protected as an oasis for wildlife and as a place for all of us to come and experience the beauty and diversity of nature," said Richard Dilks of the Friends of Tall Pines State Park. "So many people who enjoy nature have volunteered their time and energy to make this achievement a reality. We will continue to work with all of our partners to support and enhance this special place. We are just at the beginning."
The total purchase of the land, once targeted for a housing development, cost $3.2 million. New Jersey's Green Acres Program provided more than $2 million for the purchase, including $983,500 through its State Acquisition Program.

Gloucester County provided $1.65 million and the nonprofit South Jersey Land and Water Trust provided $350,000. Green Acres provided 50 percent of these contributions in the form of matching grants through its Local Acquisition Grant program. Mantua Township also provided $250,000, of which 25 percent was matched by Green Acres.
Additional grants came from the Friends of Maple Ridge, which provided $125,000 in donations toward the purchase, and $250,000 from the Frank H. Stewart Trust, which was established to help preserve land in southern New Jersey.
In November, the Green Acres program finalized the purchase of the property from GIBG, LLC of Westport, Connecticut. It has been assigned to the DEP's Division of Parks and Forestry, Southern Region Office. Gloucester County will handle daily operation of the preserve under a management agreement with the State Park Service.

The Green Acres Program, with help from public and private partners, has directly protected more than 680,000 acres of open space and provided hundreds of recreational opportunities for a variety of activities, including natural areas, hiking and fishing areas, city parks, playgrounds, athletic fields, boat ramps, docks, fishing piers and environmental education. For more information on the DEP's Green Acres Program, please visit: www.nj.gov/dep/greenacres/
DEP PHOTOS/Lawrence Hajna