DEP Schedules October 20 Public Hearing for Possible Drought Warning for Much of New Jersey
DROUGHT WATCH ISSUED FOR LARGE PORTION OF SOUTHERN NEW JERSEY AND REMAINS IN EFFECT FOR NORTHWESTERN PART OF STATE
(16/P93) TRENTON – The Department of Environmental Protection has scheduled an Oct. 20 public hearing in anticipation of designating a formal drought warning for 12 counties in the northeastern, central and northern coastal regions of New Jersey, a step that will enable the DEP to work with suppliers to balance storage among reservoir systems.

The hearing, scheduled for 10 a.m. at the Millburn Free Public Library, 200 Glen Avenue, Millburn, Essex County, is a required step prior to the DEP issuing formal drought warning measures for the following counties: Bergen, Essex, Hudson, Hunterdon, Mercer, Middlesex, Monmouth, Morris, Ocean, Passaic, Somerset and Union.

In addition, the DEP today issued a drought watch for Burlington, Camden, Gloucester, Monmouth, Ocean and Salem counties and has continued a drought watch in Sussex and Warren counties that has been in effect since July. The designation of a watch formally urges residents of these counties to voluntarily conserve water.
"The recent rainfall we received, while spanning several days, was not enough to reverse downward trends in our water supplies due to extended dry weather patterns over most the year," DEP Commissioner Bob Martin said. "It is very important for residents and businesses across New Jersey to voluntarily conserve water – especially regarding non-essential water use, such as watering lawns and landscaping – until we get sufficient rainfall to replenish supplies."
A drought warning, which could officially take effect shortly after the hearing unless more abundant rainfall occurs, will establish a formal process for the DEP to work with suppliers to ensure no region faces a significant shortfall should dry weather and high customer demand continue. The goal is to avert a drought emergency declaration, which would necessitate mandatory restrictions on water use by the public.

The purpose of the hearing will be to gather information from the general public, water suppliers and other stakeholders on the current status of water supplies and to discuss steps that can be taken to mitigate water use and manage those supplies, while enhancing public awareness. The DEP has already been consulting with major water suppliers to discuss cooperative transfers among systems.

"We are all in this together," said Daniel Kennedy, DEP's Assistant Commissioner for Water Resource Management. "We will work productively with all of our water systems to ensure proper management of our supplies as we continue to monitor precipitation."

On July 25, the DEP had issued a drought watch for Bergen, Essex, Hudson, Hunterdon, Mercer, Middlesex, Morris, Passaic, Somerset, Sussex, Union and Warren counties.

The DEP utilizes a number of indicators to gauge the impacts lack of precipitation has on water supplies, including reservoir levels, stream flows, and levels in shallow groundwater sources, also known as unconfined aquifers.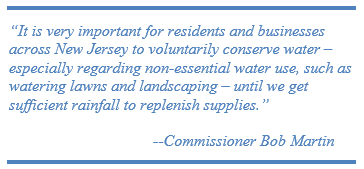 Reservoir systems in the northeastern and northern coastal parts of the state have been grappling with below-normal precipitation for much of the year. Reservoir storage typically declines at this time of year due to heavy usage and normal summer weather patterns.

Major reservoir systems, however, are below their normal levels for this time of year, and may need management of interconnections to balance storage in if significant rainfall does not occur by the time of the hearing.

These are the current conditions in sections of the state that rely on reservoirs:
The Northeast Combined Reservoir System – 12 reservoirs operated by four water suppliers serving the most densely populated region of the state – is 11 percent below its normal storage level of approximately 45 billion gallons for this time of year.
The New Jersey Water Supply Authority's Raritan Basin reservoirs – serving densely populated central parts of the state – are 22 percent below their normal storage level of approximately 64 billion gallons for this time of year.
The combined storage in reservoirs serving portions of Monmouth and Ocean counties are 16 percent below their normal storage of seven billion gallons.
The southwestern part of the state – Burlington, Camden, Gloucester and Salem counties – relies primarily on groundwater. Stream flows and groundwater are rated as severely dry under indicators utilized by the DEP in this area. Rainfall in this area is rated as moderately dry.

Sussex and Warren counties also rely largely on groundwater. Stream flow and shallow groundwater in these counties are rated as severely dry, while precipitation is rated as moderately dry.

In the southern coastal region of the state – Atlantic, Cape May and Cumberland counties – rainfall is near or above normal, stream flow is considered moderately dry, and shallow ground water is considered severely dry. The DEP is continuing to monitor conditions but at this time has not issued a drought watch for these counties.
The DEP offers the following tips to reduce this use:
At this time, it is appropriate to just let your lawns go dormant. If you decided to water lawns, do so sparingly. Two times per week for 20 minutes is sufficient.
Use a hose with a hand-held nozzle to water flowers and shrubs.
Avoid watering lawns and plants during the heat of the day, since much of this water will evaporate without helping the lawn.
Use a broom to sweep the sidewalk, rather than a hose.
To save water at home, fix leaky faucets and pipes. Consider replacing your toilet with a low-flow version; this can save around 11,000 gallons per year.
Turn off the faucet while brushing teeth and shaving.
Run washing machines and dishwashers only when full.
Upgrade your showerhead to low-flow versions; they can save some 7,700 gallons per year.
Upgrade your faucets or install faucet aerators; this can save some 16,000 gallons per year.
For more state water supply status information, visit: www.njdrought.org/status.html
For more detailed information on water conservation technologies and interesting facts, visit: www.nj.gov/dep/watersupply/conserve.htm