DEP Seeking Firms to Run State's First Mountain-biking Park
FORMER JUNGLE HABITAT SITE IN WEST MILFORD OFFERS OPPORTUNITY TO PROVIDE HEALTHY OUTDOOR RECREATION AT A PLACE WITH UNIQUE HISTORY
(16/P99) TRENTON – The Department of Environmental Protection's Division of Parks and Forestry is soliciting bids for a private operator to manage the state's first park for mountain bike riders, which would be located at the site of a former drive-through jungle safari in Passaic County that thrilled visitors in the 1970s.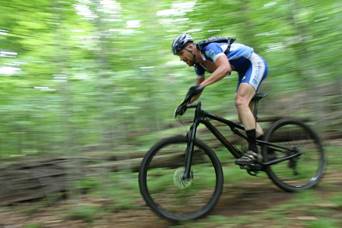 The Division of Parks and Forestry's Request for Proposals is seeking an operator to provide services that can generate revenues for the state park system at the former 800-acre Jungle Habitat property in West Milford, acquired and preserved by the state in 1998. TV and film giant Warner Bros. operated a drive-through wildlife safari and theme park at the site from 1972 to 1976.
As a mountain bike park, the Jungle Habitat site has the potential to allow visitors to tap into nostalgia and a unique piece of New Jersey history while enjoying healthy outdoors recreation.

The site is located immediately west of Long Pond Ironworks State Park in the Highlands region. Potential bidders must be mindful of the region's ecology when providing park development plans.

The request for proposals asks bidders to consider minor site improvements, such as improving and expanding riding trails, rehabilitating the existing parking area and main access road, and installing semi-permanent or mobile restroom facilities. The successful bidder will have the option of providing food and/or bar concessions in temporary or semi-permanent structures.
Bids are due by 4 p.m. on Nov. 15. Anyone interested in bidding must attend a pre-bid meeting and site visit Oct. 18.

The buildings, rides and facilities that once served the hundreds of thousands of visitors to Jungle Habitat are long-gone or are remnant ruins. The site has some 11 miles of single-track trails that
are ideal for bicyclists and pedestrians, and has been used by West Milford Township for Fourth of July fireworks shows. It is already very popular with mountain bikers.

At one time, lions, giraffes, baboons and other exotic wildlife roamed freely through the drive-through safari portion of the park. The park also had a dolphin pool and theme rides.

For complete information, including links to bid documents, a proposed operation agreement, information on the pre-bid site visit and meeting, and survey map of the site, visit: www.state.nj.us/dep/parksandforests/parks/business_ops/current_leases.htm