Christie Administration Announces $22 Million in Coastal Resilience Grants for Wildwood and North Wildwood
PROJECTS WILL IMPROVE STORMWATER INFRASTRUCTURE IN FLOOD-PRONE DOWNTOWN AREAS
(16/P105) TRENTON – The Christie Administration today announced that Wildwood and North Wildwood will receive a total of nearly $22 million in grants for projects that will make them more resilient to flooding and storms as part of the state's overall goal of providing robust protections to coastal areas.

The Department of Environmental Protection's Flood Hazard Risk Reduction and Resiliency Program is providing the Cape May County shore communities with funds for improvements to infrastructure that will collect and divert stormwater from vulnerable areas, protecting businesses, homes, roads and infrastructure. The Administration initiated the grant program as a result of the devastating impacts Superstorm Sandy had on the state four years ago.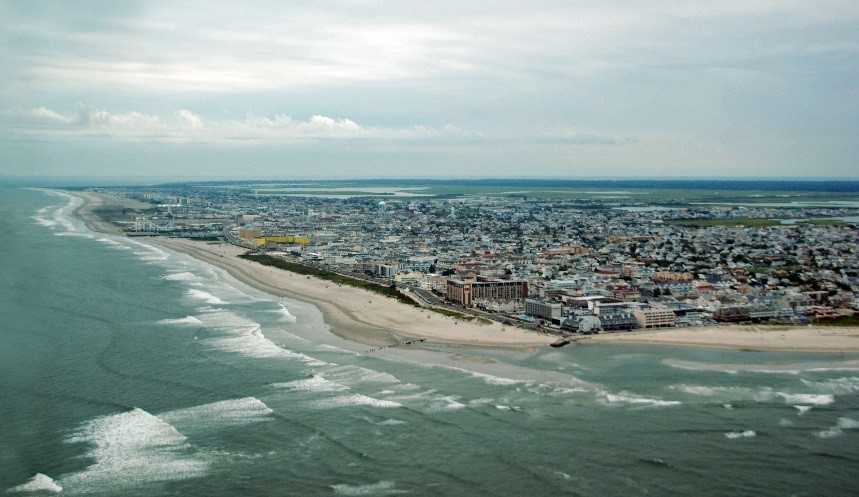 "The Christie Administration remains committed to stronger and safer coastal communities through a wide range of strategies that include construction of robust beach and dune systems, measures to protect critical water and wastewater infrastructure, innovative strategies to restore degraded salt marshes to absorb storm surge, and financial and technical resources to improve stormwater infrastructure," DEP Commissioner Bob Martin said.

"We are very pleased to assist these southern New Jersey communities in addressing areas with longstanding flooding problems," Commissioner Martin added. "In both of these communities, the infrastructure projects will protect areas that are occupied by businesses and homes and provide important access along and off the barrier island."
The Flood Hazard Risk Reduction and Resiliency Program is funded by the U.S. Department of Housing and Urban Development (HUD) Community Development Block Grant Disaster Recovery (CDBG-DR) program.
"Flood prevention projects such as these improve safety and reduce risk to residents and visitors," said U.S. Congressman Frank LoBiondo (NJ-02). "The projects in Wildwood and North Wildwood have long been examined and planned, yet funding was never fully available. I am proud to be part of the partnership that secured this federal aid after Sandy devastated our region, ensuring critical flood prevention projects like these can be completed."
Wildwood and North Wildwood are on a barrier island known as Five Mile Beach.

Wildwood will receive $12.32 million for stormwater improvement projects along Pacific Avenue that will redirect stormwater from five beach outfalls to one outfall that will extend 300 feet from the shoreline. A pump station will be built on Leaming Avenue near the Boardwalk. Pacific Avenue runs through the heart of Wildwood, from its southern border with Wildwood Crest to its northern border with North Wildwood.
North Wildwood will receive $9.93 million for stormwater improvements in the area of Hereford Inlet, replacing a severely undersized system with a new gravity collection system and pump station. The project will mitigate against flooding in the area of West Angelsea Drive, a coastal evacuation route for the barrier island.
"Seventeen years ago, I started my quest for funding to eliminate the devastating flooding of Pacific Avenue and the surrounding neighborhoods," said Wildwood Mayor Ernie Troiano. "At times, I felt like I was talking to deaf ears, but it was this Administration that listened and understood the terrible effect that we were experiencing.
"Through the leadership of Governor Chris Christie, Commissioner Bob Martin, Assistant Commissioner Dave Rosenblatt and those at the Department of Environmental Protection, they allowed us to put a plan together that would allow our businesses and surrounding neighborhoods to not have to worry about being flooded out during a regular rainstorm," Troiano added. "The City of Wildwood is extremely grateful for the $12 million grant that will solve these terrible problems. It is leadership like this that becomes valuable to communities like Wildwood."
"I would like to personally thank the New Jersey Department of Environmental Protection for their financial assistance and acceptance of our grant application for a pump station," said North Wildwood Mayor Patrick Rosenello. "Our proposed project will prevent flooding on our main access/evacuation route, which will ultimately save lives and properties during a major emergency flooding event."

This is the second round of funding under the $50 million grant program by HUD, available to municipalities, counties and local government agencies to improve storm resiliency. The DEP is reviewing additional projects to receive funding under this program.

The DEP has already made $18.8 million available in the first round of funding under the Flood Hazard Risk Reduction and Resiliency Grant program, including flood mitigation projects now under way for a series of coastal lakes in Monmouth County that were severely impacted by Superstorm Sandy and flooded surrounding communities in October 2012.
"By investing in resilient infrastructure in South Jersey, we are building stronger, more livable communities that are prepared for sea-level rise and future weather events," said Holly Leicht, HUD Regional Administrator for New York and New Jersey. "Thanks to unprecedented coordination among federal, state and local governments, New Jersey is strategically fortifying coastal towns like Wildwood against flooding, while protecting vital evacuation routes for vulnerable residents."
The program complements the Administration's comprehensive Sandy recovery and resiliency efforts. These efforts include construction of engineered beaches and dunes and other flood mitigation strategies in partnership with the U.S. Army Corps of Engineers and HUD, Blue Acres buyouts of flood-prone residential properties, the DEP's partnership with the New Jersey Environmental Infrastructure Trust to provide financing for hardening of water and wastewater infrastructure, and partnerships with HUD to protect urban areas of the state.
For more information, visit: www.nj.gov/dep/floodhazard/
DEP PHOTO/North Wildwood and Wildwood