New Jersey Honors Recycling Leaders, Poetry Contest Winners
DEP RECOGNIZES BUSINESSES, INDIVIDUALS AND CHILDREN AT ANNUAL EVENT FOR THEIR EFFORTS TO PROMOTE RECYCLING
(16/P108) TRENTON – A printing firm that employs green initiatives such as having a recycling program for waste paper and other materials, as well as having honeybee hives and using wind turbines; a partnership among a government, nonprofit groups and businesses to reduce waste; and the diligent efforts of a municipal employee to increase community recycling are among the honorees at the state's recent Recycling Symposium and Awards Luncheon.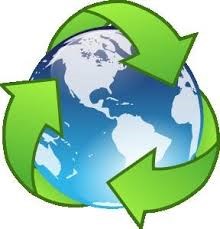 Cox Printers of Linden in Union County, the Learn Your ABC's BYOBag Campaign of Princeton, in Mercer County; and Patricia Totaro, the recycling coordinator for Brick Township in Ocean County, were among seven businesses, organizations and people recognized during the annual Association of New Jersey Recyclers (ANJR) symposium and luncheon recently held at the Jumping Brook Country Club in Neptune, Monmouth County.
Also recognized were a group of grade-school students from across New Jersey for their poems about recycling.
"The Christie Administration is proud of these recycling leaders for their efforts and stewardship in recycling, which is a vital component of protecting New Jersey's environment," DEP Commissioner Bob Martin said. "Recycling is a civic duty that gets everyone actively involved in safeguarding and conserving our natural resources."
In 1987, New Jersey became the first state to require recycling, by passing the New Jersey Statewide Mandatory Source Separation and Recycling Act. Nearly 30 years later, the Christie Administration is continuing to develop policies to further increase recycling rates, and to adapt recycling strategies to match current lifestyles. As part of that effort, DEP requires counties to meet recycling tonnage targets and, with help from local and county partners, promote public participation in recycling programs.
The annual symposium and luncheon was co-sponsored by the DEP and ANJR.
RECYCLING AWARDS
BUSINESS: Cox Printers
In addition to recycling numerous materials and offering customers recycled products as part of its print jobs, Cox Printers has installed a 36kW solar system and two wind turbines on the roof of its building. A partial roof garden, which reduces rainwater runoff, has also been installed on the roof, as well as a number of honeybee hives. The business also follows carbon neutral shipment of goods.
BUSINESS: Earth Friendly Products
Earth Friendly Products manufactures "green" cleaning products at its five U.S. plants, including a facility in Parsippany. The company recycles a variety of materials, has established "zero waste" as a company-wide goal, and has integrated sustainability into all business operations. It welcomes employee suggestions for waste reduction, and has conducted waste audits that led to further cuts in waste generation at the company. Significant cuts to the company's trash stream resulted in recycling revenue totaling more than $180,000. The company also uses solar power and has achieved carbon neutrality since 2013.
BUSINESS: Benjamin Moore and Company
Benjamin Moore's Distribution Center in Clifton has recycled hundreds of tons of wooden pallets and unwanted paint, corrugated cardboard and shrink wrap. It now has a paint can crusher to recycle steel paint cans. Employees also are educated about the key part environmental programs play in segregating the waste stream, labeling and handling materials safely.
LEADERSHIP: Learn Your ABC's BYOBag
A collaborative effort by Princeton Borough, the Princeton Merchant's Association, McCaffrey's Grocery Store and Sustainable Princeton that follows the waste reduction cycle of Reduce, Reuse, Recycle is the focus of The Learn Your ABCs BYOBag Campaign. The campaign demonstrates leadership because the program is a partnership between a municipality, a recycling coordinator, businesses and a nonprofit group. The effort also has expanded existing programs and provides a solution for recycling non-mandated materials including plastic packaging films, which are difficult to recycle.
RISING STAR: Patricia Totaro
Since becoming Brick Township's recycling coordinator in 2012, Totaro's efforts have resulted in many positive developments and improvements to the township's recycling program. Changing the culture of her department, township employees, residents and businesses has taken several years, and the township now recycles more than it ever has before. Totaro also was instrumental in convincing the governing body to invest in new recycling equipment to improve the program and marketability of materials collected.
INSTITUTION: The Valley Hospital
The Valley Hospital, in Ridgewood, Bergen County, continues adding new materials to an already extensive list of materials for its recycling program. The hospital also uses eco-friendly building products whenever possible and has installed rooftop beehives.
INSTITUTION: Chairville Elementary School
Chairville Elementary School in Medford, Burlington County, recycles a variety of materials and has composting containers for food waste. Recycling is an important part of the curriculum, and the school's "Green Team" works to promote various environmental programs including waste reduction. The 400-student school is in the process of constructing an Outdoor Classroom, which will be used to support and extend the school's environmental curriculum.
2016 POETRY CONTEST WINNERS
Grade 4: Amare Grissett and Molly McDonald, Linden School #6, Linden; Sienna Dragone, Mount Tabor School, Mount Tabor; Gabriella Casamento, Rockaway Valley School, Boonton Township.
Grade 5: Jordan Hewitt, St. Peter School, Point Pleasant; Shannon Huang, Frank Delfino Central Elementary School, Marlboro; Hannah Repuyan, Manchester Township Elementary School, Manchester; Chris Stearns, Littleton Elementary School, Morris Plains.
Grade 6: Alivia King, Toms River Intermediate South School, Toms River; Alexis Mayer, Woodcliff Lake Middle School, Woodcliff Lake; Lauren Kozubal, Sampson B. Smith School, Somerset; Ami Balli, Central Middle School, Parsippany.
To learn more about recycling in New Jersey, visit: www.nj.gov/dep/dshw/recycling/