CHRISTIE ADMINISTRATION AWARDS $2.7 MILLION GRANT TO MITIGATE FLOODING AND PROTECT PUBLIC SAFETY IN STONE HARBOR

(16/P124) TRENTON – The Christie Administration today announced that Stone Harbor has been awarded a $2.7 million grant to fund a stormwater and storm-surge mitigation project that will protect the flood-prone downtown area as well as the major evacuation route for the Cape May County shore community.

The funding from the Department of Environmental Protection's Flood Hazard Risk Reduction and Resiliency Grant Program will be used to protect businesses and homes in the downtown area between 88th and 99th streets. This area sustains repetitive flooding that impedes evacuations via the 96th Street Bridge.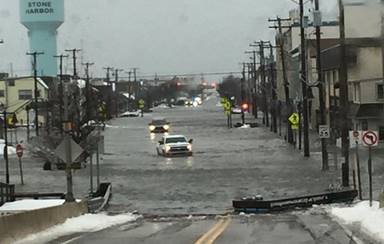 The project entails installation of remotely operated tide-control valves at existing bayside stormwater discharge pipes that can be closed to prevent storm surge from overwhelming the stormwater-collection system in the area. In addition, streets will be elevated to improve collection of rainwater, which will be diverted to a storm-hardened, bayside pump station to be built at 93rd Street.
The Borough of Stone Harbor will provide an additional $300,000 toward the project and will fund design costs.

"This project exemplifies the diverse and innovative strategies we are putting into place to protect our shore communities that are so important to the economic vitality and identity of New Jersey," said DEP Commissioner Bob Martin. "This project will protect businesses and homes in the heart of Stone Harbor and will ensure residents and visitors will be able to access the main evacuation route off the barrier island in the event of a weather emergency."

Storm surge from Great Channel between Stone Harbor and Middle Township on the mainland routinely pushes into the stormwater discharge pipes, swamping the downtown area and preventing proper discharge of rainwater into the channel.

The DEP's Flood Hazard Risk Reduction and Resiliency Grant Program is part of the Christie Administration's multi-faceted and integrated approach to protecting coastal areas following the devastation of Superstorm Sandy in October 2012.

The $50 million Flood Hazard Risk Reduction and Resiliency Grant Program is funded by the U.S. Department of Housing and Urban Development (HUD) Community Development Block Grant Disaster Recovery (CDBG-DR) program.

As part of this second round of funding, Wildwood recently received more than $12 million and North Wildwood was awarded nearly $10 million for stormwater and flood-control projects that will protect homes, businesses, infrastructure and coastal evacuation routes.

During a first round of funding the DEP provided $18.8 million for projects to improve flood controls and provide ecological enhancements to a series of coastal lakes in Monmouth County that were severely impacted by Superstorm Sandy and flooded surrounding communities.

The program complements the Administration's comprehensive Sandy recovery and resiliency efforts. These efforts include construction of engineered beaches and dunes and other flood mitigation strategies in partnership with the U.S. Army Corps of Engineers and HUD, Blue Acres buyouts of flood-prone residential properties, the DEP's partnership with the New Jersey Environmental Infrastructure Trust to provide financing for hardening of water and wastewater infrastructure, and partnerships with HUD to protect urban areas of the state.

Just across from Stone Harbor and near the bridge, the DEP has teamed up with the U.S. Army Corps of Engineers, New Jersey Department of Transportation, The Nature Conservancy, Green Trust Alliance and Rutgers University to evaluate an innovative technique to restore degraded salt marshes to absorb storm surge from bays and other coastal waters.

The process uses sand and sediments pumped from navigation channels to slightly elevate marshlands degraded by subsidence, erosion and sea-level rise so that marsh grasses can take root and help act as a cushion to storm surge.

The DEP, working in partnership with the Army Corps of Engineers, has also launched a three-year study to address flooding from back bays and other coastal waterways.

The Back Bays Flood Risk Management feasibility study will evaluate a host of structural and non-structural strategies in a 950-square-mile area of coastal Atlantic, Burlington, Cape May, Ocean and Monmouth counties. Strategies that will be evaluated include storm-surge barriers, tide gates, levees, floodwalls, drainage improvements, beach and dune restoration, saltmarsh restoration and creation of living shorelines, which are areas planted with native marsh grasses and shellfish to provide natural flood buffers.

For more information on the flood hazard mitigation grant program, visit: www.nj.gov/dep/floodresilience/grants.htm

For more inform on the Back Bays Flood Risk Management feasibility study, visit: www.nap.usace.army.mil/Missions/Civil-Works/New-Jersey-Back-Bays-Coastal-Storm-Risk-Management/

PHOTO/96th Street flooding, courtesy of Stone Harbor Fire Department