CHRISTIE ADMINISTRATION CELEBRATES ARBOR DAY AT CEREMONY HONORING CAMDEN'S URBAN AIRSHED REFORESTATION PROGRAM
TREE PLANTINGS, AWARDS PRESENTATIONS HIGHLIGHT EVENT AT CAMDEN DAY NURSERY SCHOOL
(17/P37) TRENTON – The New Jersey Forest Service, within the Department of Environmental Protection, today joined Camden officials and the New Jersey Tree Foundation to celebrate Arbor Day with tree plantings at the Camden Day Nursery School and an annual awards recognition ceremony near the historic Walt Whitman House.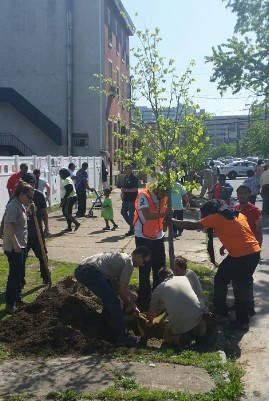 "On this Arbor Day, the efforts of communities like this one give each of us an opportunity to look around and appreciate the trees that clean our water and air, cool our cities, and beautify our state," DEP Commissioner Bob Martin said. "Working with great partners such as Camden and other communities – large and small – across the state helps to foster growth and management of healthy trees, which improves the quality of life for all New Jerseyans now and for generations to come."
"Trees have always been a part of this city and have inspired many, including poet Walt Whitman, who wrote while looking out of his window at trees along what was then Mickle Boulevard," said Richard Boornazian, Assistant Commissioner for Natural and Historic Resources. "As these new trees grow and thrive, we will continue to strive to protect and care for these precious resources so that they can be enjoyed and appreciated for many years."
Camden was chosen to host this year's Arbor Day celebration because the city is marking its 15th anniversary of participation in the New Jersey Tree Foundation's Urban Airshed Reforestation Program (UARP), which benefits urban and community forestry.
The UARP is a community-based tree-planting program that began in Camden in 2002 and is expanding to serve additional South Jersey cities. Designed to improve air quality, manage stormwater and provide shade, the UARP has removed approximately 87,000 square feet of impervious surface to plant 6,296 trees along city streets, 220 of which were planted last fall. Prioritizing grassroots work, the UARP empowers residents to create positive changes in their communities. Residents apply for and adopt trees, help organize events, and assist with the planting of each tree. To date, the UARP has engaged approximately 12,709 volunteers to beautify South Jersey's cities.
"I cannot think of a better place to have the state Arbor Day event than Camden," said Lisa Simms, Executive Director of the New Jersey Tree Foundation. "Camden has an abundance of amazing residents who have volunteered to plant more than 6,000 trees to shade the city."
Camden also has established its own Shade Tree Advisory Board, the city's second five-year Community Forestry Management Plan (CFMP) was recently approved and extended until 2020, and residents and employees have earned more than 580 continuing education credits and almost $30,000 in grants from the New Jersey Urban and Community Forestry Program (NJUCFP) for CFMP development and implementation. Camden has been a Tree City USA for six years.
"We are so excited to host the State's 2017 Arbor Day event in the City of Camden," Mayor Dana Redd said. "Through the years, Camden has led the way by planting thousands of trees with the help of our partners at the New Jersey Tree Foundation, volunteers and community residents. This is a wonderful opportunity to recognize all that has been accomplished and promote Camden's city-wide sustainability efforts while providing trees to Camden Day Nursery School, a partner who has served the children of our community for over 100 years."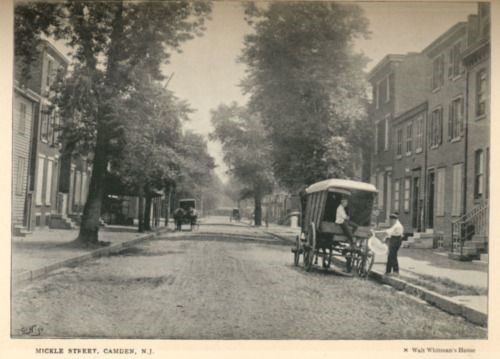 To commemorate Arbor Day, trees – two Ulmus Americana 'Princeton,' four Tilia cordata, and three Syringa reticulate -- were planted in enhanced tree pits in the streetscape around the school. The planting was designed by the Rutgers Cooperative Extension Water Resources Program as part of an ongoing effort to mitigate stormwater throughout the city. An enhanced tree pit collects rainwater by diverting runoff from the sidewalk or street. Enhanced tree pits are specially engineered with amended soils, plants and trees to absorb water and filter pollutants.
In 1949, the New Jersey State Legislature officially designated the last Friday in April as Arbor Day to honor trees and the people who take care of them. New Jersey has a great diversity of tree species, which has helped grow the state's forests as well as add to the lush landscapes statewide.
"Arbor Day provides every New Jerseyan with a fresh opportunity to reflect on the wonder of New Jersey's trees, which stand as vital green infrastructure in every one of our communities," said State Forester John Sacco. "Since the state is the most densely populated in America, New Jersey's trees are remarkable resources in this state. They are our living pumps and filters, and provide us service and beauty which give us healthy, beautiful places we all can enjoy every day."
During today's ceremony, the DEP presented the prestigious Joyce Kilmer Award for outstanding contributions to community forests to Sheila Roberts of the Cooper Landing Civic Association and the Camden Shade Tree Advisory Board, and Benigno Rodriguez of the Camden Block Supporters Initiative.
In addition, awards were presented to 12 municipalities for their participation in the 2016 Arbor Day Foundation's Tree City USA program.
10-year award recipients:
Borough of Edgewater, Bergen County
Township of Hanover, Morris County
Borough of Rutherford, Bergen County
20-year award recipients:
City of Clifton, Passaic County
Borough of Manasquan, Monmouth County
City of Millville, Cumberland County
Borough of Mountain Lakes, Morris County
Naval Weapons Station Earle
City of Rahway, Union County
Borough of Freehold, Monmouth County
30-year award recipient:
Township of Nutley, Essex County
40-year award recipient:
Borough of Morris Plains, Morris County
The NJUCF has released its 2017 round of Community Stewardship Incentive Program (CSIP) grants for local governments accredited with the program. More than $1.8 million is available for resiliency planning and reforestation, and tree planting. The grants can be used to help conduct urban and community forest inventories, and to develop plans to mitigate damages caused by emerald ash borer.
The NJUCF encourages and supports the stewardship and effective management of trees and forest ecosystems in New Jersey's communities through accreditation, technical assistance and financial assistance. Funding for this year's CSIP grants is made possible by the Treasure Our Trees license plate and the No Net Loss reforestation program.
Earlier this month, the DEP began distributing 112,500 free tree seedlings to state residents in 128 municipalities through an ongoing partnership among the New Jersey Tree Recovery Campaign, State Forest Service and the non-profit Arbor Day Foundation.
To learn more about the NJUCFP, 2017 CSIP grants and accreditation, visit: www.communityforestry.nj.gov and subscribe to the listserv.
For tools and resources regarding Emerald Ash Borer, visit: www.emeraldashborer.nj.gov
For more about the Arbor Day Foundation and Tree City USA, visit: www.arborday.org
For tree care tips, visit: www.treesaregood.com

###