DEP'S URBAN AND COMMUNITY FORESTRY PROGRAM ANNOUNCES
2017 GREEN COMMUNITIES ACHIEVEMENT AWARDS
RECIPIENTS TO BE HONORED AT NEW JERSEY SHADE TREE FEDERATION DINNER
(17/P99) TRENTON – The Department of Environmental Protection's is honoring four people and organizations today with the 2017 Green Communities Achievement Award, recognizing them for outstanding contributions to urban and community forestry, Commissioner Bob Martin announced today.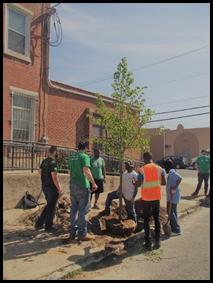 The 2017 recipients are: James Cunningham, New Jersey Tree Foundation Green Streets Crew Supervisor; Joseph McCartney, West Orange Open Space Commission chairman; the city of Clifton; and the Rutgers Cooperative Extension Water Resources Program.
The awards will be presented this evening at the New Jersey Shade Tree Federation's 92nd Annual Conference Dinner at the Crowne Plaza, Cherry Hill.
Exemplary work in urban and community forestry, whether public or private, is eligible for the awards program. The Green Communities Awards recognize up to four recipients per year in the following categories: Individual, Municipality, Forestry/Arboricultural Industry, and Non-profit/Non-governmental organization.
Through these awards, achievement in urban and community forestry is recognized for:
Improving the environment in New Jersey's communities through wise management of trees and forest resources, and the development of a self-sustaining local urban and community forestry program
Raising awareness of the value of urban and community trees and forests in New Jersey through education and outreach
Enhancing the beauty of New Jersey's cities and towns with programs and projects for trees and forests
Providing exceptional effort and meritorious contributions to the field of urban and community forestry in New Jersey.
This year's awardees exemplify the spirit of this award. Awardees are selected by the New Jersey Forest Service Urban and Community Forestry Program, the New Jersey Community Forestry Council and the New Jersey Tree Foundation.
For more information about the program, visit www.communityforestry.nj.gov or like the program on Facebook at: www.facebook.com/NJurbanandcommunityforestry/
PHOTOS/Top: New Jersey Tree Foundation Green Streets Crew Supervisor James Cunningham teaches volunteers about proper tree planting at an Arbor Day event in Camden. Bottom: Clifton Tree City USA