NEW JERSEY AND DELAWARE EASE CONSUMPTION ADVISORIES FOR
CERTAIN FISH CAUGHT IN LOWER DELAWARE RIVER AND DELAWARE BAY
REVISIONS REFLECT DECLINE IN PERSISTENT CONTAMINANTS SUCH AS PCBS AND PESTICIDES IN THE WATERBODIES
(18/P015) TRENTON – The Department of Environmental Protection has eased consumption advisories on certain fish species caught in the lower Delaware River and Delaware Bay, an indication of improving ecological conditions as levels of contaminants decline, Acting Commissioner Catherine R. McCabe announced today.
Among the key changes include removing all advisories for weakfish for both the general population and those considered to be at higher risk. The DEP also increased the acceptable consumption limit for all finfish caught in the Delaware River south of the Delaware-Pennsylvania border to the Chesapeake and Delaware Canal to three meals per year compared with the previous limit of one fish meal per year. High-risk individuals, which include women of child-bearing age and children, continue to be advised to eat no fish from this area.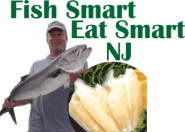 "These changes reflect an ongoing trend in which contaminants from past pollution such as PCBs and pesticides continues to decline," Acting Commissioner McCabe said. "We encourage all anglers to take a few minutes to review fish advisories issued by the DEP and the New Jersey Department of Health so they can make sound decisions on safe consumption of fish."
In addition, the DEP has revised its recommendations for consumption of bluefish caught in Delaware Bay from one meal per year for fish that are less than six pounds or smaller than 24 inches to a new recommendation of one meal per month for any fish less than 20 inches long for all groups.
The DEP has also revised its general population recommendations in Delaware Bay for consumption of bluefish larger than 20 inches from "do not eat" to three meals per year.
"New Jersey residents should be aware that environmental contaminants can create health risks for people eating fish caught recreationally in the state," said New Jersey Department of Health Acting Commissioner Dr. Shereef Elnahal. "However, by following the guidelines in our advisories the public can safely include fish and other seafood they've caught as a part of their healthy diet."
The Delaware Department of Natural Resources and Environmental Control is taking identical actions to revise its consumption advisories. Both states continue to coordinate and maintain consistent advisories in these shared waters.
While water quality in New Jersey continues to improve, past pollution can persist for many years in sediments and continue to accumulate in fish at or near the top of the aquatic food chain. As a result, some recreationally caught fish can contain mercury, PCBs and pesticides that may be unhealthy for children or women of child-bearing age.
All states have fish consumption advisories. Many of the fish on New Jersey's advisory lists are typically caught and released without being consumed, but some people rely heavily on some of the species on the advisory lists as a food source.
These advisories allow members of the public to make informed choices about the fish they catch and eat. The DEP updates fish consumption advisories regularly. The fish consumption advisories include statewide, regional and waterbody-specific advice, and a general advisory for freshwater fish.
For a full listing of revisions to advisories in the lower Delaware River and Delaware Bay, as well as a statewide list of advisories, click on the logo above or visit: www.FishSmartEatSmartNJ.org
For much of the population, most advisories can range from no restrictions to a recommendation to limit consumption to one meal per week. For the high-risk population – which includes pregnant women, women planning to become pregnant, nursing mothers, infants and children – advisories can range from no more than one meal per week to do not eat.
If you choose to eat those species under advisories, there are steps you can take to reduce your exposure. Contaminants tend to concentrate in the fatty tissue of the fish. Proper cleaning and cooking techniques, which remove some of the fat from the fish, can significantly reduce levels of PCBs, dioxins and other organic chemicals. However, these techniques will not reduce or remove unsafe levels of mercury from fish.
For all freshwater fish and waters not covered by consumption advisories, consumers should follow the DEP's general freshwater advisories, which recommend eating no more than one meal per week for the general population and no more than one meal a month for high-risk individuals.
###