DEP EFFORTS TO SAVE STATE'S LAST WILD POPULATION OF ENDANGERED
GRASSLAND HERB SHOWING SIGNS OF PROMISE
(18/P069) TRENTON – The Department of Environmental Protection has high hopes for steps taken this year to improve the survival chances for New Jersey's last remaining wild population of American chaffseed, a flowering perennial herb with highly specialized habitat needs. The species' last stronghold is in a state forest in the Pinelands of Burlington County.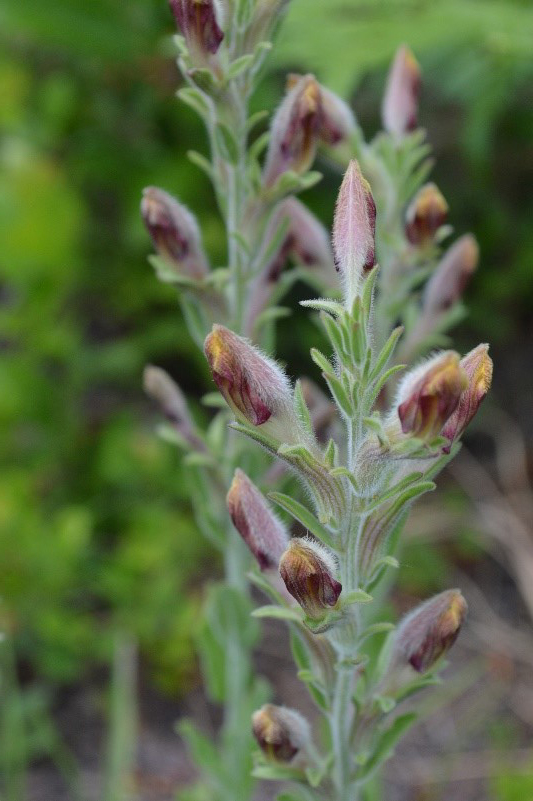 "Working with the help of volunteers, the DEP has implemented habitat management techniques that are showing signs of promise, giving this extremely rare and uniquely beautiful plant a chance at survival," said Commissioner Catherine R. McCabe. "This effort demonstrates just how important it is to manage our wild lands to ensure continued ecological diversity."
To restore the habitat at the Burlington County location, the New Jersey Forest Fire Service in late winter conducted a prescribed burn, then the New Jersey Forest Service thinned the surrounding trees to increase sunlight. Volunteers from the New Jersey Conservation Foundation and Pinelands Preservation Alliance also manually cut back competing shrubs. Duke Farms in Hillsborough also contributed by propagating at its site plants from seed collected at the wild population. The New Jersey State Forest Nursery in Jackson has been working to propagate plants to aid in re-establishing this rare species.
The project is being overseen by the DEP's Office of Natural Lands Management. The Burlington County site has more than 80 American chaffseed plants.
"The results of our efforts have been very encouraging," said New Jersey Division of Parks and Forestry Director Olivia Glenn. "This year, the total number of American chaffseed flowers at the Burlington County site is double that of recent years, with the number of stems up 65 percent from last year. All of this points to an increase in the overall number of plants next year."
Resembling a snapdragon, American chaffseed (Schwalbea americana) needs open meadows with sandy and acidic soil as well as nearby wetlands. Seeds of American chaffseed also require contact with the roots of a host plant to germinate. Known host plants in New Jersey include Maryland golden aster, inkberry and dwarf huckleberry.
The American chaffseed is listed as endangered by the state as well as the federal government. The biggest threats to American chaffseed across its range include development, mowing and suppression of wildfires that are needed to remove competing understory vegetation.
At one time, the species was found in 16 states from Massachusetts to Louisiana, and as far west as Kentucky and Tennessee. Today its range has diminished to spotty populations in eight states along the Atlantic and Gulf of Mexico coasts.
"The species was once found at 18 locations in New Jersey, all in or near the Pinelands," said Office of Natural Lands Management Administrator Bob Cartica. "The population of American chaffseed at its last refuge in Burlington County had been experiencing declines for more than a decade, its open-field habitat succumbing to other trees and shrubs that were outcompeting the American chaffseed."
The New Jersey Forest Fire Service provided expertise in managing the controlled burn at the site that was essential for restoring the habitat to a grassland-type ecosystem. The Forest Fire Service annually conducts extensive prescribed burning operations that reduce the risk of massive wildfires that could threaten lives and property while keeping ecosystems healthier. Many of these operations are focused on the Pinelands.
"With more than a third of New Jersey's native flora considered rare or at risk of disappearing from the state, it is imperative that we continue developing ways to keep plants such as the American chaffseed as part of our natural landscapes," said New Jersey State Forester John Sacco. "Developing these techniques and implementing managed burns to imitate natural processes is a high priority of the New Jersey Forest Service."
For more information on American chaffseed, visit
www.fws.gov/northeast/njfieldoffice/endangered/chaffseed.html
For a report on the status and trends of endangered plants in New Jersey, visit
www.nj.gov/dep/dsr/trends/pdfs/endangered-plant.pdf
For more information on the Division of Parks and Forestry, visit
www.nj.gov/dep/parksandforests/
Follow the DEP on Twitter @NewJerseyDEP
DEP PHOTO/American chaffseed plant at Burlington County restoration site
###