NONPROFITS, UNIVERSITIES AND COLLEGES URGED TO APPLY FOR GRANTS
FOR PROJECTS TO ENHANCE COASTAL-RESILIENCE PLANNING EFFORTS
(19/P016) TRENTON – As part of the state's comprehensive efforts to make New Jersey more resilient, the Department of Environmental Protection today announced that nonprofits, colleges and universities may apply for grants to develop projects that will assist the department in helping communities prepare for storms and sea-level rise.
The Resilient NJ program is making a total of $250,000 in grant funding available for projects that will assist the DEP in developing and enhancing guidance, tools and information the department provides to communities in coastal and river areas.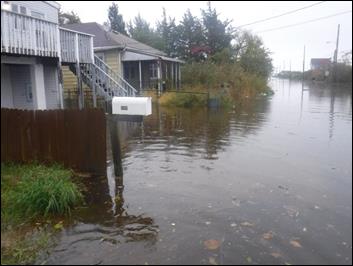 "New Jersey is particularly vulnerable to the effects of sea-level rise caused by climate change," Commissioner Catherine R. McCabe said. "The work that comes out of these projects will ensure that all communities vulnerable to sea-level rise – whether along barrier islands or in urban areas along tidal rivers – have the best and latest science, guidance and tools they need to prepare for sea-level rise."
Eligible projects include development of guidance documents, planning tools, training, communications and outreach plans, and research, as well as other efforts that directly support resilience planning.
As many as eight awards will be issued. Minimum awards will be no less than $20,000, with a maximum award of no more than $100,000. Grant applications are due May 1. Winning proposals will be notified no later than Aug. 30.
Resilient NJ is an important piece of a New Jersey's comprehensive efforts to address climate change and make the state more resilient, including rejoining the Regional Greenhouse Gas Initiative and partnerships with the U.S. Army Corps of Engineers to study resilience options for New Jersey's coastal, bay and river areas.
In addition, the DEP's Coastal Resilience Plan launched in October will guide policies, regulations, resource allocation and funding in the coastal zone. Its goal is to reduce the impacts of flooding hazards, increase resilience for structures, infrastructure systems, environmental resources, and coastal communities, while addressing the needs of socially vulnerable populations and attracting equitable and sustainable investment.
The U.S. Department of Housing and Urban Development is providing funding for the Resilient NJ grants as part of its National Disaster Resilience Competition, which works to make communities more flood-resilient after major natural disasters.
DEP last year announced Resilient NJ grant awards for four regional teams. The teams and their members are:
Jersey City Team – Jersey City, Newark, Hoboken, Bayonne, the HOPES Community Action Partnership and the Ironbound Community Corporation.
Middlesex County Team – Middlesex County Office of Planning, Old Bridge, Perth Amboy, Sayreville, South River, Woodbridge and the Lower Raritan Watershed Partnership.
Long Beach Island Team – Long Beach Township, Barnegat Light, Beach Haven, Harvey Cedars, Ship Bottom, Surf City and the Long Beach Island Community Center.
Ventnor Team – Brigantine, Atlantic City, Ventnor, Margate, Longport, Northfield, Pleasantville, Atlantic County and the American Red Cross.
The DEP has partnered these teams with consultants who are helping them develop Regional Resilience and Adaptation Action Plans. Additional funding will be available through the Resilient NJ program to implement some of the identified actions. The Resilient NJ program runs through 2022.
To learn more about Resilient NJ program and how to apply for a grant, visit https://www.nj.gov/dep/oclup/resilientnj/

To learn more about the Coastal Resilience Plan, visit www.nj.gov/dep/coastalresilience/
DEP PHOTO/Pleasantville, Atlantic County, flooding, October 2018