NEW JERSEY FOREST FIRE SERVICE PRESCRIBED BURNING PROGRAM AND
WILDFIRE PREVENTION TECHNIQUES GARNER NATIONAL ATTENTION
(19/P029) TRENTON – The State Forest Fire Service is receiving national attention for its proactive approaches to reducing wildfire risk, protecting habitats and teaching those innovative techniques to experts that visit New Jersey to study fire behavior, the Department of Environmental Protection announced.
The growing recognition furthers New Jersey's reputation as a national environmental leader on many fronts. In addition to the implementation of innovative management practices to prevent wildfires through prescribed burning, New Jersey also is recognized internationally for working to reduce the harmful effects of climate change, regulating dangerous chemicals in drinking water, and pursuing a robust natural resource damage program to restore lands, water and habitat impacted by hazardous substances.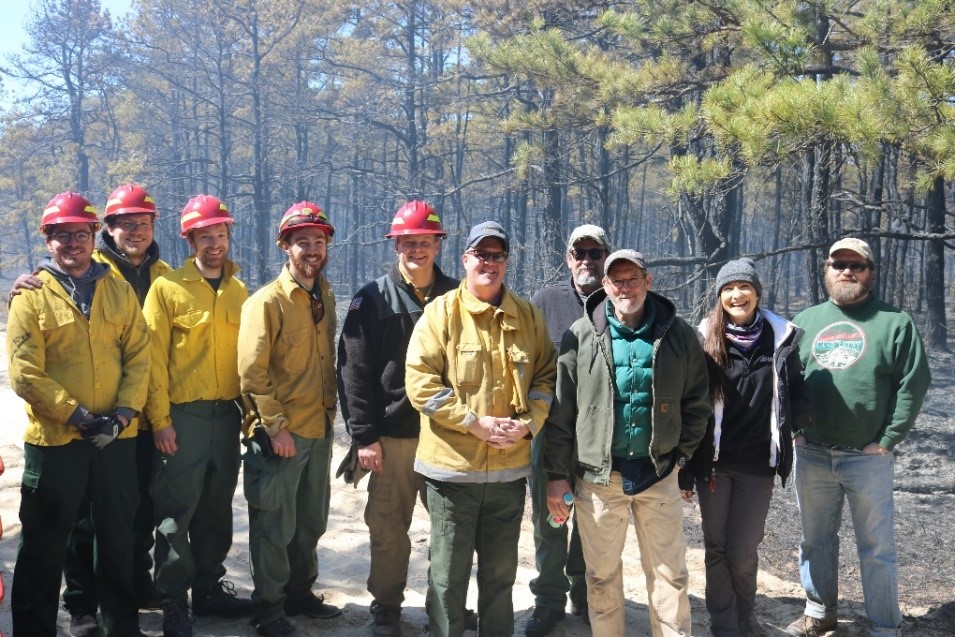 "New Jersey continues to innovate on many levels, with the Forest Fire Service setting a very high bar in fire science and natural resource protection," DEP Deputy Commissioner Debbie Mans said. "Their expertise protects lives, property and forest health while educating colleagues from around the world about how to do the same for their communities."
This year marks the 84th year that the Forest Fire Service has used prescribed burning to manage forests and reduce dangerous fuels that could accelerate a wildfire.
Prescribed burns help reduce forest fire risk before prime wildfire season, which ramps up in April and continues through May. During this time of year fallen leaves, branches and twigs are abundant, daylength increases, humidity can be low, and it is often warm and windy. Those weather conditions coupled with lack of new leaf growth makes forest debris more susceptible to the drying effects of wind and sun. During prescribed burns, Forest Fire Service personnel use handheld torches to set smaller fires to burn away fallen leaves, pine needles, fallen branches and other debris on the forest floor.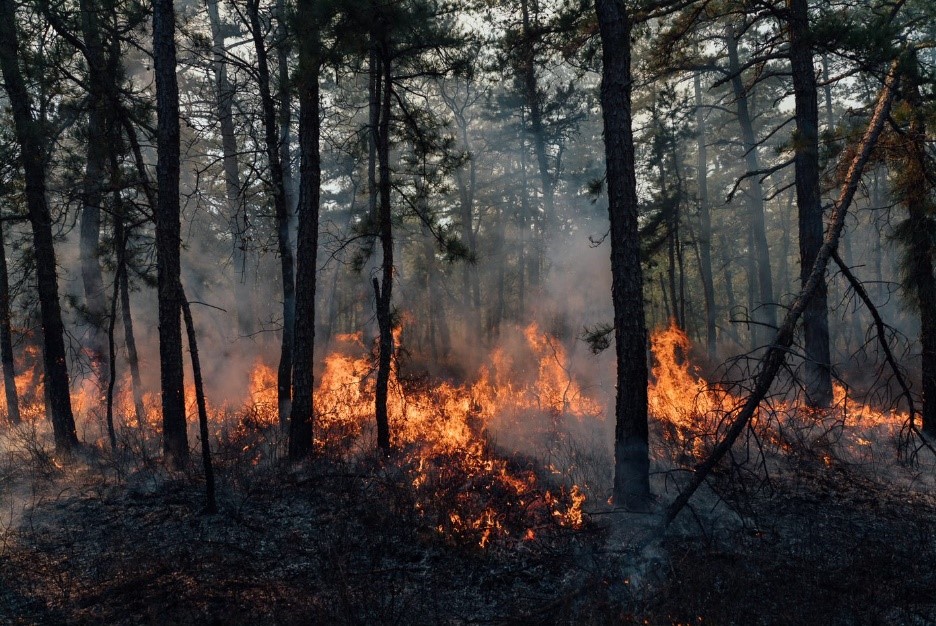 Between January and March, the Forest Fire Service completed or assisted in completing prescribed burns on more than 22,616 acres of state, county, municipal, university and privately owned lands. Most of this work occurred over 30 separate days of burning. After the threat of wildfire decreases, the Forest Fire Service may implement up to 17 additional "growing season" prescribed burn projects across 1,325 acres.
"Prescribed burning during the growing season is a unique and innovative new management practice that has never before been implemented here," State Firewarden Greg McLaughlin said. "This is the result of the recently signed legislation known as the Prescribed Burn Act, which has authorized the Forest Fire Service to use prescribed fire for habitat management as well as to reduce fuels."
Examples of habitat management projects include creating and enhancing wildlife habitats, targeting treatment of nonnative invasive species and restoring native forest habitats.
The success of the Forest Fire Service's fire protection techniques is attracting attention from around the world, as other experts and firefighters come to the Pinelands to learn about fire behavior, ecology and the benefits of prescribed burning.
This year marked the second time the Forest Fire Service hosted a Prescribed Fire Learning Exchange for others and participated in wildland fire research projects with the U.S. Department of Agriculture's Forest Service.
Visitors to the learning exchange included five forest health representatives from the New York Department of Environmental Conservation, a fire ecologist from the New York Central Pine Barrens Commission, two firefighters from the Fire Department of New York, five fire and aviation management personnel from the Montana Department of Natural Resources, four students from Utah State University and eight students from Northern Arizona University. Florida is the only other state on the East Coast to offer similar training.
In addition to the success of the learning exchange and work on various public and private lands, the Forest Fire Service also assisted in implementing numerous wildland fire research projects.
Since 1926, the U.S. Forest Service Northern Research Station has focused some of its resources to work based from the Silas Little Experiment Station within Brenden Byrne State Forest in New Lisbon, Burlington County.
The U.S. Forest Service and its colleagues from around the world are doing groundbreaking research related to fire effects, physics-based modeling of fire spread, fire brand production, and innovative technological approaches to assessing wildland fire fuels in the wildland urban interface and across the New Jersey Pinelands National Reserve.
This year's collaborative research with the New Jersey Forest Fire Service involved projects with 24 researchers from the U.S. Forest Service's Northern Research Station, University of Edinburgh in Scotland, Tall Timbers Research Station in Florida, Worcester Polytechnic Institute in Massachusetts, Rochester Institute for Technology in New York state, Michigan State University, the University of Notre Dame in Indiana and West Virginia University. Results from some of these and past collaborative research efforts will be presented later this month at the 6th International Fire Behavior and Fuels Conference in Albuquerque, NM.
To learn more about wildfires in New Jersey, steps to protect property, and other resources, visit www.njwildfire.org.
To view videos on the prescribed burn process, visit https://youtu.be/GBGBxfpltLw
and https://youtu.be/CopjLNfxzRE.
Follow the DEP on Twitter @NewJersey DEP.
###