DEP AND PARTNER AGENCIES TO CELEBRATE STATE ARBOR DAY ON
FRIDAY, APRIL 26 WITH CEREMONIES AT RUTGERS IN NEW BRUNSWICK
(19/P030) TRENTON – The New Jersey Department of Environmental Protection's Urban and Community Forestry Program and partner agencies will host Arbor Day activities on Friday, April 26 at the Rutgers University Cook/Douglass campus in New Brunswick, Middlesex County to celebrate efforts to grow resilient urban and community forests across the state, the Department of Environmental Protection announced.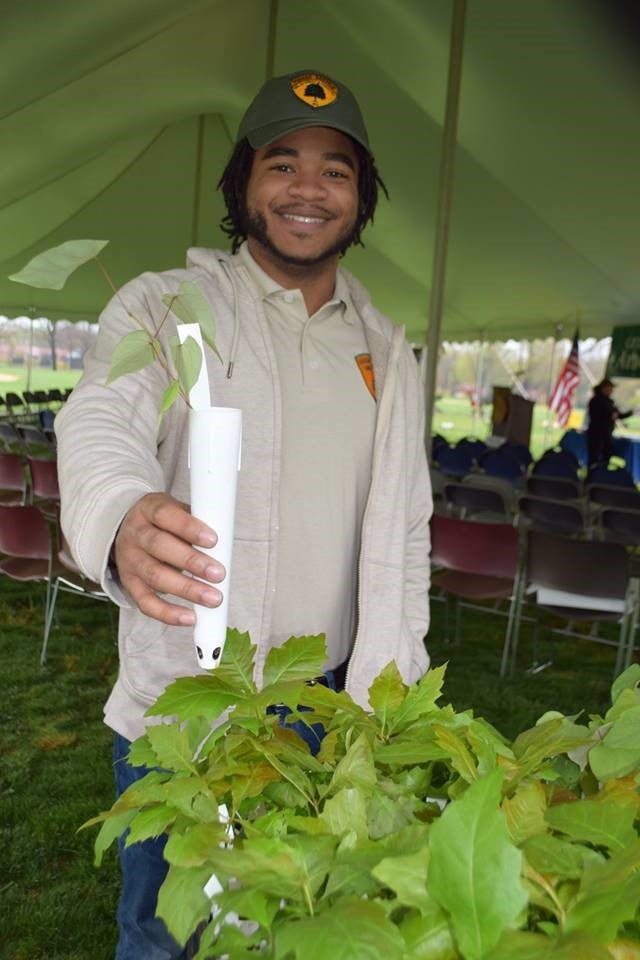 DEP Deputy Commissioner Debbie Mans will speak at the event and read a proclamation from Governor Phil Murphy designating Friday as Arbor Day in New Jersey.
"Arbor Day gives each of us a new opportunity to reflect on the wonder of the many trees in our state and the importance they play in our quality of life," Deputy Commissioner Mans said. "Trees provide shade and beauty, filter our air and water, and add to our enjoyment of the outdoors. Trees are essential not just to our landscapes, but to our existence."
The Arbor Day program "From Seed to Saw" will begin at 9 a.m. with a sawmill demonstration along Dudley Road across from the Rutgers Institute for Food, Nutrition and Health, next to parking lot No. 97. (The actual address is 61 Dudley Road.) A ceremony at 11 a.m. will feature a keynote address by Dr. Jason Grabosky, Director of the Rutgers Urban Forestry Program, and presentation of awards for milestone Tree City USA communities, followed by a ceremonial tree planning at noon.
The hickory trees to be planted represent seven different species of at least three age classes, which will give Rutgers a tree teaching collection for the future. The DEP's Urban and Community Forestry Program, the New Jersey Community Forestry Council, the New Jersey Tree Foundation and the Rutgers Urban Forestry Program are hosting the day's events.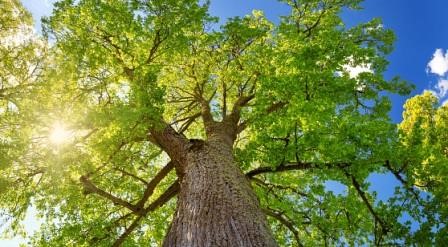 "Arbor Day gives us an excellent opportunity to showcase the significant social and ecological benefits that urban trees and forests provide us throughout their life cycle -- from climate mitigation benefits of younger trees, to the health and wellness benefits of older trees, to the utilization value of forest products and so much more," State Forester John Sacco said. "A diverse, healthy urban and community forest significantly decreases vulnerability to extreme weather, reduces flooding from stormwater, and fights forest diseases and pests such as the emerald ash borer, a beetle that is devastating ash trees in New Jersey."
Rutgers University was selected to host this year's event to celebrate the granting of initial candidacy to two programs: the Urban Forestry track in the Environmental Planning and Design major, and the Forest Ecology and Management track in the Ecology, Evolution and Natural Resources major by the Society of American Foresters' Committee on Accreditation. Candidacy indicates that a program has achieved initial recognition and is progressing toward accreditation.
"Society of American Foresters accreditation is an important step for Rutgers to raise awareness of our existing programs for students looking to engage in forest management," Dr. Grabosky said. "New Jersey is an ecologically diverse yet compact state with sites ranging from wilderness to high density urban. As New Jersey's land grant university and the New Jersey Agricultural Research Station, Rutgers is well positioned to enable forestry students to engage from basic research to experiential learning within a dynamic and diverse learning environment."
Friday's ceremonies will begin with a portable sawmill demonstration and training by the New Jersey Forest Service's Wood Utilization Program. Foresters will mill a bur oak tree (Quercus macrocarpa) that was part of the Rutgers canopy for more than 150 years and was removed recently due to declining health. Rutgers plans to mill the tree into boards to be used for benches, tables, boardwalks and other building projects across campus. Those attending the training can earn two New Jersey Urban and Community Forestry Continuing Education Credits.
Following Dr. Grabosky's keynote address, milestone Tree City USA awards will be distributed to those communities marking their first year in the program, 10 years, 20 years, 30 years and 40 years, in addition to other honors.
Tree City USA is a program of the nonprofit Arbor Day Foundation that certifies efforts to conserve and enhance trees in thousands of communities across the country. New Jersey ranks No. 5, putting the Garden State among the nation's leaders in number of communities in the program.
Presentation of the J. Sterling Morton Award will recognize an outstanding individual who has had a positive impact on the environment as a result of their lifelong commitment to tree planting and conservation. Recognition is also planned for the winner of the New Jersey Urban and Community Forestry Program and Rutgers Urban Forestry campus photo contest "My Tree, My Campus."
In addition to the Arbor Day activities, the DEP's Urban and Community Forestry Program is offering competitive stewardship grants to assist municipalities and counties with maintaining their urban and community forests. The program has provided approximately $3 million in grant funding since 2016. The 2019 Stewardship Grant Request for Proposal is available at www.communityforestry.nj.gov and applications may be submitted online. The program is one of two selected to pilot the DEP's transition to an online grant portal.
Visitors to the Arbor Day events may park in lots 97 or 98B and register their vehicles with Rutgers Event Parking at https://rudots.nupark.com/events/Events/Register/d960845f-648e-432e-a5ef-f0e1bce56b53.
Celebrating Arbor Day in New Jersey dates to the late 19th century. In 1949, the Legislature designated the last Friday in April as the state's official celebration of Arbor Day to promote tree planting and encourage residents to appreciate them. For a list of local Arbor Day events or to have your community's event listed, visit www.celebratearborday.com and www.nj.gov/dep/seeds/earthday/calsub.htm.
For more information on the New Jersey Urban and Community Forestry program and becoming a Tree City USA, visit www.communityforestry.nj.gov. To receive the most up-to-date information from the program, click on the link for "Sign up for the NJUCF Email list."
Like the NJ Urban & Community Forestry Program on Facebook.
Follow the DEP on Twitter @NewJerseyDEP.
###