HARMFUL ALGAL BLOOM ADVISORIES LIFTED FOR ADDITIONAL AREAS OF
LAKE HOPATCONG
(19/P076) TRENTON – The Department of Environmental Protection today lifted harmful algal bloom advisories for additional areas of Lake Hopatcong, bringing to about 60 percent the total area of the lake no longer under advisory.
DEP monitoring indicates that cell counts for cyanobacteria, the organism causing the blooms, have fallen below the state's Health Advisory Guidance level at the mouth of Wood Port Bay, east of Davis Cove Mid-Lake and the Bertrand Island area (see map below).
Areas that remain under advisory are the Mid-Lake area in the lower-central portion of the lake, the Prospect Point and Wood Port Bay area in the northeastern arm of the lake, the Crescent Cove/River Styx Area, and the area adjacent to Hopatcong State Park. Recreational users are reminded to avoid swimming or coming in contact with lake water in these areas until monitoring demonstrates that cell counts fall below the Health Advisory Guidance level.
"We are pleased to lift the advisory for parts of Lake Hopatcong in advance of the last official weekend of summer. We realize that this has been a frustrating season for the residents, business owners and visitors to this beautiful lake," Commissioner Catherine R. McCabe said. "Our primary goal throughout has been to ensure the protection of public health, especially for vulnerable populations such as children. The DEP remains committed to better understanding the causes of these blooms and solutions to reduce them in the future."
Harmful algal blooms are not caused by true algae but are caused by bacteria that in many ways resemble and behave like algae. The causes of the Lake Hopatcong bloom this summer are not fully understood. However, harmful algal blooms are generally fueled by nutrient-laden stormwater runoff followed by periods of hot weather that cause the proliferation of these bacteria, which are naturally present in waterbodies.
Under these conditions, blooms can reach levels that can be harmful to people and to pets coming in contact with the water. They typically subside with the onset of cooler weather.
Often referred to as blue-green algae, harmful algal blooms form dense mats, often appearing as pea soup or spilled paint. The DEP advises the public to avoid swimming and water sports that may result in contact with water in impacted areas or in areas where they suspect a bloom may be occurring. These activities include jet-skiing, water-skiing, canoeing or kayaking.
An advisory is not a prohibition on recreational uses but is rather a recommendation intended to help the public make informed decisions. In addition, in areas where advisories remain in effect there is no recommended limitation on passive boating that does not involve bodily contact with the water.
Exposure to cyanobacteria can cause a range of health effects, including rashes, allergy-like reactions, flu-like symptoms, gastroenteritis, respiratory irritation and eye irritation. More sensitive individuals can experience these health effects even at levels below the state's guidance. Harmful algal blooms can also produce cyanotoxins at any time, which can result in more serious health concerns such as liver toxicity and neurological effects.
Primary sources of nutrients that can cause these blooms include septic systems, lawn fertilizers and animal wastes. The DEP is urging property owners to take the following steps:
Have a wastewater professional perform a comprehensive evaluation of septic systems and have any issues fixed;
Have septic systems pumped out if this hasn't been done for three to five years;
Use non-phosphorous fertilizers on lawns and gardens;
Keep leaves and other organic materials out of streets;
Clean up pet waste;
Consider planting native species of shrubs and plants that don't require fertilizers and help absorb nutrients.
The DEP is urging municipalities to take the following steps:
Ensure that stormwater treatment systems and devices are properly cleaned and maintained;
Clean out storm sewer lines and catch basins;
Conduct regular street sweeping;
Actively work to identify any possible failing septic systems;
Explore the viability of extending sewer service to areas served by septic systems.
In 2017, the DEP launched a campaign to educate the public about these blooms and provide resources on how to report them to the DEP. The "Avoid It and Report It" campaign advises the public to take the following steps when a suspicious bloom is observed:
Avoid contact with water in the vicinity of the bloom, especially in areas where the bloom is dense and forms scum;
Do not drink or cook with the water;
Do not eat fish from the waterbody;
Keep pets and livestock away from the water;
Do not allow animals to drink the water, eat dried algae, or groom themselves after coming into contact with the water;
People, pets and livestock that come into contact with a bloom should rinse off with fresh water as soon as possible;
Seek medical attention if experiencing adverse health effects after exposure to a bloom;
Consult a veterinarian if a pet or livestock has been exposed;
Report a suspected HAB by calling the DEP Hotline at 877-WARNDEP (877-927-6337).
For more information, including Lake Hopatcong monitoring results and maps, visit www.nj.gov/dep/hab/.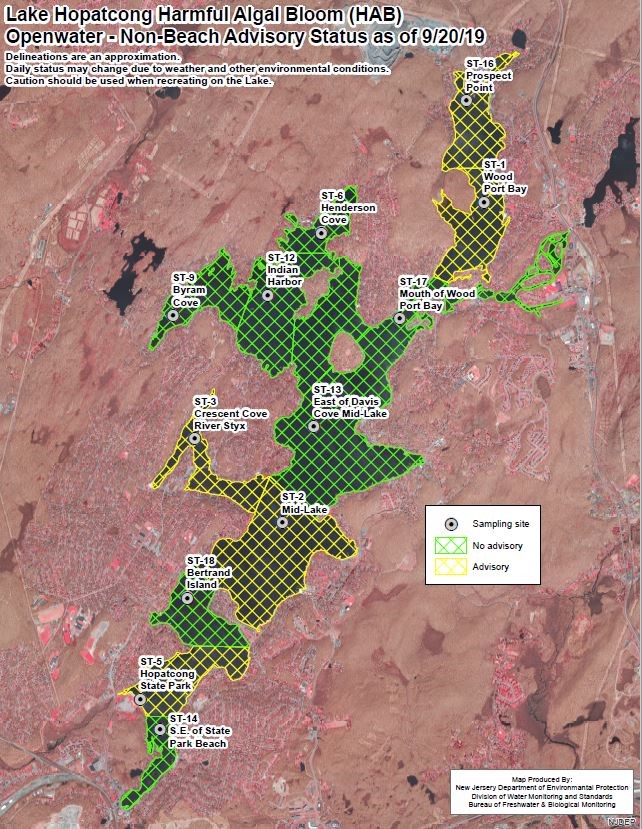 ###