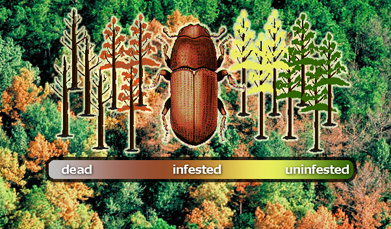 Identification
The adult beetle is approximately 1/8 inch long, brownish black with the posterior end rounded.
An infested tree's needles will turn from green to yellow or brown as quickly as two weeks following initial attack.
Foresters spot the brown infested stands during aerial surveys and with GPS technology, check them on the ground. The foresters look for the telltale signs of a SPB infestation: pitch tubes, exit holes, and galleries.