"Our first objective was to secure the bridge over the Hackensack…"
---Thomas Paine "The American Crisis"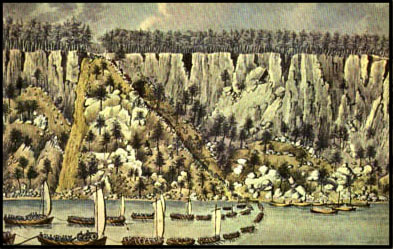 New Bridge Landing entered Revolutionary history on the fateful morning of November 20, 1776, when British and Hessian troops landed at Lower Closter Dock and scaled the Jersey Palisades. General Washington led the garrison of Fort Lee over the New Bridge and past the Zabriskie house to safety, whereby the soldiers narrowly escaped entrapment on the neck of land between the Hudson and Hackensack Rivers. Thomas Paine, who marched with the troops, soon immortalized this darkest hour of the Revolution with the refrain "These are the times that try men's souls." Today, New Bridge is often referred to as "the bridge that saved a nation" for its part during the Revolutionary War.
Colonel Jan Zabriskie, Jr., a Loyalist and the owner of the mansion at New Bridge, was arrested in July 1777 and later fled to British-held Manhattan. His property was confiscated by the State of New Jersey in 1781. Zabriskie's estate at New Bridge served as a military headquarters, an encampment ground and the site of several skirmishes. In March 1780, Hackensack tavern keeper Archibald Campbell escaped from British capture by hiding in the root cellar. On May 30, 1780, British troops, hoping to trap Bergen militiamen asleep in the house, mistakenly killed eight of their own men and wounded several more. General Washington established headquarters at New Bridge on September 4, 1780.