Check back here for upcoming events!
Webinar: The Women Behind Electric Vehicles in New Jersey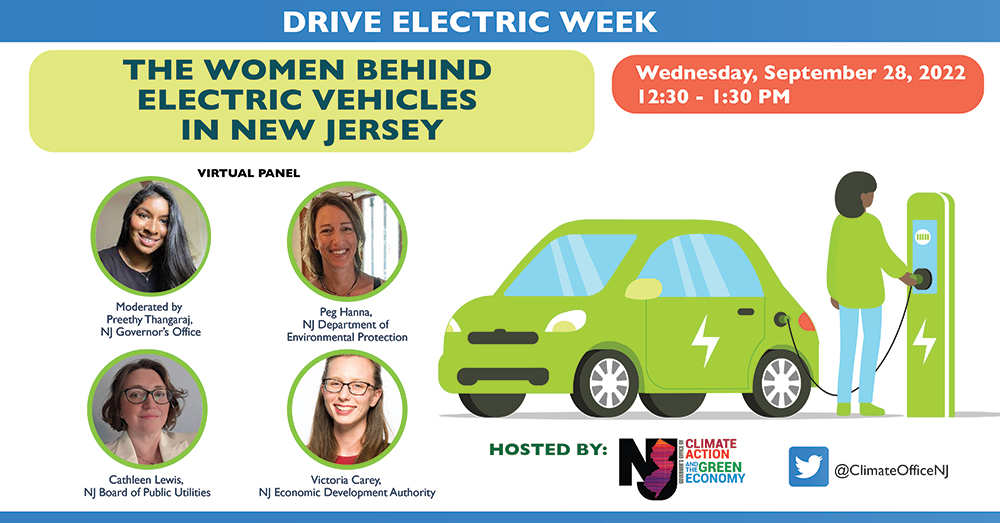 Thursday September 28, 2022 – 12:30-1:30
Join the State of New Jersey on Drive Electric week and hear from the women leading the electric vehicle movement! On Wednesday September 28th at 12:30PM, the Governor's Office of Climate Action and the Green Economy will host a virtual roundtable discussion with Peg Hanna (Department of Environmental Protection), Cathleen Lewis (Board of Public Utilities), and Victoria Carey (Economic Development Authority). The discussion will focus on how the panelists got their start in state government and the EV sector, paving the way for the next generation of women in leadership positions, the future of EVs in New Jersey, and the impacts of federal investments from the Infrastructure Investment and Jobs Act and the Inflation Reduction Act.
2022 New Jersey Clean Energy Conference

October 3-4: 2022 New Jersey Clean Energy Conference
Through New Jersey Governor Phil Murphy's leadership, New Jersey is in the midst of a monumental transformation that will propel our state into a clean energy future that will grow the economy, mitigate the impacts of climate change, reduce energy use, improve the health of our communities, and make New Jersey stronger and fairer for generations to come.
At the New Jersey Clean Energy Conference: Achieving Our Clean Energy Future, you will:
Learn from industry experts, state and federal leaders, and advocates about how your home, town, and business can benefit from clean energy;
Take a closer look at the state's innovative Energy Master Plan (EMP) and the nation-leading policy design and implementation work undertaken during the last three years to advance our clean energy economy in an equitable and affordable way;
Discover incentive programs that will help move the public and private sectors toward New Jersey's clean energy goals;
Understand how solar, offshore wind, electric vehicles, and energy efficiency can benefit your community, particularly for environmental justice and low- and moderate-income communities; and
Join conversations about how we can move together toward a clean energy economy and future that works for everyone.

Back
to top