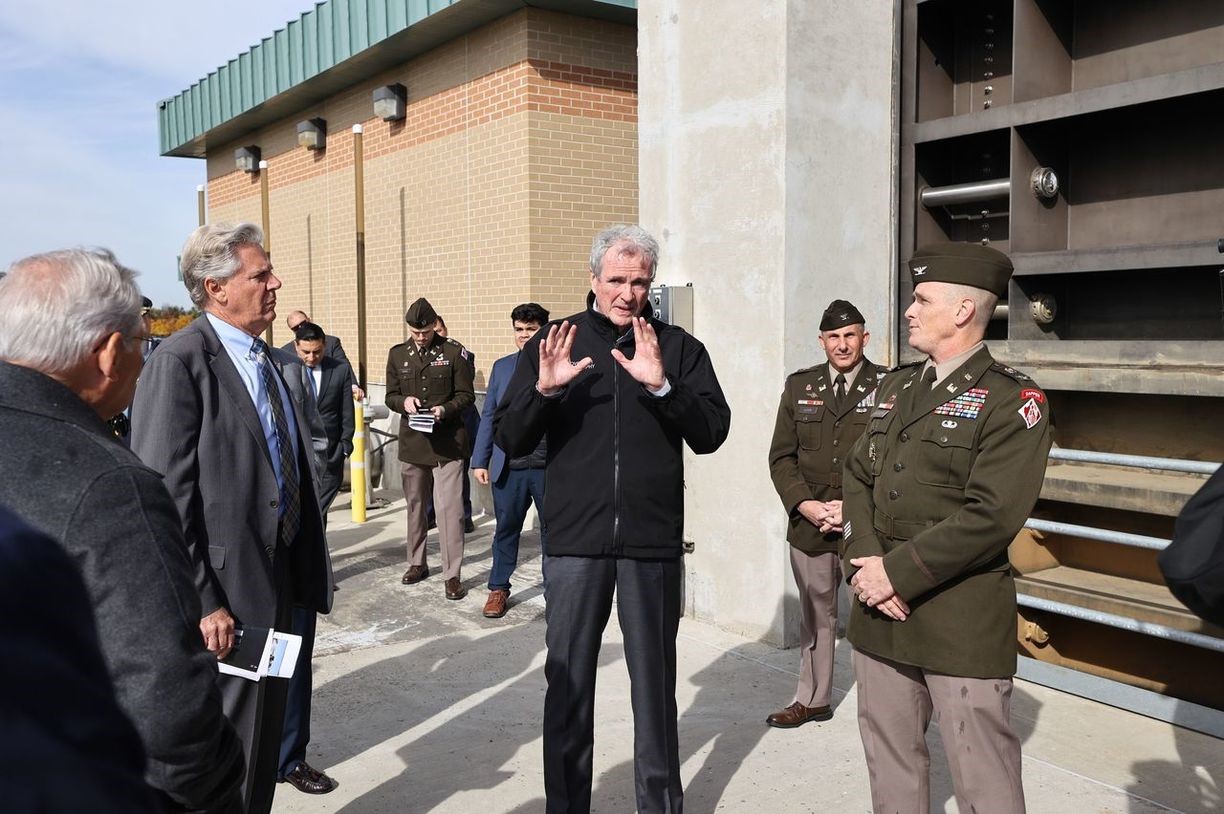 Governor Murphy Highlights Resilience Project in Port Monmouth During Superstorm Sandy 10-Year Anniversary Commemoration
A decade after Superstorm Sandy hit New Jersey, devastating the Garden State's coastal communities, Governor Phil Murphy today toured the Port Monmouth Flood Protection project in Monmouth County to commemorate the anniversary of the storm and to highlight more than $10 billion in federal investments in housing, economic, and flood resilience infrastructure to help rebuild the State and to make it more resilient to future storms.
The Port Monmouth Flood Protection project is a Hurricane and Storm Damage reduction project involving the construction of levees, floodwalls, a tide gate, a road closure gate, drainage improvements, dunes, and beach renourishment along the Raritan Bay and Sandy Hook Bay in the Port Monmouth area of Middletown Township. The project was in the "works" for about 20 years but moved forward urgently post-Superstorm Sandy. Led through a coordinated effort by the U.S. Army Corps of Engineers (Army Corps) and the New Jersey Department of Environmental Protection (DEP), the project is estimated to cost about $265 million and expected to be completed by April 2025. The Superstorm Sandy surge and tidal flooding damaged 750 (>50%) out of the 1,441 local housing units, devastating the small coastal town of Port Monmouth, which is home to about 3,800 people.
"A decade ago tomorrow, our state experienced the greatest natural disaster in its history, which decimated the Jersey Shore and caused major damage to many beloved communities across New Jersey," said Governor Murphy. "Today, we remember the at least 35 lives lost directly caused by the storm, the more than 300,000 destroyed properties that left tens of thousands of residents with no home, and the nearly 3 million residents without power for days. As we remember the past, we must also look to our future. A future in which New Jersey is more resilient to storms thanks to the flood protection measures that we have taken since that tragic day 10 years ago.
Read More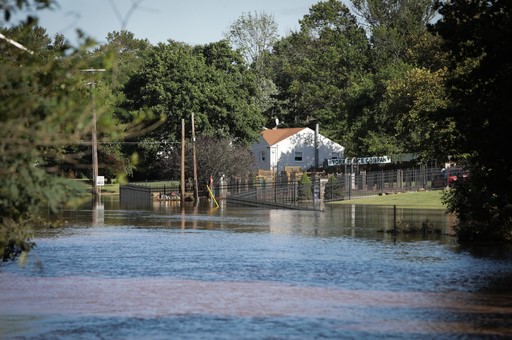 Governor Murphy, NJDEP Commissioner LaTourette Announce Proposal of Inland Flood Protection Rule to Better Protect Communities From Extreme Weather
overnor Phil Murphy and Commissioner of Environmental Protection Shawn M. LaTourette this week announced the Administration's intent to propose an Inland Flood Protection Rule to better protect New Jersey's communities from worsening riverine flooding and stormwater runoff. The proposed rule would update New Jersey's existing flood hazard and stormwater regulations by replacing outdated precipitation estimates with modern data that accounts for observed and projected increases in rainfall. These changes would help to reduce flooding from stormwater runoff and increase the elevation of habitable first floors by two feet in certain new developments located in flood-prone inland areas.
"In order to ensure the safety and economic wellbeing of New Jerseyans both today and in the future, our policy decisions must be informed not by obsolete data, but by the challenging realities currently facing residents and businesses across the state," said Governor Murphy. "Today New Jersey moves one step closer to further expanding the already extensive arsenal of climate adaptation measures at its disposal. Indeed, the inland flood protection rule is but one critical piece of our comprehensive and tireless efforts to safeguard vulnerable communities from physical harm and property damage, efforts that will produce a stronger and more resilient New Jersey for generations to come."
READ MORE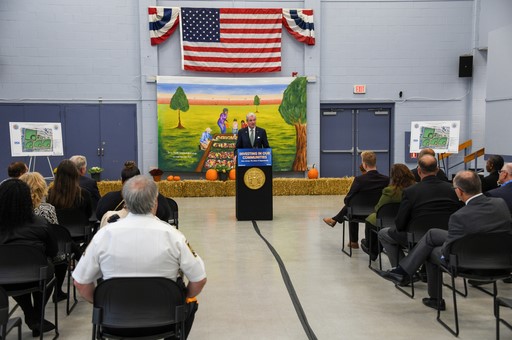 Governor Murphy Announces Community Investments in Perth Amboy
Governor Phil Murphy this week announced community investments to promote access to open space, expand recreational opportunities, and enhance green infrastructure in Perth Amboy. The $6 million project, which supports improvements to the Veterans Memorial Youth League Complex, is partly funded by the Department of Environmental Protection's Green Acres program ($1.2 million), the Perth Amboy's Open Space Acquisition and Improvement line item in the Department of Community Affairs budget ($2 million over the Fiscal Year 2022 and Fiscal Year 2023), and an earmarked Federal Appropriation for Community Projects ($1.5 million).
"Enabled by an all-of-government approach to comprehensive community investments, the improvements we begin in earnest today will be transformational to the Perth Amboy of tomorrow," said Governor Murphy. "For far too long, overburdened communities in New Jersey – and throughout the nation as a whole – have not enjoyed equitable access to green, open space and its host of accompanying physical and mental health benefits. Today, my Administration reaffirms once again that our state can only flourish if we cultivate the conditions necessary for our children to live safe and healthy lives in the communities they call home."
"A big part of what makes a community healthy and vibrant is giving residents the opportunity to take a walk, play a game, and participate in sports and other activities with friends and neighbors in a safe and accessible place," said Lt. Governor Sheila Oliver, who also serves as Department of Community Affairs Commissioner. "For these reasons, DCA is proud to contribute in a meaningful way to the improvement of the Veterans Memorial Youth League Complex, which will benefit people in the community for years and years to come."

"Today is a great day for the residents of Perth Amboy. Thanks to investment from federal and state governments, we're going to begin making overdue improvements to the Veterans Memorial Youth League Complex Park," said U.S. Representative Frank Pallone, Jr. "I'm glad I was able to secure $1.5 million in a House spending bill for the city to invest in recreation and sports fields for young people that will greatly enhance the park's value for students and residents alike."
READ MORE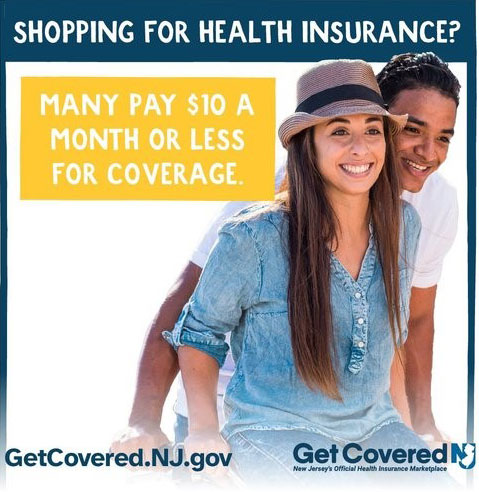 Open Enrollment at Get Covered New Jersey Begins Nov. 1, With More Plan Options and Historic Levels of Financial Help Available for 2023
Governor Phil Murphy and New Jersey Department of Banking and Insurance Commissioner Marlene Caride announced this week that consumers shopping for 2023 health coverage can start purchasing plans beginning November 1, 2022, when Open Enrollment begins at the state's Official Health Insurance Marketplace, Get Covered New Jersey (GetCovered.NJ.gov). Consumers will benefit from historic levels of financial help that remain available for the upcoming year and more plan options with the addition of a new insurance company offering plans on the marketplace.
Residents can view available 2023 health plans, compare costs and see if they qualify for financial help now, before the enrollment window opens, using the Get Covered New Jersey Shop and Compare tool. All consumers need is their zip code, birth date, and income, and they can view the plans available and the estimated amount of financial help they may qualify for to lower premium costs.
"New Jersey continues to be guided by the belief that healthcare is a right. That principle has served as the foundation for our work to improve access to quality, affordable health coverage for our residents," said Governor Murphy. "Through the efforts of our Administration and the Biden-Harris Administration, I am thrilled our state will be able to offer even more health insurance plan options with record levels of financial help. I encourage individuals seeking health coverage to take advantage of these historic savings by visiting Get Covered New Jersey to find and enroll in the plan that best meets their family's needs."
READ MORE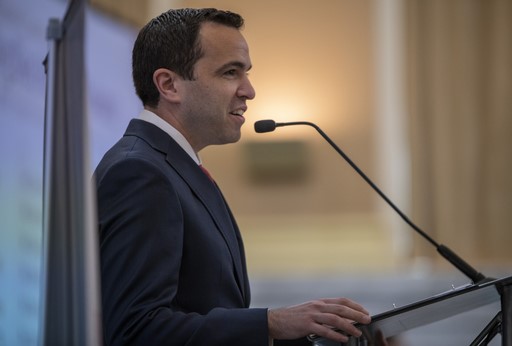 Governor Murphy, Attorney General Platkin Announce a Total of $20M in State and Federal Violence Intervention Grants Available for Community Organizations, Hospitals
Governor Phil Murphy and Attorney General Matthew J. Platkin this week announced that a combined $20 million in state and federal grants would be made available through the Community-Based Violence Intervention (CBVI) Program and Hospital-Based Violence Intervention Program (HVIP).

Designed to work with victims in the wake of violent incidents and with individuals and communities impacted by gun violence and those at risk of violence, these programs are critical to the state's public safety efforts to reduce cycles of violence at their source. This goes along with Attorney General Platkin's creation of the Division of Violence Intervention and Victim Assistance (VIVA) in September 2022 to provide structure and permanent support for these innovative programs.

The CBVI and HVIP programs are each funded at $10 million. CBVI was a part of Governor Murphy's Fiscal Year 2023 Budget, and is the second straight year that the Administration included $10 million for violence intervention work in New Jersey's communities. As previously announced in August 2022, Governor Murphy has allocated $10 million in federal American Rescue Plan (ARP) funds to continue the HVIP funding for at least another 12 months after current Victims of Crime Act (VOCA) dollars, HVIP's funding source, are expended.

"Today's funding announcement of the CBVI and HVIP programs reaffirms this Administration's commitment to those affected by violence in our state," said Governor Murphy. "Attorney General Platkin and his team have done great work thus far in supporting some of the most vulnerable individuals and communities in our state affected by various types of violence. I look forward to our continued partnership in addressing the needs of these individuals and preventing violence in our communities across New Jersey."

"Thanks to Governor Murphy, we are investing $20 million to address the root causes of harm in our communities and end cycles of violence before they start. This is, simply put, an essential aspect of our innovative approach to public safety in New Jersey," said Attorney General Platkin. "By investing in those on the front lines addressing violence in our communities and in our hospitals, we are making clear our commitment to these programs in making New Jersey a safer place for all residents."