Families First Card Electronic Benefits Transfer (EBT)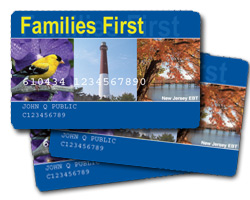 What is EBT?
EBT stands for Electronic Benefits Transfer. Through the "Families First" EBT card, Work First New Jersey (WFNJ) and New Jersey Supplemental Nutrition Assistance Program (NJ SNAP) recipients are able to purchase food. In addition, WFNJ recipient also are able to access cash benefits using the card. EBT offers recipients the experience of doing business like other consumers and is time- and cost-effective for merchants because it eliminates the use of food coupons. Moreover, the system has proven helpful in preventing fraud associated with NJ SNAP trafficking.

Most WFNJ clients are issued the Families First card to access cash assistance and SNAP benefits.
The EBT card is similar to a bank card, with a secret Personal Identification Number (PIN) to use the benefits that are deposited into an account. Once benefits are deposited into your account, the client can begin using their card.
The card can be used at the grocery store to spend NJ SNAP benefits.
The card can be used at the grocery store to spend cash benefits for items that cannot be paid for with NJ SNAP.
At some stores, the card can be used to withdraw cash benefits.
Before shopping, make sure the store accepts the card; look for the Quest® logo in the windows or on the doors at the store. If you don't see the Quest® logo, go to the courtesy counter and ask if the store accepts the Families First card.
Families First Discovery
The Families First Discovery Pass program provides families and individuals who receive benefits through SNAP, WFNJ, the Child Care Subsidy Program and/or WIC free or steeply discounted admission to museums, theaters, historic sites, cultural events and more across the state.

Discounts are available by showing your NJ Families First Card or your WIC Identification Folder. For more details and a full list of organizations, visit
Already Receiving NJ SNAP
Click here to create an online account, check your balance, change your pin and/or report a lost or stolen card.
Updated: 6/28/19