Congratulations to New Jersey Department of Military and Veterans Affairs Deputy Adjutant General, Colonel Maria F. Morgan and Lieutenant Colonel (Doctor) William (Buck) Dodson on the occasion of their wedding.  Last week, the happy couple exchanged vows on the beach at sunset in Aruba.  After a glorious honeymoon, they returned to begin their new lives together.  Join with us in wishing them happiness and love, now and in the future.
National POW/MIA Recognition Day - Friday, September 19, 2003.
<![if !vml]>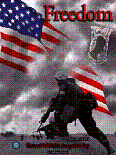 <![endif]> <![if !vml]> <![endif]> American warriors of yesterday and today have never failed to answer their nation's call.  Through selfless sacrifice, they have brought to the entire world a concept most often associated with American ideals - FREEDOM!  To much of the world "Freedom" is what America stands for - it is where we can from and what brought us along.  The poster reflects on the past and present.  The somber, black POW/MIA flag - a national symbol- is a firm reminder of those still missing, and of their families who have waited decades for answers.  "You are not forgotten" reminds us of their sacrifice - for our freedom.  There are more than 88,000 warriors who are still unaccounted for from past conflicts.  And still, their families wait.  Our work is not done.  More than 140,000 Americans since World War I have endured the hardships of captivity as prisoners of war.  Their sacrifices - for freedom - must never be forgotten.  This nation especially honors their names, their undying spirit, and their memory on September 19, 2003.  The rippling red, white and blue banner, so clear and so proud through the smoke of battle, leads American warriors forward - toward freedom for oppressed peoples, toward freedom for those who know the word only because it means "America."  "Freedom" lies in the hearts of the people of entire nations.  It lies in ideals so richly American, and it rests on the shoulders of those who we honor on this special day.  Freedom!
108th Team brings light to the "Big Apple."
Just hours after the lights went out on August 14 in New York City and Parts of New Jersey, Ohio, Michigan, Connecticut, and Canada, five members of the 108th Air Refueling Wing's Aircraft Generation Squadron answered the call of Governor James E. McGreevey and hit the road.  SMSgt Bill Bird, MSgt Jim Granato, Msgt Rafael Jimenez, SSgt Heath Carley, and SSgt Reed Thielfoldt received the call to state active duty around 7 p.m. that same evening.  Their mission - transport 10 portable light carts, also known as "light-alls," on two flatbed trailers to a staging area at the Jersey City Port Authority.  A few of the light-alls remained in Jersey City, but the majority were sent to 42nd Street in mid-town Manhattan.  The team arrived at their final destination near Times Square just after midnight.  The AGS team worked more than 15 hours straight and finally returned home on Friday, August 15.  This was the second time in two years that the AGS team deployed to New York City; the first was to provide light-alls for the rescue efforts at the World Trade Center disaster site on September 11th. 
Dr. Eva Napiorkowski granted title of Certified Medical Director in Long Term Care (CMD).
The Board of Directors of the American Medical Directors Certification Program (AMDCP) is proud to announce that Dr. Eva Napiorkowski, Medical Director at the NJ Veterans Memorial Home at Menlo Park, has been granted the title of Certified Medical Director in Long Term Care (CMD). Dr. Napiorkowski is one of 90 physicians who have completed the CMD requirements, and were certified at the June 2003 meeting of the AMDCP Board of Directors.  Since the program's inception in 1991, 1,813 physicians nationwide have received the CMD designation.  The Department is proud to have Dr. Napiorkowski as an employee.
Phillip A. Connelly Award Ceremony.
The Phillip A. Connelly Award Ceremony was conducted in Dallas, Texas, during the period 26-28 August 2003.  Representatives from the various services were recognized, to include the Army National Guard, U.S. Army, Marine Corps, Coast Guard, Navy, and Sea Lift Command.  The NJARNG was represented by 1SG Antonio Vargas (50th PSB) and SPC Antonio Nieto (50th PSB).  National Guard Bureau presented the 1st Runner Up Award for Excellence in Army Food Service to the 50th PSB, NJARNG.  1SG Vargas and SPC Nieto accepted the award for their unit.  Congratulations to SPC Nieto, 1SG Vargas, the Unit Commander, and all of the soldiers of the 50th PSB for a job well done!
108th Marksmanship Team attended National Rifle Championships.
The 108th Marksmanship Team attended the National Rifle Championships at Camp Perry, Ohio, in early August.  Major Andy Kuhtik received a Daniel Boone Award for his accomplishment of placing in the top 10% of 1,300 competitors during the Excellence in Competition Match.  Major Kuhtik and Major Ken Kurtz brought home awards in the Springfield Match, while Major Kuhtik and MSgt Joe Burkel won awards in the Garant Match.  The 108th Marksmanship Team is always looking for new shooters.  If interested, contact Major Andy Kuhtik at 609-754-6140.
Employment opportunities with DMVA.
<![if !supportLists]> Ř <![endif]> The NJ National Guard ChalleNGe Youth Program has three vacant Youth Worker Supervisor positions.  For position requirements and salary information, contact the Human Resources Division at 609-530-7038.
Vietnam, Distinguished and Meritorious Service Medal Presentation Ceremonies are scheduled.
9 September

11 a.m. & 1 p.m.

Distinguished Service Medal and Meritorious Service Medal

Strawbridge's Court

Echelon Mall, Voorhees, NJ

23 September

11 a.m. & 1 p.m.

Distinguished Service Medal

And Meritorious Service Medal

Toms River Elks Lodge

600 Washington Street, Toms River, NJ

30 September

11 a.m. & 1 p.m.

Vietnam Service Medal

Hall of Heroes, Institute of Safety

281 Camp Gaw Rd., Mahwah, NJ
Today is the 248th day of 2003.  There are 117 days left in the year.  On this date:
<![if !supportLists]> ◊ <![endif]> In 1774, the first Continental Congress assembled in Philadelphia.
<![if !supportLists]> ◊ <![endif]> In 1939, the United States proclaimed its neutrality in World War II.
<![if !supportLists]> ◊ <![endif]> In 1945, Iva Toguri D'Aquino, A Japanese-American suspected of being wartime broadcaster Tokyo Rose, was arrested in Yokohama.  D'Aquino served six years in prison; President Ford pardoned her in 1977.
<![if !supportLists]> ◊ <![endif]> In 1972, Arab guerrillas attacked the Israeli delegation at the Munich Olympic games:  11 Israelis, five guerrillas, and a police officer were killed in the siege.
<![if !supportLists]> ◊ <![endif]> In 1993, Seven Nigerian soldiers were killed in a militia ambush in Somalia as they went to the aid of other U.N. peacekeepers surrounded by a stone-throwing mob.
<![if !supportLists]> ◊ <![endif]> In 1997, Mother Teresa died in Calcutta, India, at age 87.
Armory Happenings - Check to see what's happening at an Armory near you.
| | | |
| --- | --- | --- |
| 6-7 September | Table Tennis Tournament | Woodbridge Armory |
| 9-14 September | Antique Show & Sale | Morristown Armory |
| 9-14 September | Tool Show & Sale | Toms River Armory |
| 13 September | Classic Car Show | NGTC, Sea Girt |
| 13 September | Irish Festival | Sea Girt |
| 20 September | Computer Show & Sale | Teaneck Armory |
| 21 September | Sports Card, Comics & Beanies | Bordentown Armory |
| 25-28 September | Ceramics & Porcelain Doll Show & Sale | Morristown Armory |
| 29 Sep - 8 Oct | Carpet & Furniture Show & Sale | Morristown Armory |
| 12 October | Sports Card, Comics & Beanies | Bordentown Armory |
| 2 November | NASCAR Collectibles | Bordentown Armory |
Congratulations to Priscilla Monico!
Technical Sgt Robert C. Monico, 108th Air Refueling Wing Contracting Specialist, and his wife Martha, a native of Columbia, are extremely proud of their daughter, Priscilla.  Priscilla, a recent valedictorian graduate of Lodi High School, recently received a $1,500 scholarship award from the Defense Commissary Agency, presented at McGuire AFB, for meritorious achievement in academic studies, citizenship, school and community activities, and leadership as well as for an essay she submitted.  Congratulations, Priscilla!
NJ Vietnam Veterans' Memorial and Vietnam Era Education Center Announces its Calendar of Events for the summer.
| | | |
| --- | --- | --- |
| 8 Sep | 9 a.m. | Golf Outing Olde York Country Club |
| 19 Sep | 11 a.m. | POW/MIA GSM Recognition Day Ceremony |
| 21 Sep | 11 a.m. | Rolling Thunder POW/MIA Awareness Motorcycle Run |
| 17 Oct | 9 a.m. | Capturing the Imagination - The Art, Music, Theater, Poetry, and Prose of the Vietnam Veteran |
| 11 Nov | 11 a.m. | Veterans Day Ceremony |
| 13 Dec | 6 p.m. | Holiday Lighting Ceremony |
For more information about any of these events, please call the NJ Vietnam Veterans Memorial Foundation office at (732) 335-0033.
USO Troop Appreciation & Welcome Home Celebration.
Come one, come all!  Pack a picnic basket and join the USO Troop Appreciation & Welcome Home Celebration on Saturday, 6 September 2003, from 1-6 p.m. on the Soccer Field at the Main Gate to McGuire Air Force Base.  The event is open to all Team McGuire and Fort Dix personnel and admission is free.  Emcee for the day is comedian Kerry McNally.  Featured artists are:  Southside Johnny & the Asbury Jukes, No Illusion, and Samantha Cole.  Special Guests are Miss New Jersey 2002, Vanessa Baker, and the USO Troupe of Metropolitan New York performing the hits that make America great.  Bring a picnic lunch and lawn chairs, and come out and enjoy a day filled with music and fun.  For more information, call 609-754-6247 or visit www.305services.com. 
<![if !supportLists]> J <![endif]> The first vacuum cleaner was so large that it was brought to the house by horses.
<![if !supportLists]> J <![endif]> Boxing was the first sport to be filmed in 1894.
<![if !supportLists]> J <![endif]> America spends more than $630 million each year on golf balls.
<![if !supportLists]> J <![endif]> The first soap opera debuted in 1946.
<![if !supportLists]> J <![endif]> The first TV show ever to be put in reruns was The Lone Ranger.