.
NJ Dept of Military and
Veterans Affairs
Maj Gen Glenn K. Rieth
The Adjutant General
Brig Gen Maria Falca-Dodson
Deputy Adjutant General
Col (Ret) Stephen G. Abel
Deputy Commissioner for Veterans Affairs
.
Contacting us is easy!
Office of the Assistant Commisioner
COL (Ret) Michael B. Smith
Mrs. Laura A. Branham
Phone: (609) 530-6987
Fax:  (609) 530-7109
Email:
branham@njdmava.state.nj.us
We're on the Web!
www.state.nj.us/military
.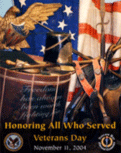 Veterans Day
"The willingness with which our young people are likely to serve in any war, no matter how justified, shall be directly proportional to how they perceive the Veterans of earlier wars were treated and appreciated by their Nation."
…George Washington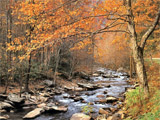 .
.
.New Jersey Freedom Loans
What is a Freedom Loan?
* Up to $10,000

* Annual APR 6%

* Term: 5 years (no pre-payment penalty)

* Unsecured Loan (no collateral required)
Who is eligible to apply?
NJ residents who are:
* Members of the National Guard or Reserve

* Mobilized for one year or longer to fight in the Global War on Terrorism (GWOT) – excluding routine training.
Or
* Served 90 or more consecutive days in the GWOT on federal or state active duty (excluding routing training) and have received orders extending cumulative active duty a year or longer.
How do I apply?
* Contact participating banks. Call or visit your local branch office to obtain an application.

* Guardmembers, Reservists, or family members with Power of Attorney must submit copies of current mobilization orders with the bank's Freedom Loan application.
Current participants:
Commerce Bank
1-888-751-9000
Credit Union of NJ
609-538-4061, ext. 401
First Morris Bank & Trust
1-888-530-2265
Fleet
1-800-841-4000
Manasquan Savings Bank
732-223-4450
North Jersey Federal
Credit Union
1-888-78NJFCU
Peapack-Gladstone Bank
(908) 719-BANK
Pennsville National Bank
856-678-6006
PNC
1-866-PNC-4USA
Sovereign Bank
1-877-391-6365
Sun National Bank
1-800-691-7701
.
.
.
In Flanders fields the poppies blow
Between the crosses, row on row,
That mark our place; and in the sky
The larks, still bravely singing, fly
Scarce heard amid the guns below.
We are the Dead. Short days ago
We lived, felt dawn, saw sunset glow.
Loved and were loved, and now we lie
In Flanders fields.
Take up our quarrel with the foe!
To you from failing hands, we throw
The torch-Be yours to hold it high!
If ye break faith with us who die
We shall not sleep, though poppies grow
In Flanders fields.
..Capt John D. McCrae
Veterans Day marked at Doyle Cemetery Observance.
At 11 AM, on the 11th day of the 11th month 2005, our Nation's Veterans were honored for their selfless service. The Deputy Commissioner stated in his remarks, that it is truly fitting that as we remember the many sacrifices of the men and women that donned the uniforms of our military over the past 228 years, we should also remember the men and women serving around the globe today…our future Veterans. There were more than 160 Veterans and family members in attendance at the observance, which included the retirement of more than 2,500 unserviceable United States Flags.

U.S. Army Training and Leader Development Panel releases report.
The U.S. Army Training and Leader Development Panel (ATLDP) released a report on the results of extensive research concerning the future direction of training and leader development. As part of the findings, conclusions, and recommendations, the ATLDP recommended a new leader development model and three additional leadership competencies; self-awareness, adaptability, and life-long learning. As an overarching theme of their recommendations, developing the new meta-competencies in leaders serves as a partial contributor to the transformation endstate of a trained and ready force for the nation and self-aware and adaptive leaders. This monograph answers the research question: Is the Army's self-development model capable of contributing to the endstate of providing self-aware, adaptive and life-long learning leaders for the future force? This monograph focuses on leader self-development due to the ATLDP's assertion that self-development will serve as the link between the institutional and operational pillars of leader development. Additionally, future self-development programs and processes will contribute to developing self-aware, adaptive and life-long learning leaders.

Columbarium Dedication Scheduled.
The BG Doyle Veterans Memorial Cemetery's first columbarium will be dedicated on Monday, November 15 at 11 AM. The speakers for the dedication will include MG Glenn Rieth, the Adjutant General, and the Honorable Richard Wannemacher the Deputy Undersecretary for Memorial Affairs at the U.S. Department of Veterans Affairs in Washington, D.C. All are welcome to attend.

Veterans to be honored at upcoming Medal Ceremonies.
The following ceremonies have been scheduled to honor our State's veterans.
18 Nov
11 a.m. & 1 p.m.

Distinguished and Meritorious Service Medals
Korean Service Medal

Toms River Elks
600 Washington St., Toms River, NJ


Dec (TBD)
11 a.m. & 1 p.m.

Distinguished and Meritorious Service Medal
Vietnam Service Medal

Salem County Community College

Commissary Scholarship program for Military Children is underway.
The fifth year of Scholarships for Military Children is now underway. Administered by Fisher House Foundation and funded by the manufacturers and industry supporting commissaries, the program has awarded over $3 million through nearly 2,000 scholarships to the unmarried children under the age of 21 (23 if enrolled in school) of active duty service members, Guard and Reserve members, and military retirees. Applications, eligibility requirements, and other information for the 2005 program are available at commissaries or online at http://www.commissaries.com. The deadline for filing your application is 16 February 2005.

Support the Troops Pancake Breakfast -
A Support the Troops Pancake Breakfast will be held on Saturday, 13 November 2004, from 7 a.m. to 12 p.m., at the Woodbury Armory located at 658 North Evergreen Avenue, Woodbury, NJ 08096. Tickets are $8 per person, $5 for seniors and children under 12. All proceeds benefit the soldiers and families of the NJ National Guard.

NJ World War II Memorial On Its Way.
At a site dedication ceremony on Wednesday, November 10th, the design for the New Jersey World War II Memorial was unveiled. The ceremony took place on the front steps of the State House in Trenton, which is directly across from the site where the memorial will be constructed. In his remarks, the Deputy Commissioner stated: "There is no more deserving a group of Veterans…(and)…there is no more prestigious location…" for a memorial to honor the Veterans of America's Greatest Generation. Construction will begin in early 2005 and the goal is to dedicate the memorial in the fall of 2005.

Upcoming Fall events at our local armories.
12 Nov
Craft Show
Westfield Armory
13 Nov
Tool Show
Riverdale Armory
13 Nov
Rug Show & Sale
Flemington Armory
14 Nov
NASCAR Collectibles Show
Bordentown Armory
17 Nov
"Home for the Holidays" Gift Fair
Morristown Armory
20 Nov
9am-5 pm - Sports Memorabilia Show
Benefiting the Somerset Armory's Family Readiness Group

Somerset Armory

NJ Advisory Committee for Women Veterans conducts annual luncheon.
The NJ Advisory Committee for Women Veterans held their annual luncheon on Saturday, 23 October 2004, at McAteers Restaurant. Camaraderie filled the air as women veterans from World War II, Korean War, Vietnam War, and the Persian Gulf War gathered with women who will be hading to Iraq in the near future. Brigadier General Maria Falca-Dodson, Deputy Adjutant General, provided the keynote address.

Part-time opportunities available in Military Funeral Honors Program.
The New Jersey Army National Guard Military Funeral Honors Program has several part-time employment opportunities immediately available across the state for TDGs and Technicians. Earn one day's base pay and one retirement point for a few hours work providing Military Funeral Honors for our Veterans. If you are interested, please contact SFC Raymond Denson, Military Funeral Honors Coordinator, at 609-530-7090 or by e-mail at Raymond.Denson@nj.ngb.army.mil.

Info on Holiday Mailings to the Troops.
The Department of Defense (DoD) recently issued a reminder that the "Any Servicemember" mail program is still suspended. The general public urged not to send unsolicited mail, care packages, or donations to service members during the holiday season. The Department of Defense emphasizes that names and addresses of military personnel must not be distributed by the media, websites, companies, non-profit organizations, schools or individuals for the purpose of collecting letters of support or donations for mailing to service members. According to the DoD, family members should not pass around military addresses by for use donation programs. People who wish to mail a letter, or card or package to a service member must have a specific person's name and address on their mail. If you would like to help service members or their families or if you are approached by someone who knows that your work for the Department of Military and Veterans Affairs and wants to help the troops, here is a website given by DoD with many ways that Americans can support the troops. Go to http://www.defendamerica.mil and click on the Support Our Troops "button.

Continental Airlines honors the Military.
Continental Airlines is honoring America's veterans, active duty, National Guard, Reserve and their families with airline discount benefits, including a Frequent Flyer Program bonus. Veterans Advantage (http://veteransadvantage.com), a nationwide card membership program providing new benefits for Veterans and their families, and Continental Airlines announced a 5% discount on all Continental tickets booked at http://www.continental.com, plus a frequent flyer award bonus for Veterans Advantage members. Veterans Advantage provides travel and entertainment savings, home and office discounts, and health and wellness benefits for those who serve the country and their family members.

Home Depot Offers Veterans Day Discounts.
Active duty, reserve, and retired U.S. military personnel and their family members will receive 10% off their purchases in recognition of Veterans Day at The Home Depot. The offer is good on purchases up to $2,000 for a maximum discount of $200 from 11-14 November 2004. To qualify, individuals must present a valid military identification card to the special services desk at any Home Depot store, where they will receive a coupon redeemable at any cashier's checkout register. Discount coupons are for single transactions only.

McCormick and Schmick's Restaurants will host Veterans Appreciation Dinner.
McCormick and Schmick's Restaurant is again hosting a Veterans Appreciation Dinner on Sunday, November 7, 2004, in their facilities across the country. Locally, McCormick and Schmick have restaurants located in Hackensack, NJ; Bridgewater, NJ; New York, NY; and Philadelphia, PA. Every veteran (including active duty, reserve, and National Guard) is invited to receive a free entrée from a selected menu.

Thanksgiving Dinner planned for families of deployed military.
On 13 November 2004, at 3:00 p.m., the Cookstown VFW, located just behind Vintage Plaza outside of the McGuire 24-Hour Gate, is hosting a Thanksgiving Dinner with all of the trimmings for any military family whose member is currently deployed. Please RSVP to the Family Readiness Center, 108th ARW, not later than 5 November 2004, at 609-754-4479.

Today in History...
Today is Friday, November 12th, the 317th day of the year with 49 days remaining.
1815 – American suffragist Elizabeth Cady Stanton was born.
1859 – The first flying trapeze act was performed by Jules Leotard at Cirque Napoleon in Paris, France. He was also the designer of the garment that is named after him.
1933 – First known photo of the Loch Ness monster is taken.
1933 – The first Sunday football game was played.
1946 – The first drive-up banking facility opened at the Exchange National Bank in Chicago, Illinois.
1954 – Ellis Island, the immigration station in New York Harbor, closed after processing more than 20 million immigrants since 1892.
1956 – The largest observed iceberg, 208 x 60 miles, is first sighted.
1997 – The UN Security Council imposed new sanctions on Iraq for constraints being placed on UN arms inspectors.

Gifts from the Homefront –
Since the Army and Air Force Exchange Service (AAFES) began its "Gifts from the Homefront" program last year, people from all walks of life have rallied around America's troops by contributing $406,745 toward the purchase of gift certificates designed to lift the morale of deployed troops around the world, said officials at AAFES Headquarters. The certificates, which can be purchased by any individual or civic organization, allow service members to purchase items of necessity and convenience at PX and BX facilities around the world. "Gifts from the Homefront" certificates can be addressed to "any service member" or individual service members. Because the gift certificates can be use for merchandise already stocked at contingency locations, "Gifts from the Homefront" are a safe alternative to traditional care packages that can strain the military mail system and present force protection issues. Those wishing to send a "Gift from the Homefront" can simply log on to the AAFES website, www.aafes.com, or call 877-770-4438 toll-free to buy gift certificates in $10 or $20 denominations. From there, the "Gift from the Homefront" may be sent to an individual service member designed by the purchaser or distributed to "any service member" through the USO, American Red Cross, Air Force Aid Society, or Fisher House.

NJ Vietnam Veterans' Memorial and Vietnam Era Education Center's upcoming event schedule.
The New Jersey Vietnam Veterans Memorial will host a Veterans Day Ceremony on Thursday, 11 November 2004, at 11 a.m.. The keynote speaker will be Frank M. McDonough, Esq. of Oakhurst, NJ and Lake Worth, Florida, who is a retired environmental attorney and former maritime advisor to Governor Christie Whitman. He retired from a 22-year Marine Corps career in 1978 and served four tours in Vietnam.
Four veterans will be inducted into the "In Memory" Program, which honors those who served in Vietnam and returned home only to die as a result of their tour, but whose names are not on the Memorial. The four inductees are:
James Lorenzo, US Army, of Jersey City, who died November 19, 2003.
Thomas J. Pascal, US Army, of Port Reading, who died May 15, 2003.
William J. Steele, US Marine Corps, of Bayville, who died April 8, 2004.
James L. Tomasulo, Jr., US Army, of Newark, who died April 23, 2003.
| | | |
| --- | --- | --- |
| 4 Dec | 6 p.m. | Holiday Lighting Ceremony |
| 11 Dec | 1 p.m. | Author Lecture – James Parker Wollner – The Bamboo Shoot: The Story of the 2nd Airboat Platoon |
For more information about any of these events, please call the NJ Vietnam Veterans Memorial Foundation office at (732) 335-0033.
The Vietnam Era Educational Center is located adjacent to the NJ Vietnam Veterans' Memorial off the Garden State Parkway at Exit 116.

DMVA's Fitness Corner – by Ernie Razzano, Certified Fitness Trainer
Caloric Needs
Just what is a calorie? It's the quantity of heat required to raise the temperature of 1 gram of water 1 degree Celsius. This small unit is used in physics and chemistry. The Calorie (with a big "C"), or kilocalorie, is the terminology used to represent how much heat-yielding potential there is in food. One kilocalorie is the amount of heat needed to raise the temperature of 1000 grams of water 1 degree Celsius. This unit is what most people mean when they talk about "calories;" that is, the "calorie" used when discussing nutrition and diet.
Everybody expends a different amount of energy each day. This depends on many factors such as physical activity and the composition of the diet. However, the basal metabolism, or basal metabolic rate (BMR) remains somewhat constant. Your BMR is the rate at which the body expends energy for maintenance activities, such as keeping the body alive, organ function, etc. Your BMR is lowest when sleeping. Your BMR is an estimate of the number of calories you would burn over 24 hours while lying down, but not sleeping. Your actual metabolic rate is estimated by adding the caloric cost of all the activities in which you engage throughout the day to your BMR.
Getting rid of fat permanently is made easier by increasing metabolic rate. Increasing both muscle mass and activity level increases the body's metabolic rate. It is possible to gain muscle mass and lose fat at the same time. Never sacrifice muscle tissue during the fat loss process. Instead, build more muscle to utilize more calories. You will lose fat more quickly and be more successful at keeping it off.

Family Programs Event Calendar
Listed below are the events being planned by the Family Readiness Groups throughout the state.
Date
Event
Location
Contact/Phone

13 Nov
0800-1200

Pancake Breakfast
1/114th

Woodbury Armory

Cheryl Betten
609-722-1157

13 Nov
1200-1500

Children's Craft Fair
Freehold Armory

Chris Branca
609-971-3711


14 Nov
700

Bus trip to Radio City
Co B 50th MSB
Dover Armory

Heather Burns
973-764-8413

19 Nov
Fashion Show to benefit the Family Readiness Group at Toms River
Holiday Inn, Toms River

Lisa Fortuna
732-288-0918

19 Nov
1800

Soccer

Deployed Family Day

Teaneck Armory

SFC Minnie Hiller
609-847-1475

20 Nov
1400-1700

A/B/E 2-113th INF
(Holiday Ornament)

Newark Armory

SGT Diaz
201-344-4736


20 Nov
0900-1400

Purse Party
HQ 2/113th
Riverdale Armory

Mrs. Dalloway
973-296-7692

20-21 Nov
1000-1700

Sports Memorabilia Show (DISCOM FRG)
Somerset Armory
Joyce Rochelle
732-267-6960

21 Nov
1100-1400

Thanksgiving Dinner
50th SBM
American Legion
Dover, NJ

Heather Burns
973-764-8413

26 Nov
1745

Bus Trip to Atl City
Freehold Armory

Chris Branca
609-971-3711

30 Nov
1800-2200

Beef Steak & Chinese Auction
American Legion Post 170
Rochelle Park, NJ

SFC Minnie Hiller
609-847-1475

30 Nov 04
1800-2200

Tree Lighting in NYC
Co B, 50th MSB

Pick-up at Dover Armory

Heather Burns
973-764-8413

Call today and volunteer to help at a Family Readiness Center near you.

As the New Jersey National Guard deploys soldiers and airmen around the globe, the families that are left behind need our support and assistance. Can we count on your help? Please call your local Family Readiness center and volunteer.
To reach any NJ National Guard Family Assistance Center
Call toll free 888-859-0352