.
NJ Dept of Military and
Veterans Affairs
Maj Gen Glenn K. Rieth
The Adjutant General
Brig Gen Maria Falca-Dodson
Deputy Adjutant General
Col (Ret) Stephen G. Abel
Deputy Commissioner for Veterans Affairs
.
Contacting us is easy!
Office of the Assistant Commisioner
COL (Ret) Michael B. Smith
Mrs. Laura A. Branham
Phone: (609) 530-6987
Fax:  (609) 530-7109
Email:
branham@njdmava.state.nj.us
We're on the Web!
http://www.nj.gov/military
.
Veterans' Organizations
Contact Information
State Veterans Service Council
Mr. Richard Clark
RJClark21@msn.com
NJ Advisory Committee for Women Veterans
Mrs. Anna Hoffman
hoffmanannem@aol.com
BG Willam C. Doyle Cemetery Advisory Council
Mr. William Rakestraw
warjrnj@msn.com
-
New Jersey Freedom Loans
What is a Freedom Loan?
* Up to $10,000

* Annual APR 6%

* Term: 5 years (no pre-payment penalty)

* Unsecured Loan (no collateral required)
Who is eligible to apply?
NJ residents who are:
* Members of the National Guard or Reserve

* Mobilized for one year or longer to fight in the Global War on Terrorism (GWOT) – excluding routine training.
Or
* Served 90 or more consecutive days in the GWOT on federal or state active duty (excluding routing training) and have received orders extending cumulative active duty a year or longer.
How do I apply?
* Contact participating banks. Call or visit your local branch office to obtain an application.

* Guardmembers, Reservists, or family members with Power of Attorney must submit copies of current mobilization orders with the bank's Freedom Loan application.
Current participants:
Commerce Bank
1-888-751-9000
Credit Union of NJ
609-538-4061, ext. 401
First Morris Bank & Trust
1-888-530-2265
Fleet
1-800-841-4000
Manasquan Savings Bank
732-223-4450
North Jersey Federal
Credit Union
1-888-78NJFCU
Peapack-Gladstone Bank
(908) 719-BANK
Pennsville National Bank
856-678-6006
PNC
1-866-PNC-4USA
Sovereign Bank
1-877-391-6365
Sun National Bank
1-800-691-7701
-
-
Saint Patrick's Day -

17 March 2005
An Irish Blessing
"May the road rise to meet you, May the wind be always at your back..
May the sun shine warm upon your face.
May the rain fall soft upon your fields.
An until we meet again,
May God hold you in the palm of is hand."
.
.
.
Flags at Half-Staff today throughout New Jersey to honor NJ National Guard's SGT William D. Blahut, Jr.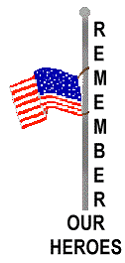 In honor of NJ National Guard Sergeant William D. Blahut, Jr., Acting Governor Richard J. Codey called for the United States and New Jersey flags to fly half-staff today.
Sergeant Blahut, 41 was born and raised in Whitehouse Station and graduated from North Hunterdon High School. He enlisted in the NJ National Guard in March of 2000 and proudly served as a member of Company B, 50th Main Support Battalion. He was deployed in Support of Operation Iraqi Freedom, where he was assigned to the 1452nd Transportation Company and where he received the Bronze Star.
"Words cannot describe the bravery of Sergeant Blahut," said Acting Governor Codey. "He served our nation and fought for the freedom of others up until he was physically unable to perform his duties. His dedication to his country and his family makes him a hero to all of us. We honor his memory by flying our flags at half-staff. We will pray that God protects William Blahut, just as he protected us."
While in Iraq, Sergeant Blahut became ill and returned to this country, where he was diagnosed with brain cancer that ultimately took his life. He passed away on March 10, one day before his unit arrived back in New Jersey.

Toms River welcomes home Battery C and Detachment 1 Service Battery, 3/112th Field Artillery!
On 11 March 2005, the Toms River community conducted a welcome home ceremony for 28 soldiers who deployed to Iraq from Battery C and Detachment 1 Service Battery, 3/112th Field Artillery, who are stationed at Toms River. The ceremony was held at Toms River East High School, where the returning troops received a tremendous outpouring of appreciation and support from the community and school. COL Stephen J. Hines, Chief of Staff – Army, represented MG Glenn K. Rieth, The Adjutant General, and the NJ Army National Guard as he expressed the deep gratitude that the NJ National Guard and the community have for our great soldiers who served with honor and distinction. Thank you for a job well done and welcome home!

Welcome Home Ceremony held for the 50th Main Support Battalion (HET) at the Dover Armory.
On 13 March 2005, the New Jersey National Guard conducted a welcome home ceremony for the 50th Main Support Battalion (HET) Platoon in Rockaway Township at the Dover Armory. BG Frank Carlini, representing the NJ National Guard and The Adjutant General, welcomed home the soldiers of the 50th HET Platoon who deployed to Iraq in support of Operation Iraqi Freedom II. The local community, families, friends, and fellow National Guard soldiers and airmen came out to show their appreciation and support of these soldiers. The NJ National Guard is extremely proud of these soldiers! Their performance and dedication to duty is in keeping with the highest traditions of military service. Welcome Home!

Freedom Salute Campaign will honor the 253rd Transportation Company.
The Army National Guard's Freedom Salute Campaign will honor the 253rd Transportation Company on at 9 a.m. on 19 March 2005 at ceremonies to be held at the Wildwood Convention Center, Wildwood, NJ. The Freedom Salute Campaign is designed to recognize Army National Guard soldiers, their families, and others who have supported them as they answered the call to duty in the Global War on Terrorism – both at home and abroad.

Class #22 begins at the NJ National Guard ChalleNGe Youth Program.
On Sunday, 13 March 2005, Class #22 of the New Jersey ChalleNGe Youth Program began. The candidates will endure two intense weeks of Pre-ChalleNGe before moving into the ChalleNGe phase of the program and becoming cadets. At that time, they will begin attending classes that will help them achieve their goal of earning a State of New Jersey high school diploma. If you are aware of someone between the ages of 16 and 18, who has ceased to attend high school, tell that young person to make the telephone call that will change his or her life forever – 1-800-997-5587.

Operation Return to Work is introduced.
On Friday, 11 March 2005, a meeting was held at the Forsgate Country Club where this Department and the NJ Committee for Employer Support of the Guard & Reserve (ESGR), together with the NJ Business and Industry Association (NJBIA) and the NJ League of Municipalities (NJLOM) announced "Operation Return to Work" for employers of our citizen soldiers. The theme of the event was "how to secure a successful transition home for employees returning from active military duty." Brig Gen Maria Falca-Dodson, Deputy Adjutant General, Mr. Philip Kirschner, President of NJBIA, and Bill Dressel, Executive Director of NJLOM provided the welcome and introductions. NJESGR State Chair, Brig Gen (Ret) Robert S. Dutko, Sr., presented an introduction to ESGR, while COL (Ret) Carmen Venticinque presented a broader overview of ESGR and the Uniformed Services Employment and Reemployment Act (USERRA). Mr. Bill Devereaux, Director of the Division of Veterans Services, gave an insightful presentation on what employers can expect when their citizen soldiers return to the workplace. NJBIA conducted a panel discussion that included the aforementioned speaker, as well as an attorney who is well versed in USERRA, and a Human Resources expert. There were approximately 50 employers in attendance, and all involved felt the program was a resounding success.

108th Air Refueling Wing's Chaplain's Assistant deployed to Qatar.
TSgt Edilberto Ruiz, a Chaplain's Assistant with the 108th Air Refueling Wing, recently deployed to Al Udeid Air Base, Qatar, as part of a 10-member team from six different units that deployed to provide chaplain support to the more than 6,000 personnel serving at the Air Base. The team of chaplains and assistants provided worship services, Bible studies, counseling, and a visitation program. The team also managed Jack's Coffee House, open 24/7 for personnel to find a place to relax, read a book, and drink a cup of coffee.

Program offers subsidized childcare.
The Defense Department has contracted with the National Association of Child Care Resource and Referral Agencies for Operation Military Child Care. OMCC's goal is to assist in finding childcare outside the military community for Guard and Reserve members who are deployed and active duty members who are not near a military installation. "We also hope to assist in reducing the out-of-pocket expense to the service member," said Jan Witte, director of the Department of Defense's Office of Children and Youth. While the office does not fully subsidize childcare, it does work to reduce the financial burden, she said. The fees are based on a sliding scale that considers total family income and the care provider's actual cost, among other things.
A family member can apply through the association on the website at:
http://www.naccrra.org/MilitaryPrograms/index.php?program=omcc
or by calling toll-free at (800) 424-2246.

Widener University CARES.
Widener University in Chester, Pennsylvania is putting its values and money to work for the sons and daughters of servicemembers who make the ultimate sacrifice with their Widener CARES – for Children of Active and Reserves Educational Scholarships. The University has established four full scholarships and is open to the sons and daughters of servicemembers killed in action in operations Enduring Freedom and Iraqi Freedom. According to Widener University President James T. Harris, "We think this is an appropriate thing for a university to do. We talk all the time about educating young men and women to be good citizens. This is a way for our university to show that the institution is also a 'good citizen.'"

Upcoming Job Fairs
Army Community Service, Fort Monmouth - A Job Fair will be held on Tuesday, 29 March 2005, from 10 a.m. – 3 p.m. at Gibbs Hall, Fort Monmouth. The Job Fair is being sponsored by the Army Community Service – Employment Readiness Program, and more than 60 companies are registered to participate. Picture ID will be required. No large bags, backpacks, briefcases, etc. will be permitted. If you would like additional information, you may contact jill.mcdonald@mail1.monmouth.army.mil.
Veterans Job Fair, Bergen County – A Veterans Job Fair will be held on Tuesday, 5 April 2005, from 9 a.m. to 4 p.m. at VFW Post 4591, 513 Veterans Place, Hasbrouck Heights, New Jersey 08604. The NJ Department of Labor, VFW Post 4591, and the Bergen County Division of Veterans Affairs are sponsoring the Job Fair, and more than 50 leading employers are registered to participate. Please bring plenty of resumes, a copy of your DD214 (separation/discharge), and dress to impress. If you would like additional information, contact MSG (Ret) John Bautz at 201-996-8950 or by email at john.bautz@dol.state.nj.us.

Veterans to be honored at upcoming Medal Ceremonies.
The following ceremonies have been scheduled to honor our State's veterans.
31 Mar
11 a.m.
1 p.m.
Distinguished/Meritorious Service Medals
Vietnam Service Medal
Cherry Hill Armory
Grove Street & Park Blvd.
Cherry Hill, NJ 08002
14 Apr
10:30 a.m.
1 p.m.
Korean Service Medal

Teaneck Armory
Teaneck & Liberty Road
Teaneck, NJ
28 Apr
11 a.m.
1 p.m.
Distinguished/Meritorious Service Medal
Vietnam Service Medal
NG Training Center
Building 35
Sea Girt, NJ

Support the Troops
Here are some of the activities and fundraisers planned in support of our deployed troops and their families:
"Waiting to Exhale" Workshop - The Teaneck Family Assistance Center has planned a "Waiting to Exhale Workshop for the women of the 50th MSB. The event will be held on 31 March at 7 p.m. A fun-filled and relaxing evening is planned to bring the women of the battalion together during Women's History Month. If you are interested in attending, please call SSG Loureiro at 201-883-8356.
Pancake Breakfast – Waterfront Café, Carlstadt, 17 April 2005. The Waterfront Café – Steak and Clam House, Paterson Plank Road, Carlstadt, NJ (right behind the Continental Arena) will host a Pancake Breakfast to benefit the families of our Army National Guard troops deployed out of the Teaneck Armory. The event will be held from 9 a.m. to 1 p.m. and is sponsored by the Nam Knights of America, VVA Chapter 800, and the Jewish War Veterans of USA. Cost is $7.00 for adults and $5.00 for Seniors and children under 12
JT2DC (T3BL) Soldier's Association Golf Tournament – 25 April 2005. The event will begin with a 9 a.m. Shotgun Start at the Fountain Green Golf Course, Fort Dix. Cost $80 per person. Proceeds will assist the families of our deployed soldiers. For additional information, contact CSM Tim Maskery at 609-562-0539.
Get Dunkin Donuts coffee for your soldier. Dunkin Donuts will send a case of free coffee to your soldier. Just go to www.dunkindonuts.com, click on "About Us," click on "Contact Us," click on "Instore Visits," fill out the form, in the comments section put the soldier's rank, name and APO address, and say that you would like to send your soldier coffee. Then click "Submit." You can mail a request to Dunkin Brands, 130 Royall Street, Camton, MA 02021, Attention Customer Care or request the coffee by phone at 781-737-3000 (Customer Relations).
Operation Uplink. Visit http://www.operationuplink.org/request.cfm to request free phone cards for active duty military personnel deployed away from home. At this site you can fill out a request for a phone card to be sent to yourself or a loved one. One card per request per servicemember will be honored during a 60-day period.
Gifts from the Homefront. The "Gifts from the Homefront" program was begun last year by the Army and Air Force and enables people from all walks of life to rally around America's troops by purchasing gift certificates designed to lift the morale of deployed troops around the world. The certificates, which can be purchased by any individual or civic organization, allow service members to purchase items of necessity and convenience at PX and BX facilities around the world. "Gifts from the Homefront" certificates can be addressed to "any service member" or individual service members. Because the gift certificates can be use for merchandise already stocked at contingency locations, "Gifts from the Homefront" are a safe alternative to traditional care packages that can strain the military mail system and present force protection issues. Those wishing to send a "Gift from the Homefront" can simply log on to the AAFES website, www.aafes.com, or call 877-770-4438 toll-free to buy gift certificates in $10 or $20 denominations. From there, the "Gift from the Homefront" may be sent to an individual service member designed by the purchaser or distributed to "any service member" through the USO, American Red Cross, Air Force Aid Society, or Fisher House.
Operation Mail Call. Operation Mail call is a program initiated by New Jersey Assemblymen Jack Conners and Herb Conaway that enables citizens to donate postage stamps for use by our troops and their families. Over 23,000 stamps have been donated to our National Guard soldiers and airmen and Family Readiness Programs. If you would like to participate, please mail or drop off your postage stamps to the 7th Legislative District Office, Delran Professional Center, 8008 Route 130 North, Suite 125, Delran, NJ 08075.

Part-time opportunities in Military Funeral Honors Program.
The New Jersey Army National Guard Military Funeral Honors Program has several part-time employment opportunities immediately available across the state for TDGs and Technicians. Earn one day's base pay and one retirement point for a few hours work providing Military Funeral Honors for our Veterans. If you are interested, please contact SFC Raymond Denson, Military Funeral Honors Coordinator, at 609-530-7090 or by e-mail at Raymond.Denson@nj.ngb.army.mil.

National Guard Association of NJ –Scholarship Announcement.
The New Jersey Vietnam Veterans' Memorial Foundation Scholarship Contest is available to graduating NJ high school seniors. Two $2,500 scholarships will be awarded on May 30, 2005 at the Memorial Day ceremony at the NJ Vietnam Veterans' Memorial. To apply, students need to complete an application, submit proof that they are continuing their education at a college/university or trade/technical school, and submit a short essay about his/her visit to the NJ Vietnam Veterans' Memorial. Submissions must be received by 5 p.m. on Friday, April 15, 2005. Application and information can be found at www.njvvmf.org or by calling 1-800-648-VETS.
American Legion Scholarship - If you have a son, daughter, grandson, or granddaughter that is a senior in high school, they may qualify to receive a scholarship through the American Legion. For applications, please call Mr. Robert Luby at 908-996-6005 or email him at robertlooby@earthlink.net.

The National Guard's Family Program Online Community has redesigned their website.
The National Guard's Family Program online community is a place to share information, find resources, and connect with others. Information on family issues, guard benefits, business matters, deployments, and many other topics can be found on the site. New content will be added over the next few months, so check back often – www.guardfamily.org.

Retirees wanted to provide Military Funeral Honors (MFH).
The J5/7 MFH Coordinator is looking for paid volunteers to provide MFH to New Jersey's fallen veterans. You must be retired from the Army or Army National Guard and meet military standards in the Army's Class A. uniform. Owning a Class A uniform is a plus, but not mandatory. If you are interested, please contact Mr. Denson at 609-530-7090 or e-mail him at Raymond.Denson@nj.ngb.army.mil for more information.

Armory Happenings – Listed below are events taking place at your local armory.
Date
Event
Location
16-20 Mar
Tool Show & Sale
Mount Holly Armory
20 Mar
Sports Card & Comics Show
Bordentown Armory
23 Mar
Circus
Jersey City Armory
30 Mar -
4 Apr
Home Design & Landscape Show
Westfield Armory
17 Apr
Sports Card & Comics Show
Bordentown Armory

NJ Vietnam Veterans' Memorial and Vietnam Era Education Center's upcoming event schedule.
19 Mar
1pm

A Redcatcher's Letters from Nam (199th Lt. Inf. Bde)

Author lecture by Patricia Farewell Enyedy, sister of a NJ GI, KIA in Vietnam

2 April
10am - 4pm

Celebrating the 30th Anniversary of Operation Babylift, Vietnam (1975-2005)

$10 Admission fee

14 May
1pm

Jenny 4

Author lecture by Vietnam Veteran Paul Drew
For more information about any of these events, please call the NJ Vietnam Veterans Memorial Foundation office at (732) 335-0033.
The Vietnam Era Educational Center is located adjacent to the NJ Vietnam Veterans' Memorial off the Garden State Parkway at Exit 116.

DMVA's Fitness Corner – by Ernie Razzano, Certified Fitness Trainer
The Laws of Training (Part 4 of 4)
Specificity Principle
The Specificity Principle states that you must move from general (or foundational) training to specific and highly specialized training as your final objective (whether it be optimum fitness or athletic competition) draws closer. This principle relates to factors involved in both neuromuscular adaptation, as well as technique "functionality." Neuromuscular changes will occur over time as an adaptation to repeating a specific movement pattern. For example, you will get stronger in squats by doing squats as opposed to leg presses, and you will achieve greater endurance for the marathon by running long distances than you will by cycling long distances.
GAS Principle
GAS is the acronym for General Adaptation Syndrome. The GAS is comprised of three stages: 1) the "alarm stage" caused by the application of intense training stress (the overload principle), 2) the "resistance stage," when our muscles adapt in order to resist stressful weights more efficiently (the Overcompensation, SAID, and Use/Disuse Principles), and 3) the "exhaustion stage" where, if we persist in applying stress, we will exhaust our reserves and then be forced to stop training.
In gym lingo, the GAS law states that there must be a period of low-intensity training or complete rest following periods of high-intensity training. The reason for this is that the stress you have applied is traumatic, forcing your "injured" muscles to heal and then adapt. The recovery and overcompensation time must be taken so that further stress does not continue the downward spiral caused by repetitive bouts of trauma.

Today in History..
Today is Friday, 18 March 2005. It is the 77th day of the year with 288 days remaining.
1541 – Hernan de Soto observed the first recorded flood of the Mississippi River.
1818 – The U. S. Congress approved the first pensions for government service.
1834 – The first railroad tunnel in the U.S. was completed in Pennsylvania.
1850 – Henry Wells & William Fargo founded American Express.
1881 – Barnum and Bailey's Greatest Show on Earth opened in Madison Square Garden.
1891 – Britain became linked to the continent of Europe by telephone.
1905 – Franklin and Eleanor Roosevelt were married.
1931 – Schick Inc. displayed the first electric shaver.
1942 – The third military draft began in the U.S. because of World War II.
1945 – 1,250 U.S. bombers attacked Berlin.
1949 – The North American Treaty Organization (NATO) was ratified.
1952 – The first plastic lenses were fitted for a cataract patient in Philadelphia, PA.
1961 – The Poppin' Fresh Pillsbury Dough Boy was introduced.
1970 – The U.S. Postal Service experienced the first postal strike.
1981 – The U.S. disclosed that there were biological weapons tested in Texas in 1966.
1990 – The first free elections took place in East Germany.
1992 – White South Africans voted for constitutional reforms that would give legal equality to blacks.


Call today and volunteer to help at a Family Readiness Center near you.
To reach any NJ National Guard Family Assistance Center - Call toll free 888-859-0352.