.
NJ Dept of Military and
Veterans Affairs
Maj Gen Glenn K. Rieth
The Adjutant General
Brig Gen Maria Falca-Dodson
Deputy Adjutant General
Col (Ret) Stephen G. Abel
Deputy Commissioner for Veterans Affairs
-
Contacting us is easy!
Office of the Assistant Commissioner
Col (Ret) Michael B. Smith
Mrs. Laura A. Branham
Phone: (609) 530-6987
Fax: (609) 530-7109
Email:
branham@njdmava.state.nj.us
We're on the Web!
http://www.nj.gov/military
Warmest wishes for a joyous holiday
and a healthy and happy
New Year.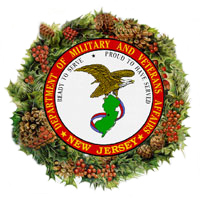 The DMVA Highlights Staff
Watch for our first issue of 2006 arriving in your e-mailbox on January 6th.