.
NJ Dept of Military and
Veterans Affairs
Maj Gen Glenn K. Rieth
The Adjutant General
Brig Gen Maria Falca-Dodson
Deputy Adjutant General
Col (Ret) Stephen G. Abel
Deputy Commissioner for Veterans Affairs
.
Contacting us is easy!
Office of the Assistant Commisioner
COL (Ret) Michael B. Smith
Mrs. Laura A. Branham
Phone: (609) 530-6987
Fax:  (609) 530-7109
Email:
branham@njdmava.state.nj.us
We're on the Web!
www.state.nj.us/military
Dear Fellow Employees, Guardmembers, and Veterans: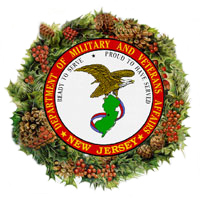 Each December Americans set aside the special time of Christmas, Chanukah, Kwanza, New Year's Eve, and other traditional holidays to gather with family and friends to count their blessings. During this holiday season we are all reminded of the many special blessings we as Americans enjoy. Our nation offers unlimited promise, bountiful lands, and the priceless gifts of freedom and liberty. We enjoy peace and prosperity like no other nation on this earth. Without a doubt, we are the envy of people throughout the rest of the world.
The employees of DMVA and the members of both the New Jersey Army and Air National Guard continue to demonstrate the highest levels of professionalism, talent, and dedication. You continue to do everything asked of you and more. You have displayed a level of energy and generosity that makes this department and the New Jersey National Guard the best organizations they could be. For all you have done and continue to do, "thank you."
Also, I would like to extend my heartfelt appreciation to our veterans. They are the ones who in the past times of trouble and challenge answered the call to serve. They established the standards for courage, selflessness, and service by which the rest of us will be measured. They carried the torch of liberty, held it high, and then handed it over to us for safekeeping.
I am extremely grateful for the many friends we have in communities throughout the state; those who have stepped up in a big way to demonstrate their appreciation and support for the service and sacrifice of our citizen-soldiers and airmen.
While so many of our fellow soldiers and airmen are serving throughout the world, let us all remember these true heroes in our thoughts and prayers. Let us make every effort to ensure that their families are well cared for during this holiday season and on each and every day their loved ones are deployed. I am so proud of each member of our DMVA family and especially grateful to the members of our extended Guard family for the many sacrifices and additional burdens they bear so bravely.
To all of you, from Linda and the entire Rieth family, I extend our sincere wishes for a wonderful, joy-filled holiday and a happy and peaceful New Year.
Sincerely,
GLENN K. RIETH
Major General, NJARNG
The Adjutant General