.
NJ Dept of Military and
Veterans Affairs
Maj Gen Glenn K. Rieth
The Adjutant General
Brig Gen Maria Falca-Dodson
Deputy Adjutant General
Col (Ret) Stephen G. Abel
Deputy Commissioner for Veterans Affairs
.
Contacting us is easy!
Office of the Assistant Commisioner
COL (Ret) Michael B. Smith
Mrs. Laura A. Branham
Phone: (609) 530-6987
Fax:  (609) 530-7109
Email:
branham@njdmava.state.nj.us
We're on the Web!
www.state.nj.us/military
.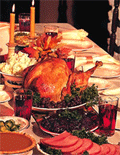 Thanksgiving Day
25 November 2004
"Thanksgiving is a time when Americans celebrate the plentiful yield of our soil.. the beauty of our land.. the preservation of those ideals of liberty and justice that form the basis of our national life, and the hope of international peace."
... Dwight D. Eisenhower
.
Gifts for Kids Drive is now underway.
Toys will be distributed to the children of our deployed servicemen and women.
Please be generous!
.
.
.New Jersey Freedom Loans
What is a Freedom Loan?
* Up to $10,000

* Annual APR 6%

* Term: 5 years (no pre-payment penalty)

* Unsecured Loan (no collateral required)
Who is eligible to apply?
NJ residents who are:
* Members of the National Guard or Reserve

* Mobilized for one year or longer to fight in the Global War on Terrorism (GWOT) – excluding routine training.
Or
* Served 90 or more consecutive days in the GWOT on federal or state active duty (excluding routing training) and have received orders extending cumulative active duty a year or longer.
How do I apply?
* Contact participating banks. Call or visit your local branch office to obtain an application.

* Guardmembers, Reservists, or family members with Power of Attorney must submit copies of current mobilization orders with the bank's Freedom Loan application.
Current participants:
Commerce Bank
1-888-751-9000
Credit Union of NJ
609-538-4061, ext. 401
First Morris Bank & Trust
1-888-530-2265
Fleet
1-800-841-4000
Manasquan Savings Bank
732-223-4450
North Jersey Federal
Credit Union
1-888-78NJFCU
Peapack-Gladstone Bank
(908) 719-BANK
Pennsville National Bank
856-678-6006
PNC
1-866-PNC-4USA
Sovereign Bank
1-877-391-6365
Sun National Bank
1-800-691-7701
.
.
Call today and volunteer to help at a Family Readiness Center near you.

As the New Jersey National Guard deploys soldiers and airmen around the globe, the families that are left behind need our support and assistance. Can we count on your help? Please call your local Family Readiness center and volunteer.
To reach any NJ National Guard Family Assistance Center
Call toll free 888-859-0352
Thanksgiving Day Message from MG Glenn K. Rieth.
We have had the most demanding year in our recent history. Please realize how proud and grateful I am toward each of you and your loved ones.
America is proud of its military and the citizens of New Jersey are proud of our New Jersey National Guard. Let us all take a special moment this holiday to remember the many New Jersey National Guard soldiers and airmen who are spending Thanksgiving far away from home.
We have much to be thankful for, our families, our friends, our beautiful country, and the freedom granted to each one of us by the Almighty.

108th Air Refueling Wing announces 4th Quarter Winners.
The NJ Air National Guard's 108th Air Refueling Wing is proud to announce the winners of the Quarterly Awards Board. The winners have not only shown exemplary work in the fourth quarter of 2004, but throughout their entire careers.
The Quarterly Awards Board winners are:
Airman of the 4th Quarter Senior Airman Demaris Eggles, 108th ARW
NCO of the 4th Quarter Staff Sgt David Martin, 227th SOF
Senior NCO of the 4th Quarter Master Sgt Tori Hill, 108th MDG
Congratulations on a job well done!

Successful fundraiser was recently held at the Woodbury Armory.
A Support the Troops Pancake Breakfast fundraiser was held at the Woodbury Armory on Saturday, November 13, 2004 to raise money for families and the NJ National Guard soldiers deployed overseas. Several community groups, including the Gibbsboro-Voorhees Lions Club, Camden Light Artillery Association, American Legion Post 281 Blackwood, VFW Post 4189 Sewell, VFW Post 2174 Westville, and the 114th Regimental Association sponsored the breakfast. The money raised will be divided among the six NJ National Guard Family Readiness Groups that are part of the Woodbury Family Assistance Center to send packages to deployed soldiers, provide activities for the families, and welcome home celebrations for the troops when they return. Volunteers fed 443 people and raised $6,453. In addition to the breakfast, the group held a Chinese Auction of items donated by local businessmen and 50/50 raffle. The day was a rousing success and plans are underway for a Spaghetti Dinner as a Spring fundraiser.

Don't forget the families and children.
The annual Gifts for Kids Drive began this week and will run through 14 December 2004. This year, all of the toys and gifts collected will be distributed to the children of our deployed servicemen and women through the Family Assistance Centers. While you're out shopping this coming weekend on the busiest shopping day of the year, "Black Friday," remember the families whose loved ones are away from home during the holidays. The children range in age from infants to teenagers. Collection boxes will be set up at all of our facilities for your donations.

Pentagon launches nationwide "America Supports You" program.
Principal Deputy Under Secretary of Defense for Personnel and Readiness, Charles Abell, launched the Department of Defense's nationwide program, "America Supports You," last Friday, 19 November 2004. This program will spotlight what thousands of Americans, including individual citizens, business, and organizations, are doing in support of U.S. military men and women serving at home and abroad. "These activities of support have a positive impact on the morale and spirit of those who serve," said Abell. "America Supports You" will showcase these community activities on a new website so the American public and the U.S. military serving at home and overseas will know firsthand how much the American people appreciate their service and sacrifice. For more information about "American Supports You," please log onto the new website: http://www.AmericaSupportsYou.mil.

NJ Army National Guard's 63rd Army Band schedules Holiday Concert.
The NJ Army National Guard's 63rd Army Band will present a Holiday Concert on December 11, 2004 at 7:00 p.m. at the Crockett Middle School, 2631 Kuser Road, Hamilton, NJ 08691. No tickets are required. Mark your calendars now and come out for an entertaining evening.

Veterans to be honored at upcoming Medal Ceremonies.
The following ceremonies have been scheduled to honor our State's veterans.
20 Jan 05 - 11 a.m. & 1 p.m.
Distinguished and Meritorious Service Medal, Vietnam Service Medal
Salem County Community College

Info on Holiday Mailings to the Troops.
The Department of Defense (DoD) recently issued a reminder that the "Any Servicemember" mail program is still suspended. The general public urged not to send unsolicited mail, care packages, or donations to service members during the holiday season. The Department of Defense emphasizes that names and addresses of military personnel must not be distributed by the media, websites, companies, non-profit organizations, schools or individuals for the purpose of collecting letters of support or donations for mailing to service members. According to the DoD, family members should not pass around military addresses by for use donation programs. People who wish to mail a letter, or card or package to a service member must have a specific person's name and address on their mail. If you would like to help service members or their families or if you are approached by someone who knows that your work for the Department of Military and Veterans Affairs and wants to help the troops, here is a website given by DoD with many ways that Americans can support the troops. Go to http://www.defendamerica.mil and click on the Support Our Troops button.

Today in History..
Today is Wednesday, 24 November, the 329th day of the year with 37 days remaining.
1783 – During the Revolutionary War, the British evacuated New York. New York was their last military position in the U.S.
1867 – Alfred Nobel patented dynamite.
1920 – The first play-by-play broadcast of a football game was aired in College Station, Texas, between the University of Texas and Texas A&M.
1955 – In the U.S. the Interstate Commerce Commission banned racial segregation on interstate trains and buses.
1963 – President John F. Kennedy was laid to rest at Arlington National Cemetery.
1990 – Poland held its first popular presidential election.
1992 – The Czech parliament voted to split the country into separate Czech and Slovak republics beginning January 1, 1993.
1998 – President Jiang Zemin arrived in Tokyo for the first visit to Japan by a Chinese head of state since World War II.

NJ Vietnam Veterans' Memorial and Vietnam Era Education Center's upcoming event schedule.
The New Jersey Vietnam Veterans Memorial Foundation, Vietnam Veterans of America Chapter 800 from Bergen County and the Jewish War Veterans, Department of New Jersey will host the annual "Holiday Lighting Ceremony" at the New Jersey Vietnam Veterans' Memorial in Holmdel, NJ. The ceremony will include the lighting of the Christmas tree and Menorah, and a reading about Kwanza. Local area Girl Scouts will lead the singing of holiday carols. The festivities are open to the public at no charge.
4 Dec, 6 p.m.
Holiday Lighting Ceremony

11 Dec, 1 p.m.
Author Lecture – James Parker Wollner – The Bamboo Shoot: The Story of the 2nd Airboat Platoon

For more information about any of these events, please call the NJ Vietnam Veterans Memorial Foundation office at (732) 335-0033.
The Vietnam Era Educational Center is located adjacent to the NJ Vietnam Veterans' Memorial off the Garden State Parkway at Exit 116.

Part-time opportunities available in Military Funeral Honors Program.
The New Jersey Army National Guard Military Funeral Honors Program has several part-time employment opportunities immediately available across the state for TDGs and Technicians. Earn one day's base pay and one retirement point for a few hours work providing Military Funeral Honors for our Veterans. If you are interested, please contact SFC Raymond Denson, Military Funeral Honors Coordinator, at 609-530-7090 or by e-mail at Raymond.Denson@nj.ngb.army.mil.

DMVA's Fitness Corner – by Ernie Razzano, Certified Fitness Trainer
Fad Diets
Many people want something for nothing. There is no miracle means to good nutritional practices. Fad weight-loss diets can be too low in protein or carbohydrates, or too high in fat. They can also leave the dieter in a poor state of health, with a damaged metabolism. Typically, the weight lost from fad dieting consists of water weight, fat, and muscle mass. This loss of muscle mass is where the problem exists, because it reduces the body's ability to utilize calories for energy. As most dieters soon return to their old eating habits, they tend to gain more weight as body fat and can end up having a higher percentage of body fat, even if they don't return to their previous high weight.
Fad diets almost always severely cut carbohydrate foods from their lists of recommended consumption. Not only does this sap your energy, it can also harm athletic performance. The fact is, you need carbohydrates for your brain, heart, and muscles, among other vital organs. When carbohydrate stores are depleted in the body, the rate at which fat is metabolized is reduced.
It is true that a large volume of weight will be lost as glycogen (stored carbohydrate) depletes in the muscles and liver, but this weight is from water loss. This will not help body composition or overall health. True, the body will rely more on free fatty acids for fuel when muscle glycogen is depleted, but the body will rely much more on amino acids (protein) supplied from the breakdown of lean tissue. So while you may "burn" fat, you will also burn more muscle. Plus, you will have lower energy levels and experience more fatigue during exercise. This means that workouts will likely be shorter and lower in intensity.
Although diets that cut fat are usually healthy, it is unhealthy to drastically reduce levels of unsaturated fat. Fat acts as a carrier for the four fat-soluble vitamins (A, D, E and K) and it helps to cushion your kidneys, liver and nerves.
A final word on fad diets: AVOID THEM!

Patriots Week is planned in the City of Trenton.
You are cordially invited to attend the re-enactment of the Revolutionary War's Battles of Trenton beginning at the Battle Monument, North Warren & North Broad Streets, on Sunday, 2 January 2005 from 11 a.m. to noon.
The battle re-enactment will be followed by a luncheon reception for active military personnel, veterans, and their families as guests of the Masonic Lodges of NJ from Noon to 2 p.m. at the Masonic Temple, Barrack Street. Guided tours of the magnificent Masonic Temple will take place following the reception.
The re-enactment of the 2nd Battle of Trenton will take place from 3-4 p.m. beginning at the 1st Presbyterian Church, 120 East State Street, and continuing in Mill Hill Park on East Front Street, culminating in a procession back to the Old Barracks. For more information about Patriots' Week activities visit www.patriotsweek.com.

Thanksgiving Trivia - Did you know that...
Turkey Tidbits
- Turkeys are one of the first animals in the Americas to be domesticated.
- Turkeys are first documented over two thousand years ago in Central America and Mexico.
- Benjamin Franklin called the turkey "a true original native of America."
- The turkey was nominated to be the official bird of the United States, but eventually lost out to the bald eagle.
- Domesticated turkeys cannot fly.
Thanksgiving Timeline
- The Pilgrims first celebrated their feast of "thanksgiving" in 1621. It lasted three days!
- In 1789, George Washington proclaimed a national day of Thanksgiving.
- The state of New York officially made Thanksgiving Day an annual custom in 1817.
- In 1827, Sarah Joseph Hale began her campaign to establish a national day of Thanksgiving.
- President Abraham Lincoln proclaimed Thanksgiving an annual national holiday in the United States in 1863.
- The annual Macy's Thanksgiving Day Parade tradition began in the 1920's.
Thanksgiving Facts
- An estimated 690 million pounds of turkey were consumed in the United States during Thanksgiving in 2001 (National Turkey Federation).
- Thanksgiving is always the fourth Thursday in November.
- Thanksgiving in Canada is celebrated on the second Monday in October.

Family Programs Event Calendar
Listed below are the events being planned by the Family Readiness Groups throughout the state.
Date
Event
Location
Contact/Phone
24 Nov
1800-2100
Pot Luck Dinner
Co A, 2/113th
Jersey City Armory
PFC Montanez
201-915-3589

26 Nov
1745

Bus Trip to Atl City
Freehold Armory

Chris Branca
609-971-3711

30 Nov
1800-2200

Beef Steak & Chinese Auction
American Legion Post 170
Rochelle Park, NJ

SFC Minnie Hiller
609-847-1475

30 Nov 04
1800-2200

Tree Lighting in NYC
Co B, 50th MSB

Pick-up at Dover Armory

Heather Burns
973-764-8413

4 Dec
0800-1200

Pancake Breakfast
Co E, 50th MSB
Lakehurst, NJ (AMVETS)
Michaele Carroll
732-309-4647