Don't wait much longer.time is running out to register to vote and/or obtain an absentee ballot for this year's General Election.
Time is running out to register to vote and/or obtain an absentee ballot for this year's Presidential Election. If you're wondering whether your vote is important or thinking, "why bother," please take a moment to read the following article by Brig Gen James Whitmore, 82nd Training Wing Commander, USAF.
One fundamental concept of freedom that has become an integral part of our way of life is the privilege we enjoy of choosing our leaders. Your vote is your voice. Each time you choose not to vote, you're letting someone else speak for you.
If you are an eligible voter, there simply is no compelling reason not to participate. Common excuses such as "the polls are too crowded," "I don't have transportation," or "I don't have enough time," are nothing short of apathy - a force that will erode our freedoms over the long haul.
Protecting this country's way of life is something we have all sworn to do. When we took the oath to support and defend the Constitution of the United States, we committed to guaranteeing the freedoms it provides us. Those freedoms were bought at great cost, and continue to be, in terms of personal sacrifice and loss of life.
Our country is indeed fortunate to have had the founding fathers we did. We all need to remember those freedoms aren't completely paid off, nor will they ever be. They must be protected every day; otherwise, we tend to forget how important they are.
Absentee ballots are a positive avenue available for YOU. Don't pass up the opportunity for your voice to be heard.
Voting is not only an incredible privilege; it's an obligation for all of us.
Additionally, if you register, you'll have the opportunity to vote for multiple levels of governmental offices at the federal, state, and local levels. If nothing else, I highly encourage each of you to register and vote November 2nd in the General Election that will determine the next president of the United States.
Let's not take the sacred privilege of voting for granted. Exercise it now and keep it alive and well. At the end of May I returned from a country that will be holding its first free elections later this fall. I've seen first hand how important this privilege is and how people are willing to take great risks just to have their voices heard.
For those of you who are still not planning to vote, I challenge you to stop and ask yourself what kind of country this might be if we couldn't vote for a president, choose the career you desire, or even where you want to live. There are still parts of our world where these things are a reality.
I'd be willing to bet most of those unfortunate citizens would gladly exchange places with you and me to enjoy this awesome privilege. It's your future, your livelihood, your nation.
Get out and vote for it!

Salute the Troops Ceremony scheduled for 9 October 2004.
On behalf of Major General Glenn K. Rieth, The Adjutant General for New Jersey, all Department of Military & Veterans Affairs' employees are cordially invited and encouraged to attend the NJ National Guard's "Salute the Troops" ceremony that will be held on 9 October 2004, 10 a.m., at the Sovereign Bank Arena in Trenton, NJ (Doors will open at 9 a.m.). This is our fifth NJ National Guard special Salute the Troops ceremony, and we will be honoring more than 2,600 of New Jersey's citizen-soldiers being deployed in support of Operation Iraqi Freedom III.

New Jersey Air National Guard members host picnic for Vineland Veterans.
Members of the New Jersey Air National Guard hosted a picnic, organized by the Warren Grove staff, SMSgt Tom Dunn of the 177th Fighter Wing and MSgt Cheryl Adler of the 108th Air Refueling Wing, on 16 September 2004 at the bombing range in Warren Grove. Veterans of the Veterans Memorial Home at Vineland enjoyed hot dogs and hamburgers while watching A-10 Warthogs practice. The annual event is one of many events the Air Guard members participate in during the year in support of our country's veterans.

The National Park Service is seeking veterans of Fort Hancock, NJ.
The National Park Service at Sandy Hook, New Jersey, is interested in interviewing veterans of Fort Hancock in order to complete a history of the fort, which was a US Army Post from 1895-1974. The National Park Service is compiling a list of names of individuals who served at Fort Hancock, and has also begun an Oral History Program with the help of Monmouth University. If you know of anyone who served at Fort Hancock, please have him or her contact Ms. Mary Rasa, Sandy Hook Museum Curator, at 732-872-5953 or via e-mail at mary_rasa@nps.gov.

Joint Force Headquarters holds a Mobilization Exercise.
A Mobilization Exercise was conducted for the Joint Force Headquarters (JFHQ), New Jersey National Guard in order to prepare Headquarters' soldiers for possible deployments and defense of the homeland. The exercise was conducted by different sections of the Headquarters, organized and controlled by the J-3 Mobilization and Readiness Branch with support from the J-1 and Personnel Services Battalion among others. Eighty-six personnel were processed at the National Guard Training Center, Sea Girt, NJ from the 254th Regiment, Regional Training Site, Maintenance, and the 63rd Army Band. 167 personnel were processed from the JFHQ and 82 from the Training and Training Technology Battle Lab (T3BL) at Fort Dix. These personnel received medical screenings, shots, reviewed personnel records, and updated various personnel issues. Outstanding support and motivation helped ensure a successful weekend.

National Hispanic Heritage Month - 15 September - 15 October.
By Presidential Proclamation, Hispanic Heritage Month takes place each year from September 15 - October 15. It is a time for all Americans to reflect on the contributions of Hispanics in the development and growth of the United States of America. There are a variety of activities taking place to commemorate Hispanic Heritage Month throughout the Department of Defense and our communities. Please join us as we share in the richness of Hispanic-America. The theme of this year's campaign is "Hispanic Americans: Making a Difference in our Communities and our Nation."

Veterans to be honored at upcoming Medal Ceremonies.
The following ceremonies have been scheduled to honor our State's veterans.
30 Sep - 11 a.m. & 1 p.m.
Distinguished, Meritorious & Korean Service Medals
Westfield Armory
Union, NJ

Director of Veterans Programs was guest speaker at Rolling Thunder's Ride For Freedom – POW/MIA Recognition Event.
On Sunday, September 19th, Mr. Bill Devereaux, Director of Veterans Programs, served as Guest Speaker at ceremonies held at the New Jersey Vietnam Veterans' Memorial. The ceremony began at the conclusion of Rolling Thunder's Ride for Freedom IX. The ride began at Warinanco Park in Roselle, NJ and ended with a wreath laying ceremony at the NJ Vietnam Veterans Memorial in Holmdel. The purpose of the event was to promote MIA/POW awareness and recognition and was held in conjunction with MIA/POW Recognition Day.

NJ Vietnam Veterans' Memorial and Vietnam Era Education Center's upcoming event schedule.
On Saturday, 2 October, at 1 p.m., the NJ Vietnam Veterans Memorial Foundation will host an author lecture by Vietnam Veteran James Parker Wollner about his book, The Bamboo Shoot: The Story of the 2nd Airboat Platoon. The program will be held at the Vietnam Era Educational Center in Holmdel, NJ.
James P. Wollner was trained in airboats by a Special Forces unit and served as an Airboat Pilot in Vietnam, 1967-68. After training, the 2nd Airboat Platoon was formed – the first unit of airboats in the regular Army. The unit was assigned to the 15th Engineer Battalion of the 9th Infantry Division in the Rung Sat (Forest of Assassins) area southeast of Saigon. Wollner was awarded the Purple Heart Medal as well as the Army Commendation Medal with "V" device and oak leaf cluster for valor.
Lecture attendees are asked to RSVP to 732-335-0033. A donation of $5.00 per person is suggested.
2 Oct, 1 p.m.
Author/Lecture James Parker Wollner, The Bamboo Shoot: The Story of the 2nd Airboat Platoon.

11 Nov, 11 a.m.
Veterans Day Program

For more information about any of these events, please call the NJ Vietnam Veterans Memorial Foundation office at (732) 335-0033.
The Vietnam Era Educational Center is located adjacent to the NJ Vietnam Veterans' Memorial off the Garden State Parkway at Exit 116.

Home Depot launches Operation Career Front 21 September 2004.
Operation Career Front is a hiring campaign to provide career opportunities for current and former members of America's military community, as well as to increase integration of services from the Departments of Labor, Defense, and Veterans Affairs to veterans, separating service members, and military spouses. Bob Nardelli, Home Depot's Chairman, President, and Chief Executive Officer, noted that military veterans make exceptional employees who bring "focus, discipline, and a commitment to excellence" to the workplace. Mr. Nardelli noted that there are currently more than 15,000 military veterans among Home Depot's 300,000 employees, and the company expects to create more than 20,00 new jobs this year. For more information on Operation Career Front visit their website.

Today in History…
Today is Friday, September 24th, the 268th day of the year with 99 days remaining.
- 1755 – John Marshall was born. He was the fourth Chief Justice of the U.S. Supreme Court. His court was credited with defining the principles of government and the role of the Supreme Court.
- 1929 – The first all-instrument flight took place in New York when Lt. James H. Doolittle guided a Consolidated NY2 Biplane over Mitchell Field.
- 1934 – Babe Ruth played his last game as a New York Yankee.
- 1957 – The Brooklyn Dodgers played their last game at Ebbets Field.
- 1960 – The first nuclear powered aircraft carrier was launched. The USS Enterprise set out from Newport New, VA.
- 1991 – Theodor Seuss Geisel died at the age of 87. The children's author is better known as Dr. Seuss.
- 1996 – The United States, represented by President Clinton, and the world's other major nuclear powers signed a Comprehensive Test Ban Treaty to end all testing and development of nuclear weapons.

SAFETY NOTES – Fall is here. Think courtesy and safety when using leaf blowers.
"Think Courtesy" when using a leaf blower this season. Keep in mind the following tips when using your leaf blower in order to prevent accidents and promote good-feelings among neighbors.
Courtesy Tips
- Use your leaf blower at reasonable hours.
- Lower the throttle speed.
- Use nozzle attachments to reduce sound levels.
- Check local ordinances for operating times.
Safety Tips
- Always read the manual before operating.
- Do not let people, especially children, into the work area.
- Do not point the nozzle in the direction of people or pets
- Use a dust mask in dusty or dirty areas.

Important Calendar Dates:
30 September

ESGR Golf Outing – Falcon Creek Golf Course, McGuire AFB

Contact Mr. Hank Pierre (609-530-6879) for more information.

9 October
10 a.m.

Salute to our Deploying Troops

Sovereign Bank Arena, Trenton, NJ

16 October
7 a.m.-12 p.m.

Pancake Breakfast – Support the Troops

Westfield Armory, 500 Rahway Avenue, Westfield, NJ

Proceeds of this even will benefit the soldiers and families of NJ National Guard's Family Readiness Council and the Family Assistance Center at Westfield.

18 October
Rain Date: 25 Oct

Golf Tournament - Support the Troops

Oceanair Golf and Country Club

Proceeds will benefit the families of the DISCOM and Artillery units of Toms River and Ocean County whose finances have been affected by the deployment of National Guard members who have been called to duty in Iraq and Afghanistan. For more information call: 609-693-1941.

23 October

NJ Advisory Committee for Women Veterans Annual Luncheon

McAters Restaurant, Somerset, NJ

Contact Karen Wallace for more information 609-530-6766

28 October
10 a.m. – 3 p.m.

Veterans Information Fair

NJ National Guard Armory, Lawrenceville, NJ

Fun Facts – All about Words.
- Incredible means not believable. Incredulous means not believing. When someone's story is truly incredible, you ought to be incredulous.
- The ZIP in zip code stands for "Zone Improvement Plan."
- Clans of long ago that wanted to get rid of their unwanted people without killing them used to burn their houses down – hence the expression "to get fired."
-"Big cheese" and "big wheel" are Medieval terms of envious respect for those who could afford to buy whole wheels of cheese at a time, an expense few could enjoy. Both of these terms are often used sarcastically today.
- The longest word used by Shakespeare in any of his works is "honorificabilitudinitatibus," found in "Love's Labors Lost." Unfortunately, he's no longer around to tell us what it means.

DMVA's Fitness Corner – Low Back Pain (Part 4 of a 5 part series) by Ernie Razzano, Certified Fitness Trainer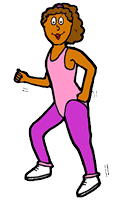 Step 4: Pay attention to your posture.
We spend most of our lives with our bodies in the three basic positions: sitting, standing, and sleeping. Let's cover them one at a time.
Sitting: If you were to take a survey of people that suffer with back pain, you would find that nearly everyone sits far too much. Sitting increases the pressure in the back nearly two times your bodyweight. After sitting all day at work, you sit while driving home and sit once again for dinner. Now your back is hurting badly, so you sit in front of the TV, slouched. Do that for 7 days a week, and you wonder why you still have back problems. Don't sit so much without moving. If you can, at work take a few short breaks on the floor – lie down and stretch; then hit the floor at night when you come home, instead of the couch. Yes, you've read this before. That's how important it is!
Standing: As we stand during the day, the muscles of our back become fatigued or tired. Especially by the end of the day, we have a tendency to round or hunch forward. This poor posture puts an unnecessary load on the low back, because the weight and leverage of the upper body rounding forward puts a constant stress on the low back.
When you're standing, don't lock your knees and round forward. Instead, spread your legs and press forward with an arch in your low back. Lean on an arm if you can. It helps take some weight off the muscles of the back.
When you're lifting, it's important to bend your knees and to keep the weight that you're lifting as close to your body as possible. Do not rotate or twist. Square off toward what you are going to lift. It doesn't take much weight to cause an injury.
Never reach out, lift, and rotate. It is the easiest way to tear or rupture a disk, because of the forces and leverage on the small support ligaments of the spine. They just cannot take it.
Prolonged standing with your weight shifted on one leg or another creates an uneven, lateral, or side bending of the spine. This loads the tiny joints of the back on one side.
If you stand on a hard surface like concrete all day, the cumulative effect of compression and the constant pounding and jarring of your spine when you walk with hard shoes is just another variable that can contribute to back pain.
Sleeping: Do not sleep on your belly. Prolonged hypertension from sleeping on your stomach causes the low back joints to jam together, and it's definitely a reason for walking with back pain. Try to sleep on your back with your knees bent; or if you sleep on your side and have a small waist, use a pillow under your waist to keep the plane of the spine horizontal with the bed. Do not be afraid to use lots of pillows around you – not to prop you up, but to support you in an oblique or almost-on-your-side position.
Select a mattress that's not too firm, but not too soft. Rotate and turn your mattress every couple of months; (unless you have a Sleep Number bed like me) and if you can't afford a new mattress, use a piece of plywood between the mattress and the box spring for added support. We spend almost one third of our lives in bed, so if you wake up with pain, the first thing to do is to replace your existing mattress!

Call today and volunteer to help at a Family Readiness Center near you.

As the New Jersey National Guard deploys soldiers and airmen around the globe, the families that are left behind need our support and assistance. Can we count on your help? Please call your local Family Readiness center and volunteer.
To reach any NJ National Guard Family Assistance Center
Call toll free 888-859-0352