.
NJ Dept of Military and
Veterans Affairs
Maj Gen Glenn K. Rieth
The Adjutant General
Brig Gen Maria Falca-Dodson
Deputy Adjutant General
Col (Ret) Stephen G. Abel
Deputy Commissioner for Veterans Affairs
-
Contacting us is easy!
Office of the Assistant Commissioner
Col (Ret) Michael B. Smith
Mrs. Laura A. Branham
Phone: (609) 530-6987
Fax: (609) 530-7109
Email:
branham@njdmava.state.nj.us
We're on the Web!
http://www.nj.gov/military
The NJ National Guard Needs You!
Here is our featured
Job of the Week
Petroleum Supply Specialist (92Y)
The petroleum supply specialist supervises or receives, stores, accounts for and cares for, dispenses, issues, and ships bulk or packaged petroleum, oils, and lubricants products.
Selects and submits samples of petroleum, oils, and lubricants to laboratory for testing. Performs petroleum and water accounting duties. Operates equipment associated with petroleum and water distribution system and multi-product pipeline system. Fuels and defuels vehicles, aircraft, and stationary equipment. Takes emergency precautions to prevent harm to self and facilities in event of petroleum spillage or fire.
If you're interested in an exciting job opportunity,
contact your Recruiting Office at
1-800-792-8396
.

.

Veterans' Organizations
Contact Information

State Veterans Service Council
Mr. Richard Clark
RJClark21@msn.com

NJ Advisory Committee for Women Veterans
Mrs. Anna Hoffman
hoffmanannem@aol.com

BG Willam C. Doyle Cemetery Advisory Council
Mr. William Rakestraw
warjrnj@msn.com

-

Veterans Hotlines

Benefits & Entitlements
1-888-8NJ-VETS
(1-888-865-8387)

Mental Health
1-866-VETS-NJ4
(1-866-838-7654)

-

New Jersey Freedom Loans

What is a Freedom Loan?

* Up to $10,000

* Annual APR 6%

* Term: 5 years (no pre-payment penalty)

* Unsecured Loan (no collateral required)

Who is eligible to apply?

NJ residents who are:

* Members of the National Guard or Reserve

* Mobilized for one year or longer to fight in the Global War on Terrorism (GWOT) – excluding routine training.

Or

* Served 90 or more consecutive days in the GWOT on federal or state active duty (excluding routing training) and have received orders extending cumulative active duty a year or longer.

How do I apply?

* Contact participating banks. Call or visit your local branch office to obtain an application.

* Guardmembers, Reservists, or family members with Power of Attorney must submit copies of current mobilization orders with the bank's Freedom Loan application.

Current participants:

Commerce Bank
1-888-751-9000

Credit Union of NJ
609-538-4061, ext. 401

First Morris Bank & Trust
1-888-530-2265

Manasquan Savings Bank
732-223-4450

North Jersey Federal
Credit Union
1-888-78NJFCU

Peapack-Gladstone Bank
(908) 719-BANK

Pennsville National Bank
856-678-6006

PNC
1-866-PNC-4USA

Sovereign Bank
1-877-391-6365

Sun National Bank
1-800-691-7701

-

-Autumn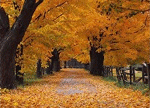 Autumn
When the trees their summer splendor
Change to raiment red and gold,
When the summer moon turns mellow,
And the nights are getting cold;
When the squirrels hide their acorns,
And the woodchucks disappear;
Then we know that it is autumn
Loveliest season of the year.
-
-
-
Rosa Lee Parks
1913-2005
Civil Rights Activist
Rosa Parks died at her Detroit home on Monday of this week at age 92. Fifty years ago, this tired seamstress kept her seat on a bus and changed the world. Her arrest became the focus of a bus boycott that lasted over a year, and ended with the desegregation of public transportation.
She was the recipient of the
Presidential Medal of Honor and the
Congressional Gold Medal.
***
"Courage is what it takes to stand up and speak;
Courage is also what it takes to sit down and listen."
... Carl Hermann Voss
National Guard Militia Museum of New Jersey and the Department of Military & Veterans Affairs host art exhibit.

To commemorate this year's 60th anniversary of the end of World War II and honor the gallant service of America's veterans, the National Guard Militia Museum of New Jersey and DMVA are proud to present an exhibition of art by William A. Foley, Jr., artist and author of the book "Visions from a Foxhole: A Rifleman in Patton's Ghost Corps." This exhibit will be on display at DMVA Headquarters, Lawrenceville, in the cafeteria from Monday, 31 October to Monday, 7 November 2005.
Visions from a Foxhole is a harrowing first-person account of the 94th Infantry Division's bold campaign to break through Hitler's "impregnable" Siegfried Line at the end of World War II. Eighteen year old William Foley was afraid the war would be over before he got there, but the rifleman was sent straight to the front lines, arriving on January 25, 1945 – just in time to join the 94th Infantry Division poised at Hitler's legendary West Wall. By the time Foley finally managed to grab a few hours' sleep three nights later, he had already fought in a bloody attack that left sixty percent of his battalion dead or wounded. This was just the beginning of one of the toughest, bloodiest challenges the 94th would ever face. Visions from a Foxhole features the author's artwork of his fellow soldiers and battle scenes, literally sketched at the time from his foxhole, and recaptures that desperate nerve-shattering struggle in all its horror and heroism.
The exhibit will be moved to the Lawrenceville Museum for Veterans Day, November 11, the 112th Field Artillery Association Reunion on November 12, and for the Memorial Service on Sunday morning, November 13 in the Armory featuring the NJ Army National Guard's 63rd Army Band. This event is open to the public. Copies of Mr. Foley's book are available at the Museum's facilities in Sea Girt (732-974-5966) and in Lawrenceville (609-530-6802).

MG R. Martin Umbarger, The Adjutant General of Indiana, visits DMVA.
Last Friday, MG Glenn K. Rieth, hosted MG R. Martin Umbarger, The Adjutant General for the state of Indiana, at the Department of Military and Veterans Affairs.
On Thursday, MG Umbarger and members of his staff visited and had dinner in the field with their mobilized soldiers from the 163rd Field Artillery BN at Fort Dix.
During their visit to DMVA, MG Umbarger was given a walking tour of the Homeland Security Center of Excellence and the Joint Operations Center in Lawrenceville and received an operational briefing.

Working Well New Jersey is underway!
Working Well New Jersey (WWNJ) is well underway! This statewide initiative is a partnership between New Jersey's Department of Personnel, the Department of Health and Senior Services, and some of the largest and most highly regarded non-profit health agencies in the country. It is designed to provide employees with critical information on health promotion, disease prevention, and resources for coping, along with wellness tips for living and working well.
Today, the First Annual Fitness Challenge/Walk was held at the State House as well as at our Veterans Memorial Homes. WWNJ Partners were on hand to share vital information on wellness education, disease prevention, NJ State Health Benefits information, smoking cessation, nutrition, weight-loss programs, exercise and walking programs, and other materials to help jump-start an individual commitment to healthy living. In addition, each state agency will be challenged to participate in the WWNJ Fitness Challenge, which encourages each New Jersey public employee to follow a healthy living program of their choosing and incorporate a six-week walking program.
Our Department has a total of 75 employees taking parting this outstanding program. Ernie Razzano is our Department's point of contact for the program. Ernie is a member of the Working Well New Jersey Executive Committee.

Help is available when facing the new Medicare Part D Prescription Drug Coverage Program.
Many employees are finding themselves confused as they try to assist their parents or elderly relatives facing the new Medicare Part D Prescription Drug Coverage Program -Medicare Part D Prescription Drug Plan (PDP).
In 2005, for the first time in its history, Medicare will be offering prescription drug coverage to every Medicare recipient, regardless of income, under Medicare Part D Prescription Drug Plan.
Enrollment in the program is voluntary and the enrollment period begins on 15 November 2005 and runs through 15 May 2006. Some of the PDPs are free, some PDPs charge a monthly premium. You have to decide which is best for your needs.
The New Jersey State Department of Health and Senior Services, in their Division of Aging and Community Services, has a program call The State Health Insurance Assistance Program (SHIP). SHIP has offices in all 21 counties prepared to assist seniors with making this difficult decision on which Medicare Part D-PDP to choose. County SHIP offices can be found at http://www.state.nj.us/health/senior/ship.shtml. Information can also be obtained by visiting www.medicare.gov on the internet or by calling 1-800-MEDICARE (1-800-633-4227). TTY users should call 1-877-486-2048.

Free week's trial membership at YMCA's for State employees.
The NJ Department of Personnel's Working Well New Jersey has partnered with YMCA to help promote healthier lifestyles for the state of NJ workforce. As a result of this partnership and to help kick off the Working Well Fitness Walk and Challenge, 43 YMCA's throughout New Jersey are offering a FREE WEEK from this Sunday October 30, 2005 to November 6, 2005.

Historic Soldiers Weekend will be held this Saturday and Sunday to honor our veterans – past and present.
"Take a walk through history." Historic Soldiers Weekend is a historical encampment, featuring re-enactors portraying soldiers and civilians from every American conflict, from the French and Indian War to the Vietnam War. In some instances, both sides of the conflicts are represented, such as the Revolutionary Wary Loyalists and "Redcoats," Civil War Confederate units, and even WWII German Infantry units. The re-enactments units will set up their camps and "dig in" for the weekend on Historic Burlington City's Riverfront Promenade. The weekend will include guest speakers, authors & book signings, WWII veterans, living history displays of cooking, weapons demonstrations, and live music from the 2nd South Carolina String Band (from the movie Gods and Generals).
The even is open to the public (rain or shine) from 10 a.m. to 5 p.m. on Saturday, 29 October and from 10 a.m. to 3 p.m. on Sunday, 30 October 2005. Visit the website www.historicsoldiersweekend.com for a complete schedule of events. Admission is $2 for Adults and $1 for Children under 12. Take the NJ Transit "River LINE" down to High Street and receive $1 off adult admission price.

Veterans' Small Business Information Seminar scheduled for 10 November.
A Small Business information seminar to help returning veterans of the current war and those of past wars understand their benefits and the programs available to them will be held on Thursday, November 10, 2005, from 9 a.m. to 12 p.m. at the College of New Jersey, 2000 Route 31, Ewing, New Jersey. Experts from the Employer Support of the Guard and Reserve (ESGR), Veterans Administration, Disabled Veterans, US Small Business Administration, Mercer Regional Chamber of Commerce, and business professions will be in attendance to answer questions and provide helpful assistance to veteran-owned businesses.
Pre-registration is required. Call 609-989-5232 or via e-mail at sbdc@tcnj.edu.

America Supports You: Commissary, Fisher House offer Scholarships
The Defense Commissary Agency and the Fisher House Foundation have teamed up again to offer educational scholarships to children of military families and retirees.
The Scholarships for Military Children Program is marking its sixth year, DeCA spokesman Kevin Robinson said. The goal, he said, is to provide at least one $1,500 scholarship for each of DeCA's 268 commissaries worldwide. Authorized applicants include unmarried children under age 21 of active duty, Guard or Reserve, or military retiree families. Applicants may also range up to 23 years in age if they are enrolled in school. The application period for this year's DeCA-Fisher House scholarship program starts November 1 and closes on February 22.
Application forms for the program will become available in November for pick up at commissaries worldwide and for download via the Internet at www.commissaries.com or at www.militaryscholar.org

250th Signal Battalion Homecoming T-Shirts are available now!
The 250th Signal Battalion will be coming home from Iraq soon. The Family Readiness Group is conducting a t-shirt sale to raise money for their homecoming. The front of the t-shirt says 250th Signal Battalion with the flag on it and Family Readiness Group. The back of the shirt has the rainbow and says 250th Signal Battalion, Never Forget. The 250th t-shirts come in Youth sizes Small, Medium and Large. Adult sizes Small, Medium, Large, X-Large, and XX-Large are available. .The shirts are $10 each (checks should be made out to 250th Signal Battalion FRG) and are available by contacting Evie Pipas at Epipas@aol.com or Gail Miller at gail.miller@njdmava.state.nj.us or at telephone number 609-530-6911.

Red, White and Blue Dance planned by Vietnam Veterans of America.
One of the organizations that has continuously supported the soldiers and families of the 50th MSB is gearing up for a fundraiser. The Vietnam Veterans of America (Bergen County Chapter 800) will be hosting a Red, White and Blue Dance on November 5, 2005 from 7 p.m. to 11 p.m. at VFW Post 4591, 513 Veterans Place, Hasbrouck Heights, NJ. There is a $35 per person donation at the door. Admission includes a hot and cold buffet, beer and soda, dessert and coffee. There will also be live entertainment. For further information, contact Donna at 973-427-5277.
The Vietnam Veterans of America have been extremely generous in support of our soldiers and their families throughout their deployment. Come out and support them in their fundraiser.

Pancake Breakfasts are scheduled to support New Jersey National Guard Families.
*A Pancake Breakfast to assist the families of the Teaneck Armory Troops and welcome them home will be held on Sunday, November 6, 2005 from 9 a.m. to 1 p.m. Breakfast will be served at the Benjamin Franklin Middle School Cafeteria on Windsor Road between Forest Avenue and West Englewood Avenue, Teaneck, New Jersey. The event is co-sponsored by the American Legion Post #128, Jewish War Veterans, Nam Knights Motorcycle Club, Vietnam Veterans of America, and VFW Post #1429.
Tickets are $7 for adults, $6 for seniors, and $5 for children. Make your checks payable to Pancake Breakfast, and send tem to 650 American Legion Drive, Teaneck, NJ 07666. To volunteer your time or for more information, please contact the Teaneck Family Assistance Center at 201-833-8241.
*A Support the Troops Pancake Breakfast to benefit the families of soldiers serving in the NJ National Guard will be held from 7 a.m. – 1 p.m. on Sunday, November 20. The breakfast will be held at Oakcrest High School, 1824 Dr. Dennis Foreman Drive, Mays Landing. Proceeds will support the NJ National Guard Family Readiness Council. The Council estimates that 40% of mobilized National Guardsmen earn significantly less while they are on active duty.
Chefs and students from the Academy of Culinary Arts at Cape Community College will prepare and serve the food, which will be donated by Tropicana Hotel Casino. Local high school bands and choral groups will provide entertainment, and AtlatiCare will provide childcare.
Tickets to the breakfast are $5 for adults, $3 for children under 12, and free to military personnel with identification. Tickets will be available at the door or by calling 609-345-4524. Sponsorship opportunities are also available by calling 609-345-4524 or emailing acchamber@aol.com.

A Beefsteak and Tricky Tray will benefit soldiers and families.
A Beefsteak and Tricky Tray will be held at the Teaneck Armory (1799 Teaneck Road, Teaneck, NJ 07666) from 6-10 p.m. on November 19th. Tickets are $30 each and proceeds will go to the soldiers and families of the Teaneck Family Assistance Center/Family Readiness Group 50th Main Support Battalion. For more information, contact SFC Shaw at 201-833-9811, ext 47.

NJ Nets basketball team will host Military Appreciation Night.
The NJ Nets basketball team will salute those in uniform as they host Military Appreciation Night on Saturday, November 12, 2005, during their game vs. the Houston Rockets. Come out and see Jason Kidd, Vince Carter, Richard Jefferson and the rest of the Nets battle Yao Ming, Tracy McGrady and the Houston Rockets. Receive a Vince Carter retro replica kids jersey with each discounted ticket purchased. If you would like to receive additional information, contact Sergeant Barbara Harbison, Public Affairs Specialist, at 609-530-7088.

NJ Vietnam Veterans' Memorial and Vietnam Era Educational Center's upcoming event schedule.
11 Nov, 11am
Veterans Day Ceremony
17 Dec, 6pm
Holiday Lighting Ceremony
For more information about any of these events, please call the NJ Vietnam Veterans Memorial Foundation office at (732) 335-0033.
The Vietnam Era Educational Center is located adjacent to the NJ Vietnam Veterans' Memorial off the Garden State Parkway at Exit 116.

Part-time opportunities in Military Funeral Honors Program.
The New Jersey Army National Guard Military Funeral Honors Program has several part-time employment opportunities immediately available across the state for TDGs and Technicians. Earn one day's base pay and one retirement point for a few hours work providing Military Funeral Honors for our Veterans. If you are interested, please contact SGM Edward Goetschius, Military Funeral Honors Coordinator, at 609-530-7090 or by e-mail at Edward.goetschius@nj.ngb.army.mil.

Armory Happenings – Listed below are events taking place at your local armory.
Date/Time
Event
Location
12 Nov (6pm-12am)
Pink Tie Ball Fundraiser
Morristown
17 Nov (7-10pm)
18-19 Nov (9am-6pm)
Home for the Holidays Gift Fair
Morristown
20 Nov (9:30am-3:30pm)
Sports Card & Memorabilia Show
11am-2pm
Joey Jay (former Reds and Braves star) will sign autographs ($12 any item)
Bordentown
25-27 Nov (9am-4pm)
Craft Show
Freehold
3 Dec (8:30am-4pm)
Coin Operated Arcade Game Auction
Cherry Hill

Don't forget – we return to Eastern Standard time this weekend – FALL BACK!!
On Sunday morning, 30 October, at 2:00 a.m., Daylight Saving Time ends and we return to Eastern Standard Time. It is important to remember to turn your clocks back an hour on Saturday evening when you go to bed.
The Energy Policy Act of 2005 was passed by Congress and signed into law by President Bush on August 8, 2005. Under this new law, Daylight Saving Time (DST) will begin three weeks earlier (the second Sunday of March) and is extended one week (the first Sunday in November). The new start and stop period will begin in March 2007.

Fitness Corner -
Ernie Razzano, Certified Fitness Trainer, ernest.razzano@njdmava.state.nj.us
Shut Up and Squat!
Do you want to know what the best overall resistance (weight bearing) exercise is? You guessed it – The Squat! Don't cringe! This exercise utilizes more muscles than any other exercise. Thus, giving you more bang for you buck. But before you run out and throw a bunch of weight on your shoulders, learn the proper technique first!!!
Proper technique for squatting includes, but is not limited to, placing the bar approximately 1-3 inches below the anterior deltoid (rear shoulder muscle), which afforest more efficient biomechanics by lowering the center of gravity, as long as the bar is not placed exceedingly low on the shoulders. Generally, the feet should be slightly wider than shoulder width. This will increase the availability and usage of the larger and more powerful muscles and enable the lifter to shorten the distance traveled. You should start the descent by leading with the hips rather than with the knees so that the shins are perpendicular to the floor. The heels should be flat on the floor for the entire duration of the lift. Raising the heels up predisposes the knees to injury and shifts the center of gravity forward forcing the lower back to compensate for the displaced load. The lifter should have fully inhaled while starting the descent. The breath should be expelled when the sticking point is reached in the ascent, which is typically around thirty degrees of extension. This technique will incr4ease interstitial leverage and aid in keeping the torso erect by forcing the chest out in front of the bar. Do not lock your knees in the upright position. There is a complex network of movement underlying efficient squat –performance so know what you're doing before you engage in this power exercise.

Today is Friday, October 28th. It is the 303rd day of the year with 63 days remaining.
On this day in history..
1636 – Harvard College was founded in Massachusetts. It was the first school of higher education in America.
1793 - Eli Whitney applied for a patent for his cotton gin.
1886 – The Statue of Liberty was dedicated in New York Harbor by U.S. President Cleveland. The statue weighs 225 tons and is 152 feet tall. It was originally known as "Liberty Enlightening the World."
1904 – St. Louis Police Department became the first to use fingerprinting.
1919 – The U.S. Congress enacted the Volstead Act, also known as the National Prohibition Act. It was repealed in 1933 with the passing of the 21st Amendment to the U.S. Constitution.
1922 – First coast-to-coast radio broadcast of a football game.
1948 – The flag of Israel is adopted.
1949 – U. S. President Harry Truman swore in Eugenie Moore Anderson as Ambassador to Denmark. She became the first woman to hold the post of ambassador.
1962 – Soviet leader Nikita Krushchev informed the U.S. that he had ordered the dismantling of Soviet missile bases in Cuba.
1965 – Pope Paul VI issued a decree absolving the Jews of collective guilt for the crucifixion of Jesus.

Non-profit group links Soldiers to families for the holidays.
This holiday season, soldiers serving overseas will have a chance to send their love to their families in a very special way thanks to a Denver-based non-profit organization.
Operation Hope, a program started two and half years ago by the Beacon of Hope Outreach Center, is launching a service called Home for the Holidays. This service allows soldiers serving overseas to register their families for gifts.
Soldiers can register their families via the Operation Hope website www.bhoc.us/index_OperationHope.htm and their children's names will then be put on a giving tree under a partnership with Toys R'Us and Amazon.com. Gifts will be purchased and donated by other people, and Operation Hope will ship them to the families as a gift from the soldier. A special gift basket will be shipped to the spouse along with the presents. Included in the package will be a disposable camera for the family to use to record the holiday. When the camera is full, Operation Hope will develop the pictures and send them to the soldier.
The Home for the Holidays service was designed to help support military families and make the stressful times of deployments a little easier.

Call today to volunteer at a Family Readiness Center near you.
If you are able to assist the families of our deployed soldiers and airmen, please call our Family Readiness Center at our toll-free number 888-859-0352.