.
NJ Dept of Military and
Veterans Affairs
Maj Gen Glenn K. Rieth
The Adjutant General
Brig Gen Maria Falca-Dodson
Deputy Adjutant General
_
Contacting us is easy!
Office of the Assistant Commisioner
COL (Ret) Michael B. Smith
Mrs. Laura A. Branham
Phone: (609) 530-6987
Fax:  (609) 530-7109
Email:
branham@njdmava.state.nj.us
We're on the Web!
www.state.nj.us/military
.
All State & Federal offices will be closed Monday, 11 October, in observance of Columbus Day.
.
Thought for the day..
"Following the light of the sun, we left the Old World."
…Christopher Columbus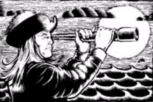 .
..
Register and Vote!
"Half of the American people never read a newspaper. Half never voted President. One hopes it is the same half."
.. Gore Vidal

.
.
New Jersey Freedom Loans
What is a Freedom Loan?
* Up to $10,000

* Annual APR 6%

* Term: 5 years (no pre-payment penalty)

* Unsecured Loan (no collateral required)
Who is eligible to apply?
NJ residents who are:
* Members of the National Guard or Reserve

* Mobilized for one year or longer to fight in the Global War on Terrorism (GWOT) – excluding routine training.
Or
* Served 90 or more consecutive days in the GWOT on federal or state active duty (excluding routing training) and have received orders extending cumulative active duty a year or longer.
How do I apply?
* Contact participating banks. Call or visit your local branch office to obtain an application.

* Guardmembers, Reservists, or family members with Power of Attorney must submit copies of current mobilization orders with the bank's Freedom Loan application.
Current participants:
Commerce Bank
1-888-751-9000
Credit Union of NJ
609-538-4061, ext. 401
First Morris Bank & Trust
1-888-530-2265
Fleet
1-800-841-4000
Manasquan Savings Bank
732-223-4450
North Jersey Federal
Credit Union
1-888-78NJFCU
Peapack-Gladstone Bank
(908) 719-BANK
Pennsville National Bank
856-678-6006
PNC
1-866-PNC-4USA
Sovereign Bank
1-877-391-6365
Sun National Bank
1-800-691-7701
Salute the Troops Ceremony – tomorrow at the Sovereign Bank Arena.
On behalf of Major General Glenn K. Rieth, The Adjutant General for New Jersey, all Department of Military & Veterans Affairs' employees are cordially invited and encouraged to attend the NJ National Guard's "Salute the Troops" ceremony that will be held on 9 October 2004, 10 a.m., at the Sovereign Bank Arena in Trenton, NJ (Doors will open at 9 a.m.). This is our fifth NJ National Guard special Salute the Troops ceremony, and we will be honoring more than 2,600 of New Jersey's citizen-soldiers being deployed in support of Operation Iraqi Freedom III.

COL (Retired) Stephen G. Abel appointed Deputy Commissioner for Veterans Affairs.
MG Glenn K. Rieth, The Adjutant General, announced the Governor's appointment of Colonel Stephen G. Abel, United States Army Retired, to the position of Deputy Commissioner for Veterans Affairs (DCVA).
COL (Ret) Stephen G. Abel served as the Director of the Division of Veterans Services before being selected as DCVA. In that capacity, he oversaw the operation of the Brigadier General William C. Doyle Veterans Memorial Cemetery at Arneytown and the veterans' section of three satellite cemeteries. He was responsible for operation of Veterans Haven, a transitional housing unit for homeless veterans, and the State Approving Agency, which certifies all educational and training programs for the U.S. Department of Veterans Affairs. Colonel Abel was also responsible for the construction, operation, and maintenance of New Jersey's Veterans Monuments and Memorials: the New Jersey Vietnam Veterans Memorial and Educational Center in Holmdel, the New Jersey Korean War Memorial in Atlantic City, and the New Jersey World War II Memorial, which is under design. Colonel Abel served as the Acting Deputy Commissioner for Veterans Affairs from January 2002 until June 2002.
COL (Ret) Abel had a distinguished, 27-year active duty, U.S. Army career. His multiple tours of duty in Korea culminated in his being assigned to work directly for the U.S./U.N. Commander in Chief-Korea. Success led to his next assignment working directly for the Chief of Staff of the Army. His last active duty position was as the New Jersey National Guard's Inspector General. He is a graduate of the National War College in Washington, DC.

DMVA's Division of Veterans Programs - September Highlights
DMVA's Veterans Service Officers saw 3,886 veterans during the month of September, assisted in the filing of 331 new claims for veterans' benefits, held 27 Decision Review Officer-Bureau of Veterans Appeals hearings, and obtained 283 award letters worth $4,386,000 in benefits on behalf of New Jersey's veterans and their dependents.
Mr. Bill Devereaux, Director of the Division of Veterans Programs, was guest speaker at the regional Jewish War Veterans dinner at Beth Shalom in Cherry Hill on 4 October 2004. The topic of Mr. Devereaux's speech was family support and troop appreciation as well as upcoming events. The Jewish War Veterans will donate proceeds from their upcoming dinner-dance to the New Jersey National Guard's Family Assistance program.

New Jersey Army National Guard continues to mobilize.
Mobilizations are continuing for New Jersey Army National Guard units. The 350th Finance Detachment was mobilized on 21 September and is heading to Fort McCoy, Wisconsin, and then to Iraq in support of Operation Iraqi Freedom III. The 119th Corps Support Battalion iwas mobilized on 1 October at Home Station (Hammonton, NJ) and arrived at Fort Dix, their mobilization site, on 4 October. They will also be on their way to Iraq. We wish them all good luck and will keep them in our thoughts and prayers.

Veterans to be honored at upcoming Medal Ceremonies.
The following ceremonies have been scheduled to honor our State's veterans.
20 Oct - 11 a.m. & 1 p.m.
Distinguished and Meritorious Service Medals
Vietnam Service Medal
Atlantic Cape Community College
5100 Black Horse Pike, Mays Landing

18 Nov - 11 a.m. & 1 p.m.
Distinguished and Meritorious Service Medals
Korean Service Medal
Toms River Elks
600 Washington St., Toms River, NJ
Dec (TBD) 11 a.m. & 1 p.m.
Distinguished and Meritorious Service Medal
Vietnam Service Medal
Salem County Community College

American Legion Post 346 to host Veterans Outreach Program.
American Legion Post 346 in Neptune, New Jersey will sponsor an informational program for Veterans on October 9, 10, 23, and 34, 2004 at the Allaire State Park in Wall Township. Information and V.A. forms on medical coverage, burial, headstones, pensions, DD-214 requests and corrections, medal requests and the NJ Veterans Guide will be available to any veteran who stops by. If you require any additional information, you may contact the Post at 732-922-9714, or contact Jr. Vice Commander, Mike Flynn, at 732-364-1640 or by e-mail at shyone1156@aol.com.

NJ Counterdrug team conducts "Grade the Grader" physical fitness test.
On 1 October 2004, the New Jersey Army National Guard's Counterdrug team conducted a Grade the Grader Army Physical Fitness Test (APFT) for personnel assigned to support the AGR APFT personnel and augmentees. This is a semi-annual event for all Army AGR personnel assigned to the New Jersey Army National Guard.

Upcoming Fall events at our local armories.
| | | |
| --- | --- | --- |
| 10 Oct | NASCAR Card Show | Freehold Armory |
| 22 Oct | Game Auction | Cherry Hill Armory |
| 22 Oct | Craft Show & Sale | Morristown Armory |
| 27 Oct | Antique Show & Sale | Morristown Armory |
| 30 Oct | Breast Cancer Fundraiser | NGTC – Sea Girt |
| 31 Oct | Sports Card & Comic Show | Bordentown Armory |
| 5 Nov | Bead Show | Cherry Hill Armory |
| 10 Nov | Tool Show | Woodbridge Armory |
| 12 Nov | Craft Show | Westfield Armory |
| 13 Nov | Tool Show | Riverdale Armory |
| 13 Nov | Rug Show & Sale | Flemington Armory |
| 17 Nov | "Home for the Holidays" Gift Fair | Morristown Armory |

NJ Vietnam Veterans' Memorial and Vietnam Era Education Center's upcoming event schedule.
22 Oct - 8 a.m-3 p.m.
Annual Forum "When Will They Ever Learn? – Teaching the Vietnam War" (pre-registration required.)

11 Nov - 11 a.m.
Veterans Day Program

20 Nov - 1 p.m.
Author Lecture and Slide Show – Thomas F. Morrissey "Between the Lines: Photographs from the National Vietnam Veterans Memorial."

4 Dec - 6 p.m.
Holiday Lighting Ceremony

11 Dec - 1 p.m.
Author Lecture – James Parker Wollner – The Bamboo Shoot: The Story of the 2nd Airboat Platoon

For more information about any of these events, please call the NJ Vietnam Veterans Memorial Foundation office at (732) 335-0033.
The Vietnam Era Educational Center is located adjacent to the NJ Vietnam Veterans' Memorial off the Garden State Parkway at Exit 116.

Military Appreciation Night planned by Trenton Titans ice hockey team.
The Trenton Titans hockey team will host a Military Appreciation Night for members of the military and veterans on October 22, 2004. The Titans will be playing the Reading Royals at 7:30 p.m. at the Sovereign Bank Arena, Trenton, NJ. Tickets are FREE! If you are interested in attending, please contact SGT David Clark, Fort Dix, 609-562-0951 or SSgt Barbara Harbison, Lawrenceville, 609-530-7088.

Hispanic American Heritage month will be celebrated at Fort Dix.
The Hispanic American Heritage month will be commemorated at Fort Dix until October 15. This annual month of activities celebrates the contributions that the Hispanic community brings to the American society. The theme for this year: "Hispanic Americans: Making a Difference in Our Communities and Our Nation." The Hispanic American Heritage month luncheon will be held at Club Dix on Tuesday, October 14 from 11:30 a.m. to 1 p.m. For more information, contact Amada Espinoza at Army Community Service, 609-562-3271.

Today in History…
Today is Friday, October 8th, the 282nd day of the year with 85 days remaining.
1871 – The Great Fire of Chicago broke out destroying about 17,450 buildings. About 250 people were killed and 90,000 were left homeless.
1918 – Sgt Alvin C. York almost single-handedly killed 25 German soldiers and captured 132 in the Argonne Forest in France.
1934 – Bruno Hauptman was indicted for the murder of the infant son of Charles A. Lindbergh.
1950 – U.N. forces crossed into North Korea from South Korea.
1956 – Donald James Larsen of the New York Yankees pitched the first perfect game in the history of the World Series.
1957 – The Brooklyn Baseball Club announced it had accepted a deal to move the Dodgers to Los Angeles.
1998 – Taliban forces attacked Iranian border posts. Iran said that three border posts were destroyed before the Taliban forces were forced to retreat. The Taliban of Afghanistan denied the event occurred.
2003 – Vietnam and the United States reached a tentative agreement that would allow the first commercial flights between the two countries since the end of the Vietnam War.
2003 –Siegfried Fischbacker and his manager announced that the "Siegfried and Roy" show at the Mirage was canceled permanently due to injuries suffered by Roy Horn after a tiger attack on October 3rd.

Gutter Cleaning Safety Hints
Here are few tips to prevent gutter cleaning injuries – Ladder injuries increase in the fall:
- Look for the UL Listing Mark before buying your ladder.
- Always work with a helper.
- Never overreach! Use a ladder long enough for the job.
- Wear non-skid shoes and make sure rungs are dry.
- Wear a tool belt – never carry equipment while climbing a ladder.

Important Calendar Dates:
9 October

10 a.m.

Salute to our Deploying Troops

Sovereign Bank Arena, Trenton, NJ

.
.

16 October

7 a.m.-12 p.m.

Pancake Breakfast – Support the Troops

Westfield Armory, 500 Rahway Avenue, Westfield, NJ

Proceeds of this even will benefit the soldiers and families of NJ National Guard's Family Readiness Council and the Family Assistance Center at Westfield.

.
.

18 October

Rain Date:
25 Oct

Golf Tournament - Support the Troops

Oceanair Golf and Country Club

Proceeds will benefit the families of the DISCOM and Artillery units of Toms River and Ocean County whose finances have been affected by the deployment of National Guard members who have been called to duty in Iraq and Afghanistan. For more information call: 609-693-1941.

.
.
23 October

NJ Advisory Committee for Women Veterans Annual Luncheon

McAters Restaurant, Somerset, NJ

Contact Karen Wallace for more information 609-530-6766

.
.
28 October

10 a.m. – 3 p.m.
Veterans Information Fair

NJ National Guard Armory, Lawrenceville, NJ

Fun Facts…
- Thomas Edison was afraid of the dark.
- Walt Disney was afraid of mice.
- Maine is the toothpick capital of the world.
- Wrigley's gum was the first product to have a bar code.
- Pigeons have excellent eyesight.
- Wyoming was the first state to give women the right to vote.

DMVA's Fitness Corner – Exercise & Weight Control - Ernie Razzano, CFT
Here are some very popular myths and misconceptions regarding the relationship between exercise and weight control. See how many you though were true.
- Aerobic exercise is all the exercise you need to effectively control your weight.
- Aerobic exercise causes your resting metabolic rate to stay elevated for an extended period of time after a workout.
- The more you sweat while exercising, the more body fat you lose.
- You can burn fast from specific regions of the body by exercising those areas.
- Eating too many dairy products causes cellulite or "cottage cheese" on the thighs.
- Muscles will turn to fat when you stop exercising regularly.
- Performing aerobic exercise at a low rather than a high intensity promotes a greater loss of body fat.
- Aerobic exercise suppresses your appetite.
- Losing weight is extremely difficult.

New Jersey Nets announce Military Appreciation Night.
The New Jersey Nets will host a Military Appreciation Night on Wednesday, November 3, 2004, when they host Shaquille O'Neal and the Miami Heat. Tickets for the game are $50 and $25, which reflect savings that range from 33% to 44%. For more information, contact SMSgt Dave Whalen at 609-754-3616 or david.whalen@njmcgu.ang.af.mil.

Call today and volunteer to help at a Family Readiness Center near you.

As the New Jersey National Guard deploys soldiers and airmen around the globe, the families that are left behind need our support and assistance. Can we count on your help? Please call your local Family Readiness center and volunteer.
To reach any NJ National Guard Family Assistance Center
Call toll free 888-859-0352