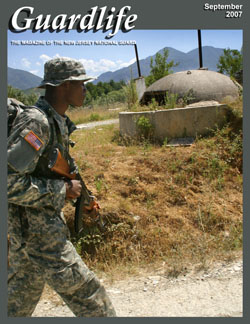 Cover: Bygone era
Pvt. Timothy Gadsen, A Company, 2nd Battalion, 113th Infantry, marches past one of the 750,000 bunkers that dot the Albanian landscape while on a road march in Zallherr. Photo Capt. Jon Powers, 444MPAD/PAO.
Guardlife Staff Editors
Lt. Col. James Garcia
Capt. Jason Fetterolf
Capt. Jon Powers
2nd Lt. April Kelly
Sgt. 1st Class Kryn Westhoven

Editor-Production
Tech. Sgt. Mark C. Olsen

Staff Writers/Photographers
Sgt. 1st Class Robert Stephenson
Staff Sgt. Barbara Harbison



Guardlife is published bi-monthly using federal funds under provisions of AR 360-1 and AFI 35-101 by the Public Affairs Office of the New Jersey Department of Military and Veterans Affairs for all members of the New Jersey Army and Air National Guard. The views and opinions expressed herein are not necessarily those of the Department of Defense, the Army, the Air Force or the National Guard Bureau. Letters may be sent to: Guardlife, Public Affairs Office, P.O. Box 340, NJDMAVA, Trenton, NJ, 08625-0340. E-mail at: pao@njdmava. state.nj.us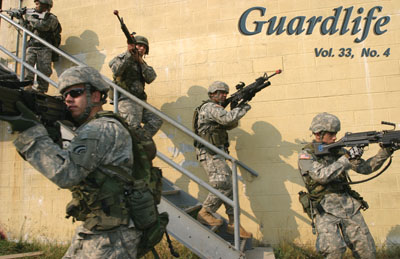 Inside Cover: Got you Covered
Members of Delta Company, 2nd Battalion, 113th Infantry, 50th Infantry Brigade Combat Team practice Military Operations in Urban Terrain at the huge MOUT site at Fort Drum, N.Y., during the brigade's Annual Training in August. The site houses more than 30 multi-level buildings filled with furniture and refuse simulating a war-torn village. Photo by Sgt. 1st Class Robert Stephenson, JFHQ-NJ/PA.