Short Rounds: Scouts, Unity Day, Finance Company created, Enlisted Recognized, Training Albanian police and Army Ten Miler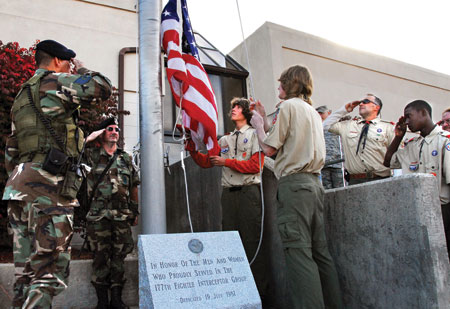 Wing hosts Scouts
Tech. Sgt. Edwin Visalden (left) and Master Sgt. David Field (second from left) salute as Dylan (next to pole) and Logan Roberts, members of Boy Scout Troop 12 raise the flag during Boy/Cub Scout Day at the 177th Fighter Wing on Oct. 11. Photo by Tech. Sgt. Mark Olsen, 177FW/PA.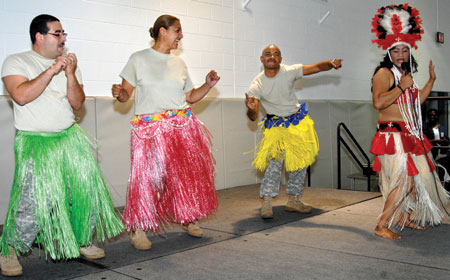 Can you hula?
Sgt. Francisco Gonzales (l-r), Staff Sgt. Maria P. Fridman and Sgt. 1st Class Daniel Rosas learn traditional Hawaiian dance during the Unity Day: Decade of Diversity celebration at the Joint Training and Training Development Center on Fort Dix on Sept. 18. This year's event highlighted the different ethnic and special emphasis groups
represented in the New Jersey National Guard to enhance cross-cultural awareness and harmony among the all Citizen-Soldiers and Airmen. Photo by Kryn P. Westhoven, NJDMAVA/PA.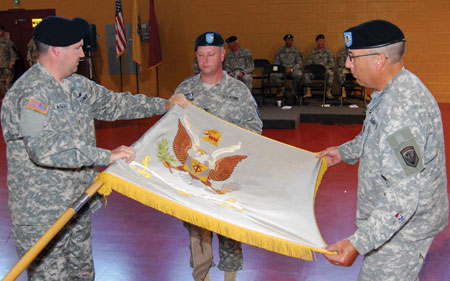 Finance Battalion cases colors
Maj. Roberet McGehee, commander, 50th Finance and Command Sgt. Maj. Thomas Slowinski along with Col. Roch Switlik, Comander, of the 42nd Regional Support Group, case the 50th Finance Battalion colors on Sept. 21. In addition, the 150th Finance Detachment was deactivated. The 50th will now be the 50th Financial Management Company. Photo by Sgt. 1st Class Joe Donnelly, 444MPAD.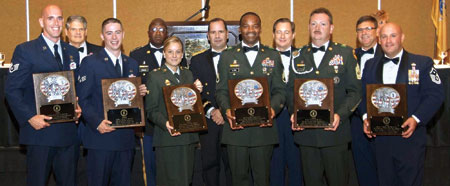 EANGNJ Awardees
The Enlisted Association of the National Guard 2008 award winners were presented at the Enlisted Association of the National Guard of New Jersey's 35th Annual Conference at the Sheraton Hotel in Atlantic City on Sept. 27. Front row (l-r): Staff Sgt. Michael F. Sears (Outstanding NCO-Air), Senior Airman John Parillo (Outstanding Airman), Spc. Melissa A. Ruggeri (Outstanding Soldier), Staff Sgt. Daemion A. Clarke (Outstanding NCO-Army), 1st Sgt. Raymond H. Hoffman (Outstanding First Sergeant-Army), Master Sgt. Daniel T. Mitchell Jr. (Outstanding First Sergeant-Air). Second row (l-r): retired Command Sgt. Maj. Michael T. Hughes (President EANG-NJ), State Command Sgt. Maj. Jerome Jenkins, Maj. Gen. Glenn K. Rieth, The Adjutant General; Brig. Gen. Larry Thomas III, Commander, New Jersey Air National Guard; State Command Chief Master Sgt. Ed Karol, New Jersey Air National Guard. Photo courtesy the EANG-NJ.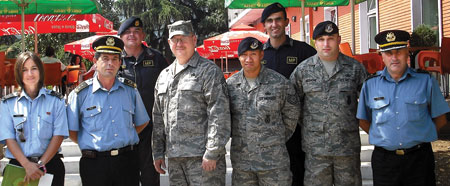 177th trains Albanian police
From Sept. 6-12, Command Chief Master Sgt. Michael R. Francis, Master Sgt. Joseph Iacovone and Tech. Sgt. Jeff Lee deployed to Albania to provide law enforcement and security training to both 63 Albanian Military and civilian police personnel. The course covered the Geneva Convention, military jurisdiction, military police investigations and airbase defense doctrine. Pictured are (l-r) 1st Lt. Albana Hoxha, unknown, 1st Lt. Emir Kume, Command Chief Master Sgt. Francis, Tech. Sgt. Lee, 1st Lt. Besim Hoxha, Master Sgt. Iacovone and Lt. Col. Medi Kuçi, Deputy Commander, Military Police Battalion. Photo courtesy Tech. Sgt. Jeff Lee, 177FW/SF.

Jersey Blues place second
The Jersey Blues comprised of (l-r) Master Sgt. Alex Estrada, Master Sgt. Brian Holderness, Sgt. 1st Class Luis Gonzalez, 1st Sgt. Gary Davidson, Lt. Col. John Sheard, Staff Sgt. Jerry Grant, Capt. Andrew Lazarchick and Master Sgt. Gladwyn Martin pose for a photo prior to the Army Ten Miler in Washington, D.C., on Oct. 5. The team placed second. This year close to 22,000 individuals ran in the event. Photo courtesy Lt. Col. Sheard.