The Consultant Stack Test Program is responsible for the quality assurance of all stack emissions test data in New Jersey. The goal of the program is to provide reliable, accurate and dependable data to be used by NJDEP, the public and industry.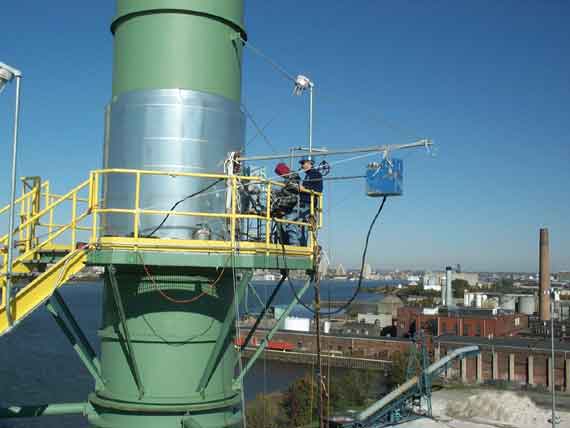 EMS observes a consultant's procedures in obtaining a representative sample of stack gases on
a sampling platform 100 feet above ground level. Field monitoring that sampling procedures
are consistent with approved protocol methods ensures the accuracy of the results.
The Stack Test Process
When a facility is required to perform a stack emissions test, either by their Permit, regulation or from an enforcement action, oversight is provided by EMS. There are three main elements to a stack emissions test program:
Protocol review and approval
Observation of the stack test.
Review of the final test report.
In most cases, a test consultant is contracted to prepare the protocol, perform the test and submit the report.
Step One: The Protocol
The protocol is a source specific test plan that details how the test will be performed. It identifies the test methods that will be used, as well as how they will be adapted to meet the source specific conditions. EMS reviews the protocol to ensure that both the most appropriate methods are proposed and that they are being applied properly. Deficiencies are identified and must be corrected before EMS will allow testing.
Step Two: Field Sampling
Once the protocol is approved and the test is scheduled, the sampling is conducted with EMS oversight to ensure adherence to the protocol. We believe test observation is the most critical aspect of quality assuring emissions test data. The manner in which an air sample is collected can greatly influence the results. Many problems would go undiscovered without direct observation by DEP personnel.
Step Three: The Final Report
In the final step, a test report is prepared and submitted to EMS for evaluation. The report must include copies of all raw field and laboratory data through which EMS staff can ensure all procedures were adhered to and so that EMS can confirm the calculations of the emissions results.
For More information
For a more detailed explanation of how one goes about conducting a stack test, please download Technical Manual 1004,(in pdf format), "Guidelines for Compliance Stack Emission Test Programs".
To open the PDF documents you will need the adobe acrobat pdf reader to view. Left-click on the link and they will open. Or, right-click on the link and select "Save Target As" to save the document to your hard drive or personal directory. You can download the free pdf reader here.