The Emission Measurement Section (formerly Bureau of Technical Services) maintains a mobile trailer that has the capability to sample and analyze industrial stack emissions for several air pollutants. The trailer can be dispatched in response to a special request from DEP's Air Compliance and Enforcement program or for routine audits of a facility's permit required continuous emissions monitoring systems (CEMS).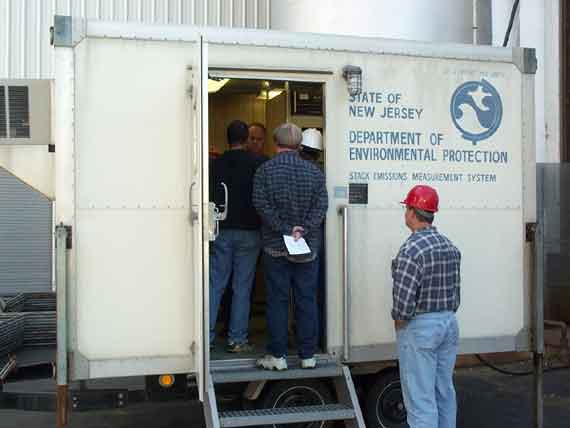 The Emission Measurement Section (formerly Bureau of Technical Services) displays its mobile trailer's auditing capacity
for the USEPA's Acid Rain Program, Region II training, held in Albany, NY.
Capabilities
Equipped with a complement of analyzers and sampling lines, the trailer can accurately detect stack emission levels of the oxides of nitrogen, (NOx), and organics. Both of these pollutants are instrumental in the formation of ozone, which is both a promoter of smog and a lung irritant. The trailer can test for sulfur dioxide (SO2) the leading cause of acid rain. In addition, it can test for the major green-house effect gas, carbon dioxide (CO2), and also carbon monoxide (CO), an indicator of incomplete combustion. The trailer is equipped with an on-board computer to process the sampling data and provide an accurate determination of whether or not a source of air emissions is meeting its permit limitations. It can also be used to assess whether a source's on-site monitoring equipment (required by either permit, regulation or the enforcement process) is accurately monitoring pollutant levels.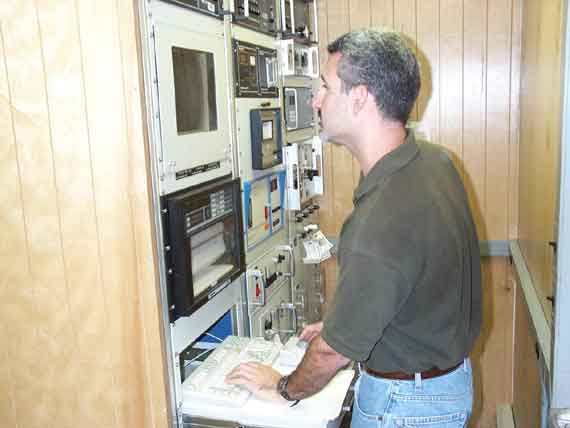 An EMS Environmental Specialist monitors the pollutant output at a permitted manufacturing facility.
Such monitoring allows the Bureau to assess whether on-site monitors maintained by the source
are properly functioning. The observation can also be used to determine whether the source is
exceeding its permitted allowable emission levels.