As one part of New Jersey's overall State Implementation Plan (SIP) for the attainment of the national ambient air quality standard for ground level ozone, the state has instituted a NOx Budget Program. The Emission Measurement Section (formerly Bureau of Technical Services) is responsible for overseeing the manner in which affected New Jersey sources measure and report their NOx emissions.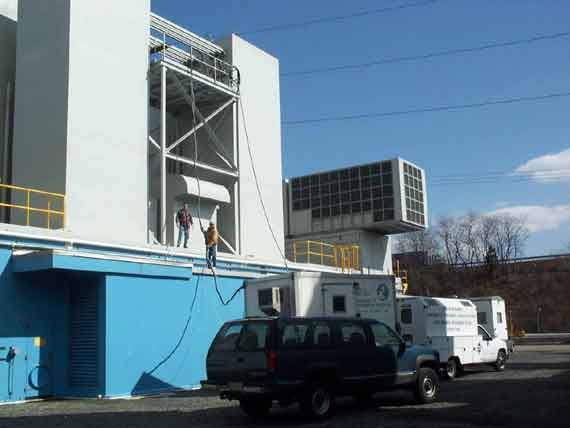 EMS Personnel install sampling lines at an electric power production facility. EMS has the ability
to assess the accuracy of a source's reported NOx emissions for the NOx Budget Program.
Ozone/Smog/and NOx
Ground level ozone, or "smog", plagues our State each summer, particularly during the hottest weather. Ozone is a severe public health and environmental threat. As a strong oxidant that adversely affects the respiratory system, ozone impacts the health of every single citizen who breathes the air. For the 136,000 children in New Jersey with asthma, and the hundreds of thousands of adults with chronic respiratory disease, high level smog days mean staying indoors or else risking serious health consequences. Two major players contributing to the formation of ground level ozone are the oxides of nitrogen, NO and NO2. Collectively known as NOx, these two contaminants react with volatile organic compounds (VOC), atmospheric oxygen and sunlight to form ground level ozone. It is this form of ozone that, together with reactive hydrocarbons, can form smog.
One Control Measure
As part of its attempt to reduce ozone in the State, the NJDEP has initiated a number of programs to reduce NOx. Through a joint effort with several other northeastern State members of the Ozone Transport Commission, New Jersey has helped formulate and now participates in one such program on a regional level. It is called the NOx Budget Program.
Initiated in 1999, the NOx Budget Program requires certain large sources of NOx (primarily electric power sources and petroleum refineries), to monitor the total amount of NOx produced at their facilities during the warm weather "ozone season" (May 1st through September 30th). A yearly ozone season State "cap" or limit is set for the total of all these sources and through an allotment process each source is assigned an individual "limit" on the total NOx which they can produce. Sources that exceed their individual "limit" must buy "credits" (portions of other source's allotments that are marketed for sale by those sources) of else face penalties.
A Long Term Strategy
By progressively lowering the Statewide "cap" over the course of several years, each individual source's allotment becomes more restrictive. Through this restriction the "dirtier" sources are forced to either cut production, clean up their source, or buy from sources that find it economical to reduce the NOx at their source. New Jersey's set goal is an ultimate "cap" that is equivalent to the 1990 NOx output levels. The bottom line is a Statewide average NOx production rate for these sources that is consistent with "clean" performance standards.
Monitoring NOx: An Essential Tool
A critical element in the ultimate success of the NOx Budget Program is an accurate and reliable measuring and reporting system for individual source NOx production. The Emission Measurement Section (EMS), (formerly Bureau of Technical Services is responsible for overseeing the manner in which sources regulated under this program measure and report their NOx emissions. This involves an engineering review of source monitoring approaches as well as quality assurance of equipment utilized to monitor NOx output.
Today, all 319 New Jersey affected sources have approved monitoring plans and, where required, certified continuous emission monitoring systems (CEMS) to accurately monitor NOx output. This is bringing New Jersey one step closer toward its goal of attainment of the national ozone standard and clean, healthy air.
Federal Expansion Of The Program
More recently, the Federal Government, through USEPA's Clean Air Markets Division (CAMD) has, with slight modification, expanded this base program to include 22 States in the Northeastern portion of the country. Mandated participation begins in May 2002 for affected New Jersey sources.