For some small soil clean-ups that require air permits or other permitted facilities with low air impact, the Department may require that emissions routinely be monitored periodically using non Reference Method procedures. Such monitoring is performed by the sources themselves or may be contracted out to consultants. It is critical that such monitoring be performed in a consistent and acceptable manner in order assure the sample results are accurate.

In other cases, such as Total Hydrocarbon periodic monitoring of oxidizers or other control devices in lieu of CEMS, or for NOx and CO periodic monitoring of combustion devices, the Permit may refer to posted procedures.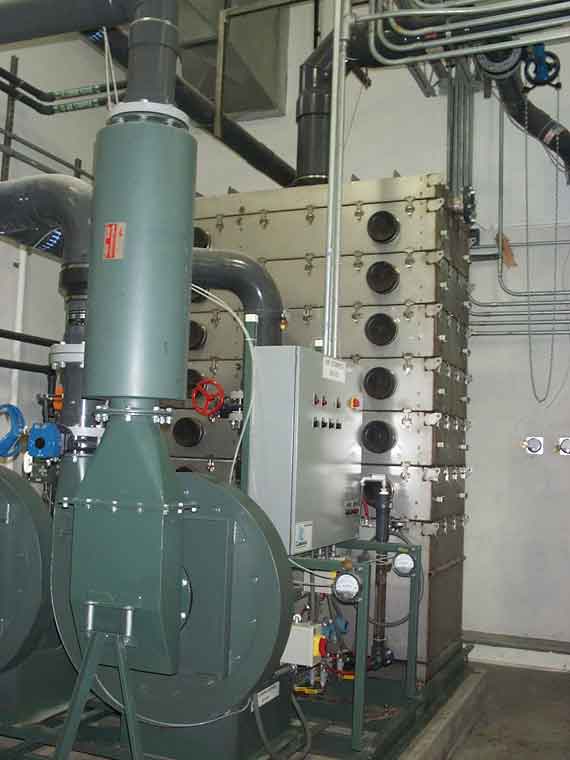 Portable monitoring is often used for small or temporary projects such as soil and groundwater
clean-ups. Shown here is a sparging system that is removing chlorobenzene at a contaminated
groundwater site. In many of these cases the pollution control device is periodically checked
for proper operation utilizing hand-held monitors.
Protocols
Facilities that receive air permits that contain requirements for periodic monitoring of VOC through the use of hand held/portable or other instrumentation may be required to submit protocols that identify the type and manufacturer/model number of the equipment proposed for such monitoring. The protocol must also contain the procedures for sampling and a quality assurance/quality control plan. EMS approval of the protocol may be required as part of the air permit. The protocol assures the proposed equipment has the ability to adequately measure contaminant levels, and the facility has the knowledge to properly use the equipment and interpret the results.
Field Demonstration
The Department may require the facility to provide an on-site demonstration of a periodic monitoring event in order to assure protocol procedures are understood and implemented. The Department may or may not require this demonstration be coordinated with concurent stack testing.
For More Information
For more information, there are two Guidance Documents. One, "Guidance Document for the Use of Periodic Volatile Organic Compounds (VOC) monitors at small NJ sites" is specific for VOC periodic (portable) equipment. The other, "THC Periodic Monitoring Requirements" is applicable to THC periodic monitoring in lieu of a CEMS for oxidizers or other controls where the allowable is surrogate for destruction/removal efficiency. The THC allowable will be established during the stack test in accordance with the procedures in Technical Manual 1005, Appendix D. For periodic monitoring of NOx and/or CO, refer to Technical Manual 1005, Section IX.