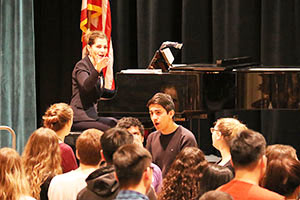 The educators' portal contains the information, guidance and resources that educators require as they educate students to be ready for college, careers and life.
The inter-relationship of teaching and learning is the center of the education process which requires the integration of three basic components that are addressed in the Department's three major initiatives:
Standards – the basic foundation for what is taught is contained in the New Jersey Student Learning Standards. These nine areas of standards are New Jersey's commitment to a well-rounded education for every student to prepare him or her for life after graduation from high school.
Assessments – are constructed to measure our state standards and ensure that individual students are progressing satisfactorily toward the next steps of their education.  Not only do students and their parents/guardians need to see individual progress in learning the concepts in the standards, but teachers and administrators use the assessment data to identify where improvement may be needed in the teaching process.
Teacher Development and Evaluation – on the teaching side of the equation, through professional development and the evaluation process, teachers can continually find new ways to help students learn the concepts and skills contained in the standards.
Learning is lifelong and critical to preparing informed, involved citizens and productive workers. The Department is committed to making this portal a place where educators can find valuable information and assistance as you continue to build upon the teaching and learning process.
How to…